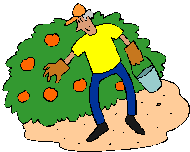 Looking for a local, pick-your-own farm in central Virginia, Charlottesville, etc.? Scroll down this page and you will see the U-Pick farms in central Virginia, Charlottesville, etc., sorted by county. Those that offer organic or sustainably grown produce are identified by the words "organic" and/or "sustainable" in Green, next to their name. If they have a website, the name will be in blue and underlined; click on it and it will open their website.
And if you know of any I missed and want to add them or correct the information, please let me know!
What's in season in January 2018, and other timely information:
Notes for January 2018: Strawberries have a very brief season; and they start in early April in the South, May in most of the US, and early June in the North - don't miss them: See your state's crop availability calendar for more specific dates of upcoming crops. And see our guide to local fruit and vegetable festivals, such as strawberry festivals and blueberry festivals. Cold weather crops, like spinach, some lettuces, peas, kale, Brussels sprouts, broccoli, cauliflower, leeks and early onions being harvested in all but the coldest regions. Many farms and markets still have fresh winter squash, stored from last Autumn.
You may noticed the new appearance to the website! Simpler, cleaner and mobile-friendly! I'm rolling it out, page by page over the next 2 months. Everything is still here; you can access it from the drop down menus at the top of the page or the site search. If you have any questions or suggestions, feel free to write me!
central Virginia, Charlottesville, etc. U-Pick Farms and Orchards, by county
Click on the resources drop-down above, if you need a county map
Albemarle County
A. M. FOG - PYO vegetables and pumpkins, Hayrides, Mums, Christmas trees and poinsettias.
9264 Critzer Shop Road, Afton, VA. Phone: 540-456-7100. Email: Yvonne@amfog.net. Directions: From C'ville Exit 107 off I64(Crozet/250 Exit), turn left onto 250W travel 6 miles turn left onto route 151S, amFOG is 0.8 miles on the right. Also a Farm Market, orchard, greenhouses.

The Berrypatch

- blueberries, raspberries (red), honey from hives on the property
3035 Pevine Hollow, Free Union, VA 22932. Phone: 434-963-0659. Open: Monday, Wednesday, and Saturday, from 8 am to 12 noon; Thursday, from 5pm to 9pm. Directions: To get here from Charlottesville, follow Barracks Road west (which turns into Garth road) about 4 miles to Free Union Road at the Hunt Country store. Turn right and go about 3 miles to Free Union. Bear left on Millington road for 1/3 of a mile, then bear right on Wesley Chapel road, and follow the signs 3 miles to The BerryPatch. Click here for a map and directions. Early June to early July. Payment: Cash, Check. We often sell out early in the day. Therefore, if you want to find a good selection of berries, please arrive as early as possible. (UPDATED: June 10, 2009)
Comments from a visitor on June 09, 2010: "The Berry Patch is a great place, but I think that in the last two years it has gotten too popular. It was mentioned in a family magazine a year ago and when we arrived to pick some berries around 10am, there were none left. The place was bombarded and the owner actually looked pretty stressed out. People were hoarding the berries as I saw some people leaving with 16 pints and the place was a zoo. For the last 5 years we used to ride our bikes out there and leisurely pick berries and have a picnic dinner. The owner's are very kid friendly, in fact his kids would often work the cash register. People who knew about the berry patch found out by word of mouth and there was always an abundance of berries throughout June and into July. It is amazing how one publication can ruin it for everyone. This place isn't designed to be a Chiles or Carter's Mountain. It was a peaceful off the beaten path place to get juicy berries at an amazing price. This gem is ruined for me. "

Comments from a visitor on June 22, 2009: "I feel the need to update the info on the Berry Patch. They are open from 8-1 M W Sat and 5-9 Th. Their phone message is updated Monday mornings. I don't know if they halt picking if the patch is picked over for the day because I have only been out once this year and it was on a Thursday evening. I found plenty of berries there 4 days ago. They do get picked over fast and I understand that the owners might want to limit the picking of immature berries. If I can interview the owners today when I go I will. Cheers, Sean Keep up the great work. Love your site. "
Comments from a visitor on July 04, 2008: "First, just wanted to say THANK YOU for this site! I've found lots of great fruit and veg that I would never have known about without your site. I appreciate it. Second, I've been out to the Berry Patch three times this season. I pick fruit for pies and jam, both of which require a significant amount of berries. I'm pretty patient, and I'm also willing to get there at 745am and start picking right at 8am. I've had great luck at all three of my visits, often trusting my own eyes as a gauge of how 'full' the bushes are. (I picked eight quarts of blueberries in an hour and a half despite being told the bushes were "mostly picked out.") I agree with the visitors who say that they close without changing their phone message. BUT I'd say that if you are a serious picker (and not with children) this is a great place to go and spend a couple of hours. You'll be well-rewarded for your efforts. Also--their phone message of 7/4 states that they are CLOSING tomorrow for the season--this is a bit confusing as they had been telling me they'd be having lots of blackberries next week. I guess not! Thanks again for the great site!"
Another visitor writes, on June 25, 2008: "After reading the other person's comments regarding this place, I have to share as well. They are not family friendly business and do not keep a change in hours available via a phone recording. I've driven out there to find they are closed. I do not recommmend it if you have children that will be disappointed if they can't pick. Also, it's very wasteful using gas to go if they're not open."
Another visitor writes, on June 21, 2008, "The Berry Patch often closes before the scheduled time. The owners Decide that "enough" berries have been picked for the day so they close. Today they were closed at 11:30 in the morning, though open until 6pm. Their message when you call does not say they are closed. I made two trips out there just to find they closed. I live 40 minutes from there. Even though they still had people picking at 11:30 they would not let my children pick and said we should come at 8am on Mon, Wed, or Fri. Unfortunately not convent for those with jobs. They should update the phone message so people don't waste valuable time and gas to go. I would no longer recommend them." (UPDATED: June 21, 2008)
A visitor writes "They've been around for 16 years. They don't spray the berries so you can snack as you pick. Picnic area and honey for sale that they collect from 7 hives of bees that they keep on the property to pollinate the berry bushes".

Amherst County
Morris Orchard - pumpkins, pick your own apples, apple cider, and Christmas Trees
226 Tobacco Row Lane, Monroe, VA 24574. Phone: 434-929-2401; Fax: 434-929-1419. Email: info@MorrisOrchard.com. Open: Fall season (after mid-September) -- 9 am to 5 pm, Monday to Saturday; 1-5 pm Sunday. Directions: From Lynchburg, Route 29 north to Monroe. Left on South Five Forks Road (Route 671) almost 1 mile. Left on High Peak Road (Route 636) for 3.5 miles. Left on Ambrose Rucker Road (Route 653) one half mile. Right on Tobacco Road Lane to end -- one quarter mile. Relaxed country atmosphere, farm animals for the kids to watch, hay decorations in the fall. Select-your-own apples from mid-summer until Christmas. Pick-your-own pumpkins in the fall. Cut-your-own Christmas trees (limited). Call for season availability. We will be pressing our Fresh Apple Cider every week during the season. We will be making our famous Apple Doughnuts every weekend in October. We will have a great selection of apples available in the store through Christmas. Our varieties: Fuji, Golden Delicious, Red Delicious, Rome, Granny Smith, Razor Russet, York, Empire, Winesap, Stayman, Braeburn, Jonagold, Arkansas Black, Albemarle Pippin. (UPDATED: October 19, 2013, from their website)
A visitor writes on September 19, 2010: "Had a very nice visit today. Highlights include apple cider slushies (delicious!) and feeding the goats and donkey. Donations for feed go to the local humane society, so it is fun AND a worthy cause. Only two varieties of apples were available to pick your own, but there were LOTS of apples. We took picnic blankets and had a lovely picnic. There is a hay bale maze. Home make doughnuts are available in October during pumpkin picking season.
Appomattox County
C and S Farm - strawberries
2082 Oakleigh Ave, Appomattox, VA 24522. Phone: 434 352-5971. Email: csfarmz@aol.com. Open: May, Monday - Friday, 7:00am-7:00 pm. Saturday 7:00am-4:00pm. We raise strawberries that you can pick in May. In September and October, we grow our own mums and pumpkins. (ADDED: March 10, 2013, from VG)

Kinder Berry Farm

- blackberries, blueberries, grapes, pumpkins, winter squash, Other fruit or veg,
520 Berry Lane - 592 Berry Lane, Appomattox, VA 24522. Phone: 434-352-2654. Email: kinderberryfarm@hotmail.com. Directions: From Appomattox, Va take Route 727 towards Red House, Va. Go about 7 1/2 miles. Turn Right on Fox Ridge Lane Route 644, this will go in a couple of turns to a stop sign. At stop sign turn right on 735.Go about 1 mile turn left on Berry Lane. Keep on hardtop road "Kinder Berry Farm" will be ahead on the right. You will see a white building Behind a white house W/Kinder Berry farm on it. And in October you will see pumpkins in the yard. And for a map to our farm, click here. . (UPDATED: June 07, 2008) (UPDATED: October 02, 2008)
UPDATES:
Comments from a visitor on August 15, 2009: "We went to Kinderberry Farm in July for blueberries, so there are open this year. At that time, blackberries were not quite ready, but the owner told us she had no plans to close. I don't think they're doing pumpkins this year, though."
And this message from a visitor:
"i called them the other day they are still open and doing grapes and berrys they just are not doing strawberrys this year (UPDATED: May 11, 2009)
Last year the owners told me: Due to a very bad year we have decided to call it quits. If anyone is interested in Halloween decorations for a haunted hayride give us a call. We are thinking of selling our wagons also.
Buckingham County
Gruntngobble Farm

-

No pesticides are used

, blueberries, U-pick and already picked
1366 Hundley Branch Road, Scottsville, VA 24590. Phone: 434-286-2464. Email: gruntngobblefarm@aol.com. Open: late May; Our season will then run about 30 days. Directions: Call for directions and picking info. Click here for a map and directions. We do not use pesticides on the crops. Payment: Cash, only.(UPDATED: August 08, 2014) (UPDATED: July 07, 2013)(ADDED: May 23, 2012)
Fluvanna County
Fredericksburg (City of)
Braehead Farm - asparagus, beans, blackberries, cucumbers, peas, peppers, pumpkins, raspberries (red), summer squash, tomatoes, other vegetables, Honey from hives on the farm, Fresh eggs, picnic area, farm animals, birthday parties, weddings and wedding parties
1130 Tyler Street, Fredericksburg, VA 22401. Phone: 540-899-9848. Fax: 540-899-9847. Email: Info@braeheadfarm.com. Open: 7 days a week 10:00 am to 6:00 pm; Open until 6:30 pm on Saturdays during the Harvest Festival from September 28 to November 3. Directions: Interstate 95 to Route 3 East, go approximately 2 miles to right on Belman Road, right on Tyler Street, farm on the left. Click here for a map and directions. Payment: Cash, Check, Visa/MasterCard, Discover. Click here for our Facebook page. If you need to come before 10:00 AM to beat the heat, just give us a call in advance and we will try to accommodate you! Availability of Pyo: APRIL: ASPARAGUS. MAY: ASPARAGUS, STRAWBERRIES, lettuces, broccoli, cabbage
JUNE: CUCUMBERS, SUGAR SNAP PEAS , SNOW PEAS, BANANA PEPPERS, CABBAGE, COLLARDS, BROCOLLI, CAULIFLOWER, BLACKBERRIES, RASPBERRIES, PEPPERS, ROMAINE AND LEAF LETTUCE, SQUASH AND ZUCCHINI.
JULY THROUGH SEPTEMBER: BLACKBERRIES, RASPBERRIES, PEPPERS, SQUASH, TOMATOES, EGGPLANT, ZUCCHINI, GREEN BEANS, CUT FLOWERS, CUCUMBERS.
OCTOBER and NOVEMBER: PUMPKINS, FIELD GREENS, SPINICH, KALE, COLLARDS, ROMAINE, LETTUCES, CHERRY TOMATOES, FALL STRAWBERRIES, BLACKBERRIES, RASPBERRIES, PEPPERS, EGGPLANT, CABBAGE. We accept cash, check, credit card (except for American Express)
(UPDATED: November 30, 2015, JBS) (ADDED: September 16, 2013)
Green County
Louisa County
Lynchburg (City of)
Madison County
Graves Mountain Farm - apples, hayrides, Fall Festival
141 Apple Tree Lane Rt. 670, Syria, VA 22743. Phone: 540-923-4231. Email: info@gravesmountain.com. Open: Graves Mountain Farm - Pick your own Apples, Open weekends; 3rd Saturday in September until 3rd weekend in October; Open 9 am until 4:30 pm. Click here for current open hours, days and dates. Picking updates: Click here for picking updates. Directions: Click here for a map and directions. Apple Harvest Festival 1st, 2nd, and 3rd weekends in October; Free admission, free parking, bluegrass music, cloggers, food, hay rides, pony rides, hay maze, hay mountain, apples, pumpkins, craft vendors and more. Payment: Cash, Check, Visa/MasterCard, Discover. Click here for our Facebook page. Pick your own Apples, weekends only September 16 - October 22. Annual Apple Harvest Festival Oct 5-6 & 12-13 & 19-20, in 2013; 10:00 AM – 4:30 PM Daily. Enjoy fun filled days complete with good FOOD and ENTERTAINMENT including BLUEGRASS MUSIC, CLOGGERS, over 70 ARTS & CRAFTS VENDORS, Hayrides, Hay Mountain, Hay Maze and Horseback Rides & Pony Rides. Experience the days of yesteryear watching apple butter being cooked in kettles over and open fire by a local church group. Our orchards are open for apple picking or you may select your own from the apple bins at the picnic pavilion. On your way to the orchard, stop by an visit the farm and the animals. Enjoy a tractor pulled hayride through the orchards. Available Friday and Saturday evenings after dinner, weather permitting. Bring a blanket for colder nights and enjoy roasting marshmallows after the ride. Truly a fun time for everyone! Reservations required – $5.00 per person (15 person minimum). Please visit the front desk by 7:00 PM for tickets to ride. Payment: Cash, Check, Visa/MasterCard. (UPDATED: October 19, 2013, from their website) (UPDATED: February 09, 2012)

Kipps Grapes

- grapes,
6943 South Blue Ridge Turnpike, Rochelle, VA 22738. Phone: (540) 948-4171. Email: kippsgrapes@gmail.com. Open: when fruit ripens (varies due to weather each year), but usually August through the middle of September; Monday through Saturday, from 8am to 6pm. Directions: on Route 231, midway between Pratts and Rochelle (2.5 miles form each). GPS locates us well, but Google maps does not. Payment: Cash, Check. Kipps Grapes is a small family owned and operated pick-your-own fruit business. Grapes are our biggest crop, but we also have a few apples and peaches. In 2013, we began selling jams, jellies and sauces made from our fruit, so if you don't like to make your own, you can buy ours. Come pick while enjoying calming eye-fulls of surrounding pastures, croplands and the Blue Ridge mountains. Kipps Grapes is a comfortable day trip from Northern Virginia, Richmond and Charlottesville. (UPDATED: June 18, 2014)

Sunrise Gardens

-

Uses natural growing practices

, beans, blackberries, blueberries, raspberries (Autumn, red), strawberries,
114 Sunrise Lane, Brightwood, VA 22715. Phone: 540-543-2220. Email: mfhutch3@vabb.com. Open: Mondays to Saturdays, daylight hours middle of May until middle of September; Closed Wednesdays and Sundays; Call for current availability. Directions: (stay on Spring Branch Road) Click here for a map and directions. We use natural practices, but are not seeking organic certification. Payment: Cash, Check. Fresh produce, eggs and berries in season. Berries include Strawberries, Blueberries, Blackberries and fall Raspberries. We strive to grow healthy produce to help you eat healtier! (ADDED: March 10, 2013, from VG) (UPDATED: June 10, 2013)
A visitor writes on July 14, 2014: "We visited Sunrise Garden in Madison VA on 7/12/2014 and were very pleased by the blueberries (some were the size of quarters or larger). Very neat, well maintained farm. Saturday was honor system/self serve. We had no problems picking 4 quarts of great blueberries. Price on this date was $5.50 per pound. Blackberries were just coming into season- they were HUGE (thumb size) and delicious!! We would definitely go again. One note re directions: if you use a GPS, it will tell you to turn on Sunrise Lane- we missed the turn and stumbled on the patch- it is actually just beyond (East) this lane on the main road and has a large sign to grab your attention."
Nelson County
Critzer Family Farm - pick your own strawberries and peaches
9388 Critzer Shop Road, Route 151, Afton, VA. Phone: 540-456-4772. Open: May through October from 8am to ?. Directions: 250 west 16 miles to foot of Afton Mountain. Left on Route 151, 1 mile on right. From Waynesboro, 250 east, 7 miles to foot of Afton Mountain. Right on Route 151, 1 mile on right. From Wintergreen, 10 miles north on 151. Also pre-picked berries and other vegetables. (UPDATED: October 19, 2013, from their website) (UPDATED: April 28, 2010)
Comments from a visitor on May 12, 2009: "Strawberries are $1.50 per pound including their container. You can bring your own containers, but they need to be weighed beforehand. Cash or Check only. Very neat and clean farm"
Comments from a visitor on August 18, 2008: "Loved it!"
Dickie Bros. Orchard - apples, nectarines, peaches, pumpkins, U-pick and already picked, farm market, restrooms, picnic area
2552 Dickie Road, Roseland, VA 22967. Phone: 434-277-5516. Email: dickiebros@ceva, net. Open: see website. Directions: Click here for a map and directions. From Richmond, take I-64 west to Charlottesville. Take Route 29 south past Lovingston to Colleen, turn right on Route 56 west. Go 2 miles; turn right on Route 655 towards Roseland. Go 4 miles; turn left on 151 and cross Tye River and turn immediately right on 56 west (Crabtree Falls Hwy.). Go 2 miles; take left on Dickie Road and follow signs 3 miles up on left. From Lynchburg, take Route 29 north, turn left on Route 56 west and follow signs. Open: 8 am to 5 pm, Monday to Friday, November 1-August 31; 8 am to 5 pm, Monday-Sunday, September 1-October 31. A Virginia Century Farm. Dickie Bros. Orchard is one of Virginia's oldest farms continuously owned by the same family. Orchard is located at the foot of Little de Priest Mountain near National Forest, Blue Ridge Parkway, Crabtree Falls and Wintergreen Resort. Pick-Your-Own Fuji Apples at Dickie Bros. Orchard! We've set out the picnic tables and can't wait to see everyone. Picked Apple varieties: Paulared, Gala, McIntosh, Honeycrisp, Liberty, Red and Golden Delicious, Empire, Jonagold, Winesap, Stayman, Rome, Granny Smith, Fuji, Pink Lady. Pick-your-own offered for most varieties, especially Fuji, October 15-22. Apple butter and fresh cider also available. (UPDATED: October 19, 2013, from their website) (UPDATED: September 13, 2009)
Comments from a visitor on October 14, 2009: "I have been to this place 3 times already this season. The brothers that run the place are wonderful and were also really helpful when my handicapped father went there also. The apples are great and you cannot beat the price, 50¢/lb. Why go to the tourist farm near Michie Tavern and pay more than twice that for apples. Going back tomorrow for the Fuji and then later in the season for the Pink Ladies."
Hill Top Berry Farm & Winery - blackberries, gift shop, snacks and refreshment stand, restrooms, picnic area
2800 Berry Hill Road, Nellysford, VA 22938. Phone: 434-361-1266. Fax: 434-361-1266. Email us at: hilltop1@ntelos.net. Directions: Convenient to Charlottesville, Staunton, and Lynchburg; see website for detailed directions and map And for a map to our farm, Click here. Crops are usually available in July, August. Open: Wednesday to Saturday 11am to 5pm Sunday 1pm to 5pm Extended hours in blackberry season Payment: Cash, Check, Visa/MasterCard. Vineyard and Winery; Free Wine Tastings Indoor and Outdoor Meeting Facility Specialty Events & Weddings. (UPDATED: June 12, 2009. from their website)
Mountain Cove Orchard - apples,
Mountain Cove Road To Banton Orchard Lane, Lovingston, VA 22949. Phone: 434 263-7754. Email: mtcove@me.com. Open: UPDATE October 2013: I haven't seen any update from this orchard since 2008; I suspect they may be closed; for pick-your-own delicious Fuji apples from October 17 to November 23 on weekends, from 8 am to 6 pm; weekdays by appointment only. Directions: From Charlottesville 29 south 30 miles to Route 718 (Mt. Cove Road). From Richmond I-64 west to 29 south 29 south to Route 718 (Mt. Cove Road). From Lynchburg 29 north past Lovingston left turn onto Route 718 (Mt. Cove Road. Click here for a map and directions. Crops are usually available in October, November. Click here for current open hours, days and dates. Payment: Cash, Check. (ADDED: August 14, 2008)
Seamans' Orchard - apples, strawberries, U-pick and already picked
415 Dark Hollow Rd, Roseland, VA 22967. Phone: 434-277-8130. Alternate Phone: 434-277-5824. Fax: 434-277-8128. Email: anneskidd@gmail.com. Open: Strawberries: Open May to June; Monday - Friday 8am to 7pm, Saturday 8am to 5pm and Sunday 12pm to 5pm; Apples: Open third weekend in September; Saturday 9am to 4pm and Sunday 12pm to 5pm. Directions: From Amherst: 29N to 56W, go one mile, turn right onto Roseland Road. Watch for signs. From Lovingston: 29S to 56W, go one mile, turn right onto Roseland Road. Watch for signs. Strawberries: Pick-your-Own or Prepicked May to June; Apples: Pick-your-Own Only third weekend in September. Payment: Cash, Check. Click here for our Facebook page. Coming Soon: Pick-your-Own Blueberries 2013. (UPDATED: October 19, 2013, from their website) (UPDATED: May 25, 2011)
Comments from a visitor on June 08, 2009: "You have this farm listed as apples only - they also do pick your own strawberries. We were just there a couple of weeks ago, so I know they are still doing it. We go there every year - our favorite for strawberries."
Silver Creek Orchards - apples - PYO during 2 weekends only - see below
5529 Crabtree Falls Hwy, Tyro, VA. Phone: 434-277-5824. Directions: Alongside Route 56, Tyro. The packing shed offers Empire, Gala, Jonathan, Red and Golden Delicious, York, Winesap, Red Rome, Stayman, Pippin, Jonagold and Lady apples. Also apple butter, cider, baskets, honey, jellies, pumpkins and gifts. September 10-11
Pick your own Red and Golden Delicious apples. Half bushel bags provided. Located in a beautiful mountain orchard. Open: September 10th & 11th, 2005; Saturday 9 am to 5 pm, Sunday 12 pm to 5 p.m - Red and Golden Delicious and Jonagold are available to pick. Second PYO weekend: October 8th & 9th, 2005, Saturday 9 am to 5 pm, Sunday 12 pm to 5 p.m - Rome, Granny Smith, York, Fuji, and Stayman are available to pick. 1/2 bushel & bushel containers are provided. (UPDATED: October 19, 2013, from their website)
Orange County
---
---
Local Honey Sources:
Fredericksburg (City of)
Braehead Farm - Honey (retail), Raw honeys, Honey from hives on the farm, Fresh eggs, picnic area, farm animals, birthday parties, weddings and wedding parties
1130 Tyler Street, Fredericksburg, VA 22401. Phone: 540-899-9848. Fax: 540-899-9847. Email: Info@braeheadfarm.com. Open: 7 days a week 10:00 am to 6:00 pm; Open until 6:30 pm on Saturdays during the Harvest Festival from September 28 to November 3. Directions: Interstate 95 to Route 3 East, go approximately 2 miles to right on Belman Road, right on Tyler Street, farm on the left. Click here for a map and directions. Payment: Cash, Check, Visa/MasterCard, Discover. Click here for our Facebook page. (UPDATED: September 16, 2013)
Nelson County
Hungry Hill Farm- raw honey, shiitake mushrooms, bee supplies, eggs, Wide variety of seasonal fruits and vegetables, school tours
89 Williamstown Rd. , Shipman, VA 22971. Phone: 434-263-5336. Email: info@hungryhillhoney.com. Open: All the time, just be sure to call or email to arrange a time. . Directions: See their website for directions. Payment: Cash, Check. Our farm is open year around for visitors and groups. Come learn about beekeeping or growing your own mushrooms. We sell honey directly out of our 'honey house' as well as bee supplies. Everything from hive tools to complete kits for beginning and amateur beekeepers alike. With more than 30 years experience working bees we love to talk about our experiences and hear yours as well. Be sure to call before stopping by as we may be out busy working at one of our many bee yards spread over five counties.(ADDED: August 26, 2011, suggested by a visitor)
Orange County
Liberty Mills Farm -

Minimizes chemical and pesticide use

, Honey (retail), Comb honey, Honey from hives on the farm, picnic area (bring your own food), school tours, group reservations
9166 Liberty Mills Road, Somerset, VA 22972. Phone: 434-882-6293. Alternate Phone: 434-882-MAZE. Email: info@libertymillsfarm.com. Open: Seasonally, Tuesday, 3 pm to 5 pm; Thursday 3 pm to 6 pm; Saturday 12 pm to 3 pm or call for an appointment. Click here for current open hours, days and dates. Honey updates: Click here for updates. Directions: Click here for a map and directions. Strawberries: May to June; Contact for hours and days. We minimize use of pesticides and other chemicals. Payment: Cash, Check, Debit cards, Visa/MasterCard. Click here for our Facebook page. No pets, smoking or alcohol allowed on the farm at any time. (UPDATED: January 30, 2015)
The Market at Grelen -

Uses integrated pest management practices

, Honey (retail), gift shop, concessions / refreshment stand, restrooms, picnic area, birthday parties, weddings and wedding parties, school tours
15111 Yager Road, Somerset, VA 22972. Phone: 540-672-7268. Alternate Phone: 540-672-5462. Email: info@themarketatgrelen.com. Open: See website. Click here for current open hours, days and dates. Honey updates: Click here for updates. Directions: Click here for a map and directions. We use integrated pest management practices. Payment: Cash, Check, Visa/MasterCard, AmEx. Click here for our Facebook page. The Market at Grelen is a year-round destination farm market and garden shop on a 600-acre tree nursery in Somerset, VA (Grelen Nursery, Inc). In addition to produce, honey, flowers, plants, shrubs, we carry high-quality gardening gifts and supplies. Grelen Nursery offers superior landscaping, hardscaping, planting, and maintenance services. For more information, please email us. (UPDATED: February 25, 2013)
---
Farm Venues for Events, Activities, Parties and Meetings:
Albemarle County
Carter Mountain Orchard - Wedding Ceremony, Wedding Reception, Wedding Rehearsal Dinner, Birthday parties, Business outings, Corporate events, Filming or photo shoots, School and educational groups, Daycare and preschool groups, Other Private Parties, Catering available, You may bring your own food, Bring Your Own Tables and chairs, Bring your own linens and table silverware, Apple Orchard, Peach/Nectarine, Apricot, etc. Orchard, Mountain views, Free Onsite Lot parking lot, Within an easy drive to an Interstate road, children welcome, No smoking allowed, gift shop, snacks and refreshment stand, restrooms, picnic area, birthday parties, weddings and wedding parties, school tours
1435 Carters Mountain Trail, Charlottesville, VA 22901. Phone: 434-977-1833. Alternate Phone: 434-977-0619. Fax: 434-979-0341. Email: Info@CarterMountainOrchard.com. Open: See our website for current hours. Click here for current open hours, days and dates. Picking updates: Click here for updates. Directions: Click here for a map and directions. Peaches approx June 20th through August 20 Thursday, Apples approx August 10th through November 15th; Apple Harvest Festival 1st and 2nd weekends of October. Payment: Cash, Check, Visa/MasterCard, Discover. Gorgeous views of the Blue Ridge Mountains and Charlottesville. Located next to Monticello and Michie Tavern. Bakery featuring apple cider donuts, pies, cookies, ice cream, and Mountain Grille features concessions on weekends. Apple Cider, Apple Butter, pumpkins, gourds. Country Store has local crafts, gourmet food items, jams and jellies, and more. Hay rides every weekend in September and October, weather permitting. Senior Citizen discounts every Tuesday. Apple Harvest Festival first 2 weekends each October - live music, crafts, food. (UPDATED: February 23, 2010)
Chiles Peach Orchard and Farm Market - Birthday parties, Filming or photo shoots, Apple Orchard, Cherry Orchard, Peach/Nectarine, Apricot, etc. Orchard, Pumpkin patch, Mountain views, Fishing nearby, golf nearby, Free Onsite Lot parking lot, Within an easy drive to an Interstate road, children welcome, No smoking allowed, gift shop, snacks and refreshment stand, restrooms, picnic area, birthday parties, school tours
1351 Greenwood Road, Crozet, VA 22932. Phone: 434-823-1583. Alternate Phone: 434-977-0619. Fax: 434-823-1593. Email: Info@ChilesPeachOrchard.com. Open: See our website for current hours. Click here for current open hours, days and dates. Directions: Click here for a map and directions. Strawberries May 10 to June 20, Sweet Cherries June 10 to July 15, Peaches June 15 to September 1, Apples September 25 to November 15, Pumpkins September 25 to November 1. Payment: Cash, Visa/MasterCard, Discover. Newly expanded farm market with fresh picked fruit, local vegetables, ciders, jams and jellies, local crafts, and gifts. Ice Cream Parlor serves up frozen yogurt, soft serve ice cream, sundaes, shakes, and baked goodies. Fudge kitchen features fresh fudge in lots of flavors! Homemade Peach Ice Cream Days, 1st weekend in August each year. (UPDATED: February 23, 2010)
Fredericksburg (City of)
Braehead Farm - Wedding Ceremony, Wedding Reception, Wedding Rehearsal Dinner, Banquets / Dinners, Birthday parties, Business meetings, Business outings, Corporate events, PR or Marketing events, Conferences, Filming or photo shoots, Classes, lectures or Speakers, School and educational groups, Daycare and preschool groups, Other Private Parties, Catering available, You may bring your own food, Tables and chairs are Provided , Vegetables, or bush fruit, Corn maze, Pumpkin patch, goats, chickens, pigs, other animals, Free Onsite Lot parking lot, Within an easy drive to an Interstate road, children welcome, Honey from hives on the farm, Fresh eggs, picnic area, farm animals, birthday parties, weddings and wedding parties
1130 Tyler Street, Fredericksburg, VA 22401. Phone: 540-899-9848. Fax: 540-899-9847. Email: Info@braeheadfarm.com. Open: 7 days a week 10:00 am to 6:00 pm; Open until 6:30 pm on Saturdays during the Harvest Festival from September 28 to November 3. Directions: Interstate 95 to Route 3 East, go approximately 2 miles to right on Belman Road, right on Tyler Street, farm on the left. Click here for a map and directions. Payment: Cash, Check, Visa/MasterCard, Discover. Click here for our Facebook page. (ADDED: September 16, 2013)
Orange County
The Market at Grelen -

Uses integrated pest management practices

, Wedding Ceremony, Wedding Reception, Wedding Rehearsal Dinner, Banquets / Dinners, Birthday parties, Business meetings, Business outings, Filming or photo shoots, Classes, lectures or Speakers, School and educational groups, Other Private Parties, Kitchen facilities available, You may bring your own food, Tables and chairs are Provided , Bring Your Own Tables and chairs, Bring your own linens and table silverware, BYO alcohol, Apple Orchard, Peach/Nectarine, Apricot, etc. Orchard, Vegetables, or bush fruit, Beautiful rural setting, Mountain views, Internet (Wireless), Free Onsite Lot parking lot, Within an easy drive to an Interstate road, children welcome, No pets please, No smoking allowed, gift shop, concessions / refreshment stand, restrooms, picnic area, birthday parties, weddings and wedding parties, school tours
15111 Yager Road, Somerset, VA 22972. Phone: 540-672-7268. Alternate Phone: 540-672-5462. Email: info@themarketatgrelen.com. Open: Year round availability. Click here for current open hours, days and dates. Venue updates: Click here for updates. Directions: Click here for a map and directions. We use integrated pest management practices. Payment: Cash, Check, Visa/MasterCard, AmEx. Click here for our Facebook page. The Market at Grelen is a year-round destination farm market and garden shop on a 600-acre tree nursery in Somerset, VA (Grelen Nursery, Inc). In addition to produce, honey, flowers, plants, shrubs, we carry high-quality gardening gifts and supplies. Grelen Nursery offers superior landscaping, hardscaping, planting, and maintenance services. For more information, please email us. 600 acre tree farm perfect for a "farm-to-table" type events. Gorgeous 360 degree views. Many areas suitable for event tents, including a large blue stone patio. Stroll gardens. Email us for a tour!. (UPDATED: February 25, 2013)
---
Meats, Milk and Eggs:
Fluvanna County
Layz S Ranch - Beef, Pork, USDA Natural, No hormones used, No antibiotics used, 100% grass and/or grain fed, Farm market with fruits and vegetables, School tours, porta-potties, picnic area, face painting, pony rides, farm animals, birthday parties, school tours
2253 Thomas Jefferson Parkway, Palmyra, VA 22963. Phone: 434-591-0898. Email: info@layzsranch.com. Open: Tuesday, 2pm to 6pm, and Saturday, 8am to 12pm; May 1 to October 31. Directions: 2.2 miles from Palmyra on Route 53 (Thomas Jefferson Parkway). Click here for a map and directions. Payment: Cash, Check. Click here for our Facebook page. Visit our website for more details!. (ADDED: September 10, 2012)
Fredericksburg (City of)
Braehead Farm - Beef, Milk, Organic Milk, Goat Milk, Eggs (free range), Brown eggs, Farm market with fruits and vegetables, Restrooms, Within an easy drive to an Interstate road, children welcome, Honey from hives on the farm, Fresh eggs, picnic area, farm animals, birthday parties, weddings and wedding parties
1130 Tyler Street, Fredericksburg, VA 22401. Phone: 540-899-9848. Fax: 540-899-9847. Email: Info@braeheadfarm.com. Open: 7 days a week 10:00 am to 6:00 pm; Open until 6:30 pm on Saturdays during the Harvest Festival from September 28 to November 3. Directions: Interstate 95 to Route 3 East, go approximately 2 miles to right on Belman Road, right on Tyler Street, farm on the left. Click here for a map and directions. Payment: Cash, Check, Visa/MasterCard, Discover. Click here for our Facebook page. (ADDED: September 16, 2013)
Madison County
5 Rider 's Farm

- Fresh eggs, Eggs (free range), Brown eggs, Farm market with fruits and vegetables, Within an easy drive to an Interstate road, children welcome, snacks, refreshments and/or concessions,farm animals
3849 Twymans Mill Road, Orange, VA 22960. Phone: 540-672-7479. Email: Fiveriders@peoplepc.com. Open: Open 7 days a week from dawn till dusk. Directions: Route 15 Madison County to route 614 Twymans Mill Road down state route 1.3 miles farm on right. Payment: Cash, Check. Our Farm Stand has a fall garden replanted. We will have till frost tomatoes, green bean, several types of greens, cabbage, broccoli, lettuce turnips pumpkins, gourds. (UPDATED: September 15, 2015) (ADDED: September 11, 2014)
---
Horse Rides and More:
Fredericksburg (City of)
Braehead Farm - Horse riding lessons, equipment & instruction, Honey from hives on the farm, Fresh eggs, picnic area, farm animals, birthday parties, weddings and wedding parties
1130 Tyler Street, Fredericksburg, VA 22401. Phone: 540-899-9848. Fax: 540-899-9847. Email: Info@braeheadfarm.com. Open: 7 days a week 10:00 am to 6:00 pm; Open until 6:30 pm on Saturdays during the Harvest Festival from September 28 to November 3. Directions: Interstate 95 to Route 3 East, go approximately 2 miles to right on Belman Road, right on Tyler Street, farm on the left. Click here for a map and directions. Payment: Cash, Check, Visa/MasterCard, Discover. Click here for our Facebook page. (ADDED: September 16, 2013)
---
Farm Bed And Breakfasts
Orange County
Spotswood Lodge - 8 total rooms, Price range from $2,000 to $3,500, Large rooms, Wedding facilities, Beautiful rural setting, washer and dryer available, children welcome, No pets please, No smoking allowed, weddings and wedding parties
16280 Blue Ridge Turnpike, Gordonsville, VA 22942. Phone: (540) 672-7268. Email: ssargent@themarketatgrelen.com. Click here for current open hours, days and dates. Directions: Click here for a map and directions. Payment: Cash, Check, Visa/MasterCard. 8 Bedrooms, 7 Full Baths, Sleeps 16-20 people. This is a whole lodge rental property, with a minimum of three nights stay. Photos: Click here for photos of the rooms and farmhouse. (ADDED: May 31, 2015)
---
Wholesale Foods
Orange County
Liberty Mills Farm -

Minimizes chemical and pesticide use

, Local delivery, some produce is sustainably grown, Preserves, jams, jellies, Wide variety of seasonal fruits and vegetables, Honey from hives on the farm, picnic area (bring your own food), school tours, group reservations
9166 Liberty Mills Road, Somerset, VA 22972. Phone: 434-882-6293. Alternate Phone: 434-882-MAZE. Email: info@libertymillsfarm.com. Open: Seasonally, Tuesday, 3 pm to 5 pm; Thursday 3 pm to 6 pm; Saturday 12 pm to 3 pm or call for an appointment. Click here for current open hours, days and dates. Market updates: Click here for updates. Directions: Click here for a map and directions. Strawberries: May to June; Contact for hours and days. We minimize use of pesticides and other chemicals. Payment: Cash, Check, Debit cards, Visa/MasterCard. Click here for our Facebook page. No pets, smoking or alcohol allowed on the farm at any time. (UPDATED: January 30, 2015)
---
Current weather - click for forecast, or enter a zip code for a different location: