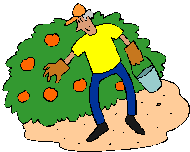 Looking for a local, pick-your-own farm in Deep South of Texas? Scroll down this page and you will see the U-Pick farms in Deep South of Texas, sorted by county. Those that offer organic or sustainably grown produce are identified by the words "organic" and/or "sustainable" in Green, next to their name. If they have a website, the name will be in blue and underlined; click on it and it will open their website.
And if you know of any I missed and want to add them or correct the information, please let me know!
What's in season in January 2018, and other timely information:
Notes for January 2018: Strawberries have a very brief season; and they start in early April in the South, May in most of the US, and early June in the North - don't miss them: See your state's crop availability calendar for more specific dates of upcoming crops. And see our guide to local fruit and vegetable festivals, such as strawberry festivals and blueberry festivals. Cold weather crops, like spinach, some lettuces, peas, kale, Brussels sprouts, broccoli, cauliflower, leeks and early onions being harvested in all but the coldest regions. Many farms and markets still have fresh winter squash, stored from last Autumn.
You may noticed the new appearance to the website! Simpler, cleaner and mobile-friendly! I'm rolling it out, page by page over the next 2 months. Everything is still here; you can access it from the drop down menus at the top of the page or the site search. If you have any questions or suggestions, feel free to write me!
Deep South of Texas U-Pick Farms and Orchards, by county
Click on the resources drop-down above, if you need a county map
Brooks County
CameronCounty
Orr Farms - Grapefruit
1 2 Mile S Rabb Road, La Feria, TX 78559. Phone: 956-797-1853. Directions: Rabb Road and South Business 83, LaFeria.
Universal Farms -

No pesticides are used

, eggplant, herbs/spices, onions, peppers, other vegetables,
20821 Sam Houston, Rio Hondo, TX 78583. Phone: 281-777-9289. Alternate Phone: 512-663-8748. Email: nvnlx@sbcglobal.net. Open: Sunday to Friday, from 9 am to 5 pm. Directions: Click here for a map and directions. We do not use pesticides on the crops. Payment: Cash, Check. Universal Farms specializes in Oriental Vegetables like winter melons, climbing spinach, water spinach, Dragon Fruit, sugar cane, water celery and more!. (ADDED: November 18, 2010)
Dimmit County
Duval County
Hidalgo County
Bell's Farm to Market- some PYO Produce
116 South Ware Road, McAllen. Phone: 956-630-1015. Phone:800-798-0424.
Fike Farms - Grapefruit, Oranges, Tangerines, Avocados, Lemons
1601 N Sharp Road, East 107, Edinburg. Phone: 956-381-0334. Open: Monday to Friday from 8 am to 5 pm, Call ahead on weekends. Directions: Call for directions. Crop availability: Grapefruit, Oranges in October-April; Tangerines in October-February and Lemons year-round.

The Lazy S Citrus Grove

- grapefruit, oranges,
Mercedes, TX 78570. Phone: 956-264-4549. Email: cherswear@yahoo.com. Open: Please Call Ahead To Schedule Picking Time; 7 days a week - morning til' dusk. Directions: Call for directions when you make an appointment. Payment: Cash, only. (ADDED: December 02, 2011)
Obst Family Farm - Rio Red Grapefruit, Oranges
North FM 907, Alamo. Phone: 956-787-6917 .
Jim Hogg County
Jim Wells County
Kenedy County
Kleberg County
La Salle County
Maverick County
Starr County
Willacy County
Webb County
Zapata County
---