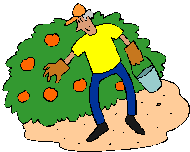 Looking for a local, pick-your-own farm in Lubbock area of Texas? Scroll down this page and you will see the U-Pick farms in Lubbock area of Texas, sorted by county. Those that offer organic or sustainably grown produce are identified by the words "organic" and/or "sustainable" in Green, next to their name. If they have a website, the name will be in blue and underlined; click on it and it will open their website.
And if you know of any I missed and want to add them or correct the information, please let me know!
What's in season in January 2018, and other timely information:
Notes for January 2018: Strawberries have a very brief season; and they start in early April in the South, May in most of the US, and early June in the North - don't miss them: See your state's crop availability calendar for more specific dates of upcoming crops. And see our guide to local fruit and vegetable festivals, such as strawberry festivals and blueberry festivals. Cold weather crops, like spinach, some lettuces, peas, kale, Brussels sprouts, broccoli, cauliflower, leeks and early onions being harvested in all but the coldest regions. Many farms and markets still have fresh winter squash, stored from last Autumn.
You may noticed the new appearance to the website! Simpler, cleaner and mobile-friendly! I'm rolling it out, page by page over the next 2 months. Everything is still here; you can access it from the drop down menus at the top of the page or the site search. If you have any questions or suggestions, feel free to write me!
Lubbock area of Texas U-Pick Farms and Orchards, by county
Click on the resources drop-down above, if you need a county map
Andrew County
Bailey County
Borden County
Cochran County
Cottle County
Crosby County
Dawson County
Dickens County
Fisher County
Floyd County
Garza County
Hale County
Hockley County
Howard County
Kent County
King County
Lamb County
Apple Country Orchards - Apples, apple cider.
12206 East Hwy 62, Idalou TX, 79329. Phone: 806-892-2961, Fax: (806) 892-2266. Email: info@applecountryorchards.com. Directions: Four miles east of Idalou on Hwy. 62/82/144 (14 miles east of Lubbock). One of the few places for citrus in this area. Have lunch with us. Sample our Famous German Apple Cake and other bakery goodies. Visit our cider mill, drink a cup of fresh apple cider in our wedding gazebo, Relax beside our waterfall and fountain, And of course, PICK APPLES ! (click here for picking schedule). Please call for current apple prices. Also prepicked: Peaches, Tomatoes, Peppers, Sweet Corn, Sweet Potatoes, Watermelons, Pumpkins, Other Seasonal Vegetables. Note: the Pick Texas website claims they have PYO Oranges and Grapefruit, but their website says nothing about it so if you are interested, call them first! (UPDATED: May 16, 2015, JBS) (UPDATED June 6, 2008)
Comments from a visitor on April 18, 2011: "While they had REALLY good apples, and the gentleman who was riding around in his tractor was very helpful in locating the best apples, the lady who had rung us up for the 160 lbs. of apples we picked and half gallon honey we bought couldnOpen: 't have been more rude to us. Considering we were picking apples with 5 elderly men and women and 4 kids, we were moving as fast as we could go. I have no idea if this woman owns the farm, but we will try it one more time and give them the benefit of the doubt. Maybe she was having a bad day? No matter. The apples are very good and we never mind blemishes as long as they are on a non-sprayed apple and kissed by genuine sunshine! The honey was good. Pure because there was a honeybee floating in the top! Love it! Wish they would have allowed me to bottle my own though as the opening of their 1/2 gal. jar is way too small. All in all, a fun trip for the kids and visiting in-laws!"
Gallaghers Apple Orchard - Apples, Blackberries, Strawberries, Nectarines, Peaches
Lubbock , TX. Phone: (806) 763-0096. Directions: Call for directions.Open: Daily, from 8 am until dark. Crop availability: August- December 1st.
Santa Maria Lavender- Lavender
66927 Highway 84, Shallowater, TX. Phone: 806-928-1612. Fax: 806-832-5939. Email: howardh@santamarialavender.com.
TreeGrace Farms - ORGANIC, Organic Watermelons and Cantaloupes
2204 Alcove Avenue, Lubbock, TX. Phone: 806-792-2026. Email: matt@treegracefarms.com. Directions: in city limits, south of the Loop on 19th Street.
Lynn County
Martin County
Mitchell County
Motley County
Nolan County
Scurry County
Stonewall County
Terry County
Shoestring Cattle Co. - Peppers, Peas, Okra, Tomatoes
Stateline and Highway 83, Denver City, TX. Phone: 806-732-8611 Email: shoestrg@hiplains.net or Email: shoest@crosswind.net. Directions: Call for directions. Open: Daily from 8 am to 5 pm. Crop availability Peppers, Peas, Okra and Tomatoes in July.
---
---
Meats, Milk and Eggs:
Borden County
Field of Dreams Dairy - Chicken (free range), Beef, USDA Natural, No hormones used, No antibiotics used, 100% Grass fed (includes finishing), Eggs (free range), Unpasteurized Milk, Farm market with fruits and vegetables, Within an easy drive to an Interstate road, children welcome, Fresh eggs, gift shop, restrooms
800 Borden County Road 144, Odonnell, TX 79351. Phone: 806-439-6316. Email: fieldofdreamsdairy@yahoo.com. Open: Monday to Saturday 10 am to 7 pm Sunday 1pm to 7 pm. Directions: Our website contains a map. Click here for a map and directions. Payment: Cash, Check. We also have shelled pecans. (ADDED: July 27, 2010)