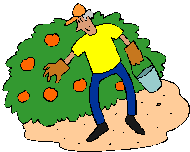 Looking for a local, pick-your-own farm in Abilene area of Texas? Scroll down this page and you will see the U-Pick farms in Abilene area of Texas, sorted by county. Those that offer organic or sustainably grown produce are identified by the words "organic" and/or "sustainable" in Green, next to their name. If they have a website, the name will be in blue and underlined; click on it and it will open their website.
And if you know of any I missed and want to add them or correct the information, please let me know!
What's in season in January 2018, and other timely information:
Notes for January 2018: Strawberries have a very brief season; and they start in early April in the South, May in most of the US, and early June in the North - don't miss them: See your state's crop availability calendar for more specific dates of upcoming crops. And see our guide to local fruit and vegetable festivals, such as strawberry festivals and blueberry festivals. Cold weather crops, like spinach, some lettuces, peas, kale, Brussels sprouts, broccoli, cauliflower, leeks and early onions being harvested in all but the coldest regions. Many farms and markets still have fresh winter squash, stored from last Autumn.
You may noticed the new appearance to the website! Simpler, cleaner and mobile-friendly! I'm rolling it out, page by page over the next 2 months. Everything is still here; you can access it from the drop down menus at the top of the page or the site search. If you have any questions or suggestions, feel free to write me!
Abilene area of Texas U-Pick Farms and Orchards, by county
Click on the resources drop-down above, if you need a county map
Brown County
Yoes Peach Orchard

- peaches,
15825 N highway 183, May, TX 76857. Phone: 254-259-3123. Email: seoyc@aol.com. Open: Closed due to damaged crop because of rainy season; Our regrets. Directions: 3 miles south of May. Approx. 13 miles north of Brownwood on Hwy 183. Watch for signs. Click here for a map and directions. Payment: Cash, only. (UPDATED: June 18, 2015)
Childress Agricultural Enterprises - Pick-your-own blackeye peas, sweet corn, blackberries, peaches, pecans , picnic area
11028 CR 452, Cross Plains, TX 76443. Phone: 254/725-4321. Email: bob@childressfarm.com. Directions: From Cottonwood (the one 40 miles SE of Abilene) go one mile West and then one mile South. See our web page for a map. or for a Mapquest map to our farm, click here. Crops are usually available in May, June, July, October, November, December. Open: Daylight to Dark everyday except Sunday Mornings. See our website for current information and prices. Payment: Cash, Check.
Comments from a visitor on August 05, 2008: "I stopped in here on my way back home from Abilene, because they had their "peaches" sign out. Many places near Brown County lost the peach crop to a late freeze this year so I was excited to get fresh peaches. Oh they were excellent! I went in mid-afternoon and there were still lots of beautiful fruit on the trees. The trees are low and open so easy to get to. I don't know if they are organic, but the owner told me to be sure and eat a peach at each tree to test them before I picked! LOL! Nice people and great produce. I picked half a bushel and put up preserves, peach marmalade, and peach chutney with them. I will definitely visit the Childress farm again. :-)"
Coleman County
Texas Fruit & Pecan Orchard - Peaches, Plums, Apricots, Persimmons, Pecans
3451 State Highway 6, De Leon, TX 76444. Phone: 254-893-6875 . Directions: West of De Leon 2-one half miles on SH 6 at CR 471.

Files Family Farm - peaches
2500 CR 295, Carbon, TX 76435. Phone: 254-639-2149. Email: filesfamilyfarm@gmail.com. Directions: From Carbon take 1027 south until you come to CR 411. Take a Right. When you come to a 'T' in the road take a left and stop at the second house on the right. We are open July, August. Our hours are: Anytime during peach season, except Sunday mornings. Call or just come on out around the first of July and through August Please check out our website for pictures of our peaches and for other info. Click here for our Facebook page (UPDATED: July 01, 2012)
Jones County
Llano County
Apple Valley Orchard - Raspberries and blackberries, honey from hives on the farm
12340 South Hwy. 16, Llano TX. 78643. Phone: 325-247-3979. Open: Thursday – Saturday 10:00 am to 5:00 pm, Sunday – noon to 5:00 pm, April through July 5th, August through December. We have apple cider, apple butter, homemade ice cream, handmade soaps, bees wax lotions and lip balms, essential oils and lots more interesting items. The store will be open Thursday through Sunday for the rest of the year. Our bees produced 200 pounds of honey this year. We have four hives for pollination. Click here for a link to our Facebook page. (ADDED: June 13, 2015, JBS)
Mason County
Sonlight Orchard - pecans
605 Austin Street, Mason, TX 76856. Phone: 210-377-3311 or 915-347-3311. Pick-your-own Choctaw, Kiowa and other papershell.
McCulloch County
Mills County
Runnels County
San Saba County
Shackleford County
Stephens County
Taylor County
---
---
Meats, Milk and Eggs:
Taylor County
Rimrock Forage Finished (TM) Beef - Beef, Goat meat, USDA Natural, No hormones used, No antibiotics used,
518 Cr 282, Abilene, TX 79603. Phone: 325-660-2193. Alternate Phone: 325-660-7030. Email: kyle@rimrockcattle.com. Open: Call for information. Directions: Call for information. Payment: Cash, only. In addition to individual cuts/packages we also offer for sale sampler packs and whole, half, and quarter beef. Delivery is available. Rimrock Beef is "Forage Finished(TM)",a proprietary term unique and trademarked by Rimrock Land & Cattle Co. LLC., and defined as the "finishing" process of an animal for harvest that has received no grain or grain by-products within 120 days of slaughter. Furthermore, animals are fed a 100% vegetarian diet of forages consisting of growing plants and hay/silage throughout their lives. No antibiotics, implants, hormones, growth stimulants, or any other artificial means of sustainability or to promote maturity are included in their diet. In addition, no animal by-products, no non-naturally occurring compounds/substances, no ionophores, or no non-protein nitrogen products (NPN's) have been fed to these animals. (ADDED: September 26, 2011)