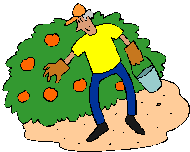 Looking for a local, pick-your-own farm in North-Central Tennessee? Scroll down this page and you will see the U-Pick farms in North-Central Tennessee, sorted by county. Those that offer organic or sustainably grown produce are identified by the words "organic" and/or "sustainable" in Green, next to their name. If they have a website, the name will be in blue and underlined; click on it and it will open their website.
And if you know of any I missed and want to add them or correct the information, please let me know!
What's in season in January 2018, and other timely information:
Notes for January 2018: Strawberries have a very brief season; and they start in early April in the South, May in most of the US, and early June in the North - don't miss them: See your state's crop availability calendar for more specific dates of upcoming crops. And see our guide to local fruit and vegetable festivals, such as strawberry festivals and blueberry festivals. Cold weather crops, like spinach, some lettuces, peas, kale, Brussels sprouts, broccoli, cauliflower, leeks and early onions being harvested in all but the coldest regions. Many farms and markets still have fresh winter squash, stored from last Autumn.
You may noticed the new appearance to the website! Simpler, cleaner and mobile-friendly! I'm rolling it out, page by page over the next 2 months. Everything is still here; you can access it from the drop down menus at the top of the page or the site search. If you have any questions or suggestions, feel free to write me!
North-Central Tennessee U-Pick Farms and Orchards, by county
Click on the resources drop-down above, if you need a county map
Cannon County
Clay County
Dekalb County
WeDoFarm - strawberries, pumpkins corn maze
1230 Bethel Road, Smithville, TN 37166. Phone: (615) 597-1864. Email: wedofarm@mail.com. High tunnel for Vegetable production, Maze, Geo Tracking. We also have picked Strawberries, Beets, Carrots, Cucumbers, Lettuce, Mustard Greens, Okra, Peppers, Pumpkins, Squash, Winter Squash, Tomatoes, Turnips. (ADDED: May 09, 2015, JBS)
Fentress County
Jackson County
Bell Point Farms -

Minimizes chemical and pesticide use

, beans, corn (sweet), melons, peppers, pumpkins, tomatoes, other vegetables,
5374 Granville Hwy, Granville, TN 38564. Phone: 931 653-4227. Email: bellpointfarms@gmail.com. Open: Monday through Saturday 1 pm to 6 pm and by appointment June 1 through November 1. Click here for current open hours, days and dates. Picking updates: Click here for picking updates. Directions: TN route 53 between Gainesboro and Granville. Click here for a map and directions. We provide a pumpkin patch located in the town of Granville for the annual scarecrow festival during the month of October. We minimize use of pesticides and other chemicals. Payment: Cash, only. Click here for our Facebook page. (ADDED: June 15, 2014)
Hidden Springs Orchard - blueberries,
2204 Spring Creek Road, Cookeville, TN 38501. Phone: 931-529-1166. Email: bsblueberries@gmail.com. Open: Please email for pick your own. Directions: From Cookeville proceed for about 12 miles north on TN highway 135 to Dodson Branch Community. Veer right onto Step Rock Hill Road. Continue down dirt road and take the first right at the bottom of the hill. The creek should be on your left. Continue until a small bridge takes you left and look for the small "blueberry shack" on the right. Look for "blueberry" signs. Click here for a map and directions. Payment: Cash, Check. (UPDATED: May 09, 2015, JBS) (ADDED: June 07, 2009)
Macon County
Overton County
Berry Ridge Farms - Blackberries, Blueberries, Raspberries
Highway 111, Livingston, TN 38570. Phone: (931) 823-2829. Email: dewebb@twlakes.net. Open: starts around June 1st; call or email for hours and availability. Berry Ridge Farms has 3 acres available of Pre-Picked and Pick Your Own berries. Tennessee blackberries available in last-June through July. Raspberries- 1st or 2nd week of June. Blueberries also available starting June 2015. Farm located in Livingston, TN on Hwy 111 north of Cookeville and south of Livingston. Berry Ridge is approximately 13 miles from Cookeville and 9 miles from Livingston on Hwy 111. Call ahead for picking times and berry availability. Come see us. (ADDED: May 09, 2015, JBS)
Mountain Harvest Farm - Blackberries, Raspberries
149 Qualls Lane, Livingston, 38570. Phone: (931) 823-2568. Email: berrycqs@twlakes.net Directions: From Livingston square go east on Main Street, right at library, right on Windle Street, right on Mountain Street, right on Qualls Lane.

Schrock Honeyacres

- blueberries, Honey from hives on the farm
154 Schrock Lane, Monterey, TN 38574. Phone: 931 445-3294. Email: schrockf@gmail.com. Open: Monday through Saturday 7:00 am to 5:00 pm Pick-your-own blueberries July and August; we have honey most of the year; Call before coming to make sure we are open. Directions: From Monterey: Take Highway 164 out of town. Go about 7 miles to Union B Road on right. Turn and go one and one half mile to crossroads. Turn left and go 2.75 miles to Schrock Lane on left. .2 mile to second (beige) house. Keep right at fork and go straight down the hill. From Clarkrange: Highway 62 west one mile to Campgrounds Road. this road becomes Muddy Pond Road). Follow it about 7 miles to Schrock Lane on right. Second house. Keep right at forks. Click here for a map and directions. Approximately July 1 to September 1. Payment: Cash, Check. (UPDATED: August 09, 2014) (UPDATED: June 23, 2010)
Pickett County
Putnam County
Smith County
Bussell's Berries - Grapes, Strawberries, Corn, Pumpkins
3 Rogers Lane, Carthage, TN, 37030. Phone: (615) 735-9193. Directions: Call for Directions.
Trousdale County
Van Buren County
Apples and More/Baker Mountain Farm - apples, prepicked produce, restrooms, school tours
351 Pioneer Lane, Spencer, TN 38585. Phone: (931)316-9072. Fax: 931-946-7486. Email: Wendy@BakerMountainFarm.com. Open: Call for an appointment to purchase apples. . Directions: See website for directions. And for a map to our farm, click here. Crops are usually available in August, September, October, November. Apple season starts August 10th through November 15, tree-ripened apples. Payment: Cash, only. All apples tree ripened and washed. Also pre-picked pumpkins in the farm stand. Click here for our Facebook page. The farm is open throughout the year for scheduled groups, parties, scouts, church groups, etc. We also can do on-site parties and educational lessons. (UPDATED: May 09, 2015, JBS) (UPDATED: August 10, 2013) (ADDED: October 05, 2008)
Warren County
Rainbow Hill Farm - broad beans, corn (sweet), cucumbers, eggplant, melons, onions, peas, pumpkins, summer squash, winter squash, strawberries, tomatoes,
93 Bailey Road, McMinnville, TN 37110. Phone: 931-939-3117. Email: wroe@blomand.net. Directions: check website. And for a map to our farm, click here. Crops are usually available in May, June, July, August, September, October. Open: call for dates. check website. Payment: Cash, only.
Randall Walker Farms - blackberries, blueberries, strawberries, raspberries, Pumpkins
8240 Manchester Hwy., Morrison, TN, 37357. Phone: (931) 635-9535. Fax: (931) 635-9536. Email: rwalkerfarms@blomand.net. Directions: We offer Pick Your Own, Wholesale and also participate in the local Farmers Market. During the fall, in addition to our pumpkins we offer corn stalks and indian corn. We are located on I-24 off of Exit 111 in Manchester, Tennessee. Go east on Hwy 55, 14 miles to Morrison, TN. The Community Farm Market is located on the left 1 mile past Comer Air Conditioning. From I-40, take Exit 288, Hwy 111 toward Sparta Road which changes to 70 to McMinnville Road It then changes to 55 toward Manchester. Our Farm Market is on the right approximately 12 miles from McMinnville. We have just added raspberries this season to our pick your own. We grow fresh sweet corn, cantalope, watermelon, half runner green beans, squash, cucumbers, pumpkins, corn stalks at our farm when they are in season. (UPDATED: July 17, 2009)

White County
Amazin' Acres of Fun - strawberries, pumpkins, Honey from hives on the farm, concessions / refreshment stand, restrooms, picnic area, farm animals, birthday parties, school tours, events at your location (call for info)
2857 Old Kentucky Road North, Sparta, TN 38583. Phone: 931-761-2971. Alternate Phone: 931-808-4051. Email: holdairy@blomand.net. Open: Strawberry picking on the farm usually runs from April 20 through June 10; (These dates are subject to change depending upon the weather) We are open throughout the season from 8:00 am till 4:00 pm Please call if you have a long drive for picking information. Directions: Call for additional directions. Click here for a map and directions. Strawberries April 20 to June 10 Corn maze and pumpkin patch September 22 to November 3. Payment: Cash, only. Click here for our Facebook page. Amazin' Acres of fun is open seasonally in the Spring for the Spring Farm Adventure and in the Fall for the Fall Farm Adventure. We'd like to invite you to "create unforgettable memories, here on our farm!. (ADDED: May 09, 2015, JBS) (UPDATED: August 01, 2012)
Comments from a visitor on April 29, 2012: "My family visited the Amazing Acres of Fun on April 29,2012 to pick your own strawberries and if you are looking for a WONDERFUL tasting strawberry and wonderful people (as well as a great family outing) you really need to visit the Amazing Acres of Fun!!!! We are new to TN and look forward to family outings like this. Strawberries are all over the place (at least at the time of this posting). Very reasonable on their pricing and great if you are looking for a day out with the family picking your own. Make sure you bring your camera for those Kodak moments! Good people running the place and they are there to help! HIGHLY RECOMMENDED!!!!!!!!!!"
Clark Berries and More - blueberries
1208 Hutchings College Road, Sparta, TN 38583. Phone: (931) 761-2531. Fax: (931) 761-2531. Email: ddclark@blomand.net. (ADDED: May 09, 2015, JBS)
---
---
Local Honey Sources:
Overton County
Schrock Honeyacres

- Honey (retail), Honey from hives on the farm
154 Schrock Lane, Monterey, TN 38574. Phone: 931 445-3294. Email: schrockf@gmail.com. Open: Monday through Saturday 7:00 am to 5:00 pm; Call before coming; We close when there is no one available to take care of sales. Directions: From Monterey: Take Highway 164 out of town. Go about 7 miles to Union B Road on right. Turn and go one and one half mile to crossroads. Turn left and go 2.75 miles to Schrock Lane on left. .2 mile to second (beige) house. Keep right at fork and go straight down the hill. From Clarkrange: Highway 62 west one mile to Campgrounds Road. this road becomes Muddy Pond Road). Follow it about 7 miles to Schrock Lane on right. Second house. Keep right at forks. Click here for a map and directions. Approximately July 1 to September 1. Payment: Cash, Check. (UPDATED: June 23, 2010)
White County
Amazin' Acres of Fun - Honey (retail), Clover honey, Strained honey, Honey from hives on the farm, concessions / refreshment stand, restrooms, picnic area, farm animals, birthday parties, school tours, events at your location (call for info)
2857 Old Kentucky Road North, Sparta, TN 38583. Phone: 931-761-2971. Alternate Phone: 931-808-4051. Email: holdairy@blomand.net. Open: We sell our honey in the fall in our farm market during our regular hours of operation; We generally sell out early in the season. Directions: Click here for a map and directions. Strawberries April 20 to June 10 Corn maze and pumpkin patch September 22 to November 3. Payment: Cash, only. Click here for our Facebook page. Amazin' Acres of fun is open seasonally in the Spring for the Spring Farm Adventure and in the Fall for the Fall Farm Adventure. We'd like to invite you to "create unforgettable memories, here on our farm!. (ADDED: August 01, 2012)
---
Farm Venues for Events, Activities, Parties and Meetings:
Cannon County
The Farm at Hollow Springs - Lighting, Birthday parties, School and educational groups, Daycare and preschool groups, You may bring your own food, Some Tables and chairs are provided, Bring Your Own Tables and chairs, Bring your own linens and table silverware, Corn maze, Pumpkin patch, horses, Beautiful rural setting, Within an easy drive to an Interstate road, children welcome, No pets please, No smoking allowed, farm market, gift shop, snacks and refreshment stand, restrooms, picnic area, birthday parties, school tours
9190 Hollow Springs Road, Bradyville, TN 37026. Phone: (615) 848-2822. Alternate Phone: (615) 476-8779. Email: timtipps@gmail.com. Open: Fridays, 4 pm to 9 pm; Saturdays, 10 am to 9 pm; Sundays, 2 pm to 7 pm. Directions: Click here for a map and directions. Farm is open during the month of October by appointment for groups of 10 or more; Open to the public on Fridays, Saturdays and Sundays; Sunday, October 10, 2010 (10/10/10); families of four or less are admitted for $10; $5 per person for 5th family member or more;. Payment: Cash, Check. Click here for our Facebook page. No right turn hay maze, math maze, super slingshot, steer lasso, hippity hop maze, and corn hole game also available for patrons. Campfires available for additional fee. (UPDATED: October 04, 2010)
Fentress County
Van Buren County
Baker Mountain Farm -

Minimizes chemical and pesticide use

, Banquets / Dinners, Birthday parties, Business meetings, Filming or photo shoots, Classes, lectures or Speakers, School and educational groups, Daycare and preschool groups, Other Private Parties, B&B nearby, Motel nearby, Apple Orchard, Pumpkin patch, sheep, goats, horses, chickens, pigs, other animals, Beautiful rural setting, Hiking trails, Fishing nearby, hunting nearby, horse riding, golf nearby, swimming pool nearby, tennis nearby, Free Onsite Lot parking lot, Within an easy drive to an Interstate road, children welcome, No pets please, No smoking allowed, handicap accessible, gift shop, concessions / refreshment stand, porta-potties, picnic area, face painting, pony rides, petting zoo, farm animals, birthday parties, school tours, events at your location (call for info)
351 Pioneer Lane, Spencer, TN 38585. Phone: 931-316-9072. Email: Wendy@BakerMountainFarm.com. Open: to the Public Saturday, September 28, October 12, and October 19, 2013 from 10am to 6pm; Open for group tours, parties, etc; from September 28 am to October 31 by appointment only Open to the Public for 2013 Country Christmas on the Farm on December 6,7,13,14,20,21,28 from 5pm to 10pm. Click here for current open hours, days and dates. Directions: From Nashville: Take I-40 East (through Cookeville, TN) to TN-111 South. Stay on TN-111 South through Sparta, TN and continue up the Cumberland Plateau to Spencer. Exit onto Baker Mountain Road and Turn right. Follow signs to farm. From Fall Creek Falls State Park: Take TN-284 West/Archie Rhinehart Pkwy through the park. Turn left onto TN-284 West/Old TN Rte. 111. Take 1st right onto TN-284 West/ Piney Road Follow signs to farm. More directions available on website. Click here for a map and directions. We minimize use of pesticides and other chemicals. Payment: Cash, Debit cards, Visa/MasterCard, Discover, AmEx. Click here for our Facebook page. Baker Mountain Farm is now the proud operator of the Apples and More Orchard in Spencer, TN. Same great apples so many have grown to love, but will be harvested by us here at Baker Mountain Farm. Apples can be purchased here at Baker Mountain Farm. Call for details on varieties available. We have tried to make our farm as handicap accessible as possible. We do offer handicap portable restroom and ramps to our kitchen and gift shop area. Call ahead if you are unsure if we can accommodate your needs. (UPDATED: August 10, 2013) (ADDED: August 11, 2012)
White County
Amazin' Acres of Fun - Lighting, Birthday parties, Business meetings, Business outings, Corporate events, PR or Marketing events, Filming or photo shoots, Classes, lectures or Speakers, School and educational groups, Daycare and preschool groups, Other Private Parties, Restaurant onsite, Some Tables and chairs are provided, Bring your own linens and table silverware, Hotel nearby, Motel nearby, Corn maze, Pumpkin patch, steers/cattle, sheep, goats, chickens, pigs, Beautiful rural setting, Fishing nearby, boating nearby, skiing nearby, golf nearby, Free Onsite Lot parking lot, Within an easy drive to an Interstate road, children welcome, No pets please, Smoking allowed in designated areas, Honey from hives on the farm, concessions / refreshment stand, restrooms, picnic area, farm animals, birthday parties, school tours, events at your location (call for info)
2857 Old Kentucky Road North, Sparta, TN 38583. Phone: 931-761-2971. Alternate Phone: 931-808-4051. Email: holdairy@blomand.net. Open: We are open in the fall for our Fall Farm Adventure and during the Spring for our Spring Farm Adventure; We can accommodate school groups, church groups, scouts, birthday parties etc; We offer 25 hand - on ag - tivities that are educational and fun. Directions: Click here for a map and directions. Strawberries April 20 to June 10 Corn maze and pumpkin patch September 22 to November 3;. Payment: Cash, only. Click here for our Facebook page. Amazin' Acres of fun is open seasonally in the Spring for the Spring Farm Adventure and in the Fall for the Fall Farm Adventure. We'd like to invite you to "create unforgettable memories, here on our farm!. (ADDED: August 01, 2012)