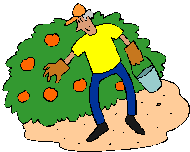 Looking for a local, pick-your-own farm in Clarksville Area of Tennessee? Scroll down this page and you will see the U-Pick farms in Clarksville Area of Tennessee, sorted by county. Those that offer organic or sustainably grown produce are identified by the words "organic" and/or "sustainable" in Green, next to their name. If they have a website, the name will be in blue and underlined; click on it and it will open their website.
And if you know of any I missed and want to add them or correct the information, please let me know!
What's in season in January 2018, and other timely information:
Notes for January 2018: Strawberries have a very brief season; and they start in early April in the South, May in most of the US, and early June in the North - don't miss them: See your state's crop availability calendar for more specific dates of upcoming crops. And see our guide to local fruit and vegetable festivals, such as strawberry festivals and blueberry festivals. Cold weather crops, like spinach, some lettuces, peas, kale, Brussels sprouts, broccoli, cauliflower, leeks and early onions being harvested in all but the coldest regions. Many farms and markets still have fresh winter squash, stored from last Autumn.
You may noticed the new appearance to the website! Simpler, cleaner and mobile-friendly! I'm rolling it out, page by page over the next 2 months. Everything is still here; you can access it from the drop down menus at the top of the page or the site search. If you have any questions or suggestions, feel free to write me!
Clarksville Area of Tennessee U-Pick Farms and Orchards, by county
Click on the resources drop-down above, if you need a county map
Dickson County
Hickman County
Bratton Farms - Turnip Greens, Turnips
1914 Bratton Lane, Williamsport, TN 38487. Phone: (931) 583-0033. Directions: Take Hwy 50 W out of Columbia. Take right at Duck River Market. You will be on Leatherwood. When road forks, the farm will be on left. Pick your own or they will pick. (UPDATED: February 02, 2011, from .gov)
Fernwood - Blackberries
385 W. Beaverdam Road, Centerville, TN, 37033. Phone: (931) 729--4423. Directions:
From Hwy. 100 west and Hwy 48 south turn onto East Beaverdam Road. Go 9/10 of 1 mile. Turn left onto West Beaverdam Road. Go 8/10 of 1 mile to Fernwood sign at bottom of driveway.
MPS Farms - pumpkins, strawberries, and prepicked produce, restrooms
215 Miller Road, Centerville, TN 37033. Phone: 931-729-2441. Fax: 931-729-2443. Email us at: magoonb@bellsouth.net. Directions: I-40 west to exit 148 left 5.6 miles to Springer Lane Left on Springer to MPS Farms sign take a right on Miller Rd and come to the house. Field next to house. And for a map to our farm, Click here. Open: 7 days a week hours vary call ahead Chandler Strawberries may be harvested daily during the month of May and Pumpkins the month of October Payment: Cash, Check.
Houston County
Humphreys County
Bill's Berry Farm

- blackberries, blueberries, muscadine grapes, raspberries (Autumn, red),
338 Mt Zion Road, McEwen, TN 37101. Phone: 931-582-3006. Email: bonnerw56@yahoo.com. Open: Monday to Saturday 7 am to 8 pm May 10 to September 1. Directions: Take highway 231 at Mcewen 5 miles to Mt.Zion road.Look for sign. Click here for a map and directions. Payment: Cash, only. (ADDED: November 28, 2011)
The Rusty Bucket U-pick LLC - cucumbers, eggplant, onions, peas, peppers, pumpkins, summer squash, tomatoes, other vegetables, concessions / refreshment stand, porta-potties
Highway 13 And Pumpkin Creek Road, Waverly, TN 37185. Phone: 931-296-7543. Alternate Phone: 931-209-3237. Email: therustybucketupick@yahoo.com. Open: Click here for current open hours, days and dates. Directions: Click here for a map and directions. Payment: Cash, only. Click here for our Facebook page. (UPDATED: May 10, 2015, JBS) (ADDED: February 24, 2012)
Montgomery County
Stewart County
Dark Fired Farms

- blackberries, pumpkins, strawberries, U-pick and already picked, concessions / refreshment stand, restrooms, farm animals, birthday parties, weddings and wedding parties, school tours
175 Lorena Bagwell Drive, Dover, TN 37058. Phone: 931-627-9428. Alternate Phone: 931-232-6782. Email: bbfamilyfarms@gmail.com. Open: Starting early May and running through the middle of June for strawberry season; Wednesday through Saturday from 10am to 5pm. Directions: Strawberries: May 1st to June 15th Blackberries: July Corn Maze and Pumpkin Patch is open weekend in October only. Payment: Cash, only. (ADDED: July 08, 2013)

Heflin Berry Farm

- blackberries, and prepicked produce
119 Barnes Road, Erin, TN 37061. Phone: 931-827-3554. Email us at nhefl9@peoplespc.com. Directions: please call for directions Open: June thru September Payment: Cash, only. Only Blackberries this year (2008). Call with orders for ready-picked. (UPDATED: April 30, 2008)
---
---
Local Honey Sources:
Hickman County
Chestnut Hill Ranch Bed & Breakfast & Farm Weddings - Honey (retail), Clover honey, Sourwood honey), Wildflower honey, Comb honey, Raw honeys, Strained honey, Tours, Honey from hives on the farm, Fresh eggs, gift shop, restrooms, farm animals, birthday parties, weddings and wedding parties, school tours
3001 Browns Bend Rd, Only, TN 37140. Phone: 931-623-2961. Alternate Phone: 931-623-0679. Email: cher@chestnuthillranch.com. Open: Year round 10am to 6pm daily; Please call 931 pm to 623 pm to 2961 for store availability during weekdays. Directions: From Interstate 40 between Nashville & Memphis, get off on Exit 148 (one hour west of Nashville)and drive toward Centerville on highway 50 East for 1.2 miles. Sign is on the right at Browns Bend Road Turn right and proceed 1 mile to big white house on Left.Turn and park. Click here for a map and directions. Payment: Cash, Check, Visa/MasterCard. Click here for our Facebook page. The Beez Kneez Honey Farm has beehives scattered throughout the neighborhood to take advantage of a variety of natural bee-friendly plants. Special care has been taken to provide our winged workers with a rich, pesticide free range to pollinate nearby orchards & plants and provide natures sweetest treat to you and your family. (ADDED: March 19, 2012)
---
Meats, Milk and Eggs:
Hickman County
Chestnut Hill Ranch Bed & Breakfast & Farm Weddings -Eggs (free range, vegetarian fed), Brown eggs, Fresh farm breakfasts, Lunches offered, Farm dinners, Restrooms, Wedding facilities, Hiking trails, Within an easy drive to an Interstate road, Farm/ranch tours for visitors, School tours, No pets please, handicap accessible, meeting room available, Honey from hives on the farm, Fresh eggs, gift shop, restrooms, farm animals, birthday parties, weddings and wedding parties, school tours
3001 Browns Bend Rd, Only, TN 37140. Phone: 931-623-2961. Alternate Phone: 931-623-0679. Email: cher@chestnuthillranch.com. Open: Year round 10am to 6pm daily; Please call 931 pm to 623 pm to 2961 for store availability during weekdays. Directions: From Interstate 40 between Nashville & Memphis, get off on Exit 148 (one hour west of Nashville)and drive toward Centerville on highway 50 East for 1.2 miles. Sign is on the right at Browns Bend Road Turn right and proceed 1 mile to big white house on Left.Turn and park. Click here for a map and directions. Payment: Cash, Check, Visa/MasterCard. Click here for our Facebook page. (ADDED: March 19, 2012)
Montgomery County
J&J Century Farm - Goat meat, No hormones used, No antibiotics used, 100% mixture of corn, grain, soybeans and/or other natural supplemental feeds, Lunches offered, snacks, refreshments and/or concessions, Eggs (vegetarian fed), Brown eggs, sausage, Farm market with fruits and vegetables, Snack bar, Restrooms, Wedding facilities, Farm/ranch tours for visitors, School tours, children welcome, No pets please, handicap accessible, meeting room available, Fresh eggs
1219 Street Michael Rd, Southside, TN 37171. Phone: 931-249-8295. Alternate Phone: 931-387-2594. Email: jandjcenturyfarm@yahoo.com. Open: Call for availability. Updates: Click here for updates. Directions: From Clarksville:Highway 48 South past Montgomery County High School to Grays' Chapel Road on the left. Follow to 4-way stop, turn right onto Old Highway 48. Turn left on Mount Herman Road, right onto Saint Michael. From Dickson: Highway 48 North past Dickson/Montgomery County line. Turn right onto Grays' Chapel Road, follow to 4-way stop. Turn right onto Old Highway 48. Turn left on Mount Herman Road, right onto Saint Michael. Click here for a map and directions. Payment: Cash, Check, Visa/MasterCard. Click here for our Facebook page. (UPDATED: February 27, 2012)
---
Farm Venues for Events, Activities, Parties and Meetings:
Houston County
Molly's Ark Mobile Petting Zoo & Pony/Horse Rides - Birthday parties, Business meetings, Corporate events, PR or Marketing events, Conferences, Classes, lectures or Speakers, School and educational groups, Daycare and preschool groups, Other Private Parties, sheep, goats, horses, chickens, pigs, other animals, pony rides, petting zoo, farm animals, birthday parties, school tours
12505 Highway 13, Erin, TN 37061. Phone: 931-289-2351. Alternate Phone: 931-622-5583. Email: mc9barrels@hotmail.com. Open: We are a mobile petting zoo so we are open seven days a week, per client request; On Sunday's, we are only open afternoons; Not open on holidays. Directions: We come to your location. We are open year-round; We can come inside with the petting zoo during inclement weather and during the cold and hot months; We leave no mess;. Payment: Cash, Check. Click here for our Facebook page. Animals can include: Twin Pygmy goat sisters, exotic Jacob Sheep, pot-bellied pig, ducks, bunnies, chickens, and horse and/or pony for riding or petting. (ADDED: November 10, 2011)
Montgomery County
J&J Century Farm - Lighting, Cooking Facilities, Wedding Ceremony, Wedding Reception, Wedding Rehearsal Dinner, Birthday parties, Business meetings, Business outings, Corporate events, PR or Marketing events, Filming or photo shoots, Classes, lectures or Speakers, School and educational groups, Daycare and preschool groups, Other Private Parties, Kitchen facilities available, Catering available, You may bring your own food, Some Tables and chairs are provided, Some Linens and table silverware are provided, Vegetables, or bush fruit, Corn maze, Pumpkin patch, sheep, goats, horses, chickens, pigs, other animals, Beautiful rural setting, Fishing nearby, CD Player, Computer, Copy Machine, Internet (Wireless), Phone available, TV available, DVD Player, VCR available, Free Onsite Lot parking lot, Valet parking can be arranged, Bride and groom dressing areas available, children welcome, No pets please, Smoking allowed in designated areas, handicap accessible, meeting room available, Fresh eggs
1219 Street Michael Rd, Southside, TN 37171. Phone: 931-249-8295. Alternate Phone: 931-387-2594. Email: jandjcenturyfarm@yahoo.com. Open: Call for reservations. Venue updates: Click here for updates. Directions: From Clarksville:Highway 48 South past Montgomery County High School to Grays' Chapel Road on the left. Follow to 4-way stop, turn right onto Old Highway 48. Turn left on Mount Herman Road, right onto Saint Michael. From Dickson: Highway 48 North past Dickson/Montgomery County line. Turn right onto Grays' Chapel Road, follow to 4-way stop. Turn right onto Old Highway 48. Turn left on Mount Herman Road, right onto Saint Michael. Click here for a map and directions. Payment: Cash, Check, Visa/MasterCard. Click here for our Facebook page. Vegetables also include lettuce, cabbage, mustard and turnip greens, hot peppers, heirloom tomatoes. (UPDATED: February 27, 2012)
RiverView Mounds Century Farm - Lighting, Heating, Cooking Facilities, Wedding Ceremony, Wedding Reception, Wedding Rehearsal Dinner, Banquets / Dinners, Birthday parties, Business meetings, Business outings, Corporate events, PR or Marketing events, Conferences, Filming or photo shoots, Classes, lectures or Speakers, School and educational groups, Daycare and preschool groups, Other Private Parties, Catering available, You may bring your own food, Tables and chairs are Provided, Some Tables and chairs are provided, Bring your own linens and table silverware, BYO alcohol, Hotel nearby, Motel nearby, Vegetables, or bush fruit, Corn maze, Pumpkin patch, sheep, goats, horses, chickens, pigs, llamas/alpacas, other animals, Beautiful rural setting, Hiking trails, Fishing onsite, hunting nearby, boating nearby, horse riding, golf nearby, swimming pool nearby, CD Player, Computer, Computer Projector, Internet (Wireless), Microphone, Phone available, Podium, Sound System, TV available, DVD Player, Projection Screen provided, Free Onsite Lot parking lot, Within an easy drive to an Interstate road, children welcome, No pets please, Smoking permitted, Vegetarian meals available, concessions / refreshment stand, picnic area, pony rides, petting zoo, farm animals, birthday parties, weddings and wedding parties, school tours, events at your location (call for info)
1715 Boyd Rinehart Road, Clarksville, TN 37043. Phone: 931-624-1095. Alternate Phone: 931-206-9879. Email: scarlett@riverviewmoundsfarm.com. Open: See our website for current hours. Click here for current open hours, days and dates. Directions: Interstate 24, Exit 11: West on Highway 76 (toward Clarksville), Left onto Old Farmers Road, Straight onto Excell Road, Left onto Highway 12, Right onto Hickory Point Road, Right onto Gholson Road, travel 3.5 miles, Right onto Boyd Rinehart Road. Continue past asphalt road, onto gravel and follow signs until parking lot is reached. Click here for a map and directions. Payment: Cash, Check, Visa/MasterCard, Discover, AmEx. Click here for our Facebook page. RiverView Mounds is a certified Century Farm and is listed on the National Historic Registry. Families can visit during our Spring & Fall Festivals or consider an overnight stay on our campground. We also provide an indoor facility for special celebrations. Our year around attractions include a petting zoo, 40' tunnel slide, hayrides, barrel train rides, pony rides, a corn crib and much more. Our seasonal attractions include a pumpkin patch, corn maze, haunted barn, egg hunts and precut Christmas trees. Please visit our website for more information!. (ADDED: February 24, 2011)
Stewart County
Dark Fired Farms

- Wedding Ceremony, Wedding Reception, Wedding Rehearsal Dinner, Banquets / Dinners, Birthday parties, Filming or photo shoots, Classes, lectures or Speakers, School and educational groups, Kitchen facilities available, You may bring your own food, Tables and chairs are Provided , Some Linens and table silverware are provided, Vegetables, or bush fruit, Corn maze, Pumpkin patch, sheep, goats, chickens, pigs, Beautiful rural setting, Fishing onsite, Free Onsite Lot parking lot, Bride and groom dressing areas available, children welcome, No pets please, U-pick and already picked, concessions / refreshment stand, restrooms, farm animals, birthday parties, weddings and wedding parties, school tours
175 Lorena Bagwell Drive, Dover, TN 37058. Phone: 931-627-9428. Alternate Phone: 931-232-6782. Email: bbfamilyfarm@gmail.com. Open: Venue dates are for weekends only; Please contact a farm representative for days and times available. Directions: Strawberries: May 1st to June 15th Blackberries: July Corn Maze and Pumpkin Patch is open weekend in October only. Payment: Cash, only. (ADDED: July 08, 2013)
---
Horse Rides and More:
Houston County
Molly's Ark Mobile Petting Zoo & Pony/Horse Rides - Horse riding lessons, equipment & instruction, beginners riding lessons, pony rides, petting zoo, farm animals, birthday parties, school tours
12505 Highway 13, Erin, TN 37061. Phone: 931-289-2351. Alternate Phone: 931-622-5583. Email: mc9barrels@hotmail.com. Open: We are a mobile petting zoo so we are open seven days a week, per client request; On Sunday's, we are only open afternoons; Not open on holidays. Directions: We come to your location. We are open year-round; We can come inside with the petting zoo during inclement weather and during the cold and hot months; We leave no mess;. Payment: Cash, Check. Click here for our Facebook page. I offer riding lessons and barrel racing lessons on our farm. (ADDED: November 10, 2011)
---
Farm Bed And Breakfasts
Hickman County
Chestnut Hill Ranch Bed & Breakfast & Farm Weddings - 3 total rooms, Price range from $129.00 to $159.00, Large beds, Large rooms, Wireless internet available (no fee), Fresh farm breakfasts, Lunches offered, Farm dinners, Fresh eggs, Wedding facilities, Beautiful rural setting, Cattle ranch, Hiking trails, Fishing nearby, hunting nearby, horse riding, golf nearby, Free farm tours for overnight guests, Within an easy drive to an Interstate road, children welcome, No pets please, No smoking allowed, Vegetarian meals available, handicap accessible, meeting room available, Help feed the animals, Honeybee hives onsite, cattle, horses, chickens, other animals, gift shop, restrooms, farm animals, birthday parties, weddings and wedding parties, school tours, events at your location (call for info)
3001 Browns Bend Rd, Only, TN 37140. Phone: 931-623-2961. Alternate Phone: 931-623-0679. Email: cher@chestnuthillranch.com. Directions: From Interstate 40, take Exit 148 and head east on Highway 50 toward Centerville Tennessee. Proceed east for 1.2 miles to our sign. Turn on Browns Bend Road and proceed 1 mile to the big white house on the left. Turn left into the parking area. Click here for a map and directions. Payment: Cash, Check, Visa/MasterCard. We have been featured on wnpt televisions 'Tennessee Crossroads' program and in the Hobby Farms Home Magagazine Summer Editions for our Tennessee Weddings on the Farm. We have seasonal Romance Specials at the Bed & Breakfast. We host Farm Tours for groups from schools & churches and provide them to our private Bed & Breakfast guests. We are starting our own Beehives this year and will be selling the honey in our Tennessee Made gift shop on premises. 1905 Restored Farmhouse on 53 acre working ranch. Three themed rooms with private bath. Wilderness, Western & Victorian themed decor with pampering of our guests. Children over age of 12 welcomed. All meals can be provided. Romantic Specials include 3 course dinner for 2, overnight stays,full breakfast in the morning.Jacuzzi hot tub under the gazebo & stars, full length turkish robes & slippers, gift shop on premises with Tennessee products featured. Nearby Loretta Lynns, canoeing, Mennonite communities, music venues. We also have 1200 sq foot indoor facility for weddings up to 250. Catering available onsite. Wedding facility privately rented. http://ChestnutHillRanch.com. (ADDED: February 18, 2012)