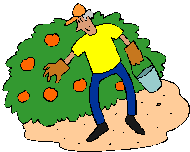 Looking for a local, pick-your-own farm in North-central Pennsylvania? Scroll down this page and you will see the U-Pick farms in North-central Pennsylvania, sorted by county. Those that offer organic or sustainably grown produce are identified by the words "organic" and/or "sustainable" in Green, next to their name. If they have a website, the name will be in blue and underlined; click on it and it will open their website.
And if you know of any I missed and want to add them or correct the information, please let me know!
What's in season in January 2018, and other timely information:
Notes for January 2018: Strawberries have a very brief season; and they start in early April in the South, May in most of the US, and early June in the North - don't miss them: See your state's crop availability calendar for more specific dates of upcoming crops. And see our guide to local fruit and vegetable festivals, such as strawberry festivals and blueberry festivals. Cold weather crops, like spinach, some lettuces, peas, kale, Brussels sprouts, broccoli, cauliflower, leeks and early onions being harvested in all but the coldest regions. Many farms and markets still have fresh winter squash, stored from last Autumn.
You may noticed the new appearance to the website! Simpler, cleaner and mobile-friendly! I'm rolling it out, page by page over the next 2 months. Everything is still here; you can access it from the drop down menus at the top of the page or the site search. If you have any questions or suggestions, feel free to write me!
North-central Pennsylvania U-Pick Farms and Orchards, by county
Click on the resources drop-down above, if you need a county map
Bradford County
Berry Fields Farm - Uses natural growing practices, blueberries, Turkeys (ORGANIC not-hormone-fed), and prepicked produce, gift shop, farm animals
7 miles from Millview off of rt. 87 , Forksville, PA 18833. Phone: 570-924-3019. Email: gerlach@epix.net. Directions: From Route 80(major east west interstate in northern PA) Take the exit adjacent to the Susquehanna river onto Route 180 west. Just before Williamsport take exit 21 onto Route 87N. At the end of the exit ramp turn left. Travel 23 miles to Forksville. Two miles past Forksville turn left onto Millview Mountain Road. The farm is 7 miles from that point. The final 2 miles are on gravel road. And for a map to our farm, click here. Crops are usually available in July, August. Open: Please call 570-924-3019 to confirm times of availability. Blueberry Festival August 4th and 5th. Farm vacation guest house available. We use natural practices, but are not yet certified Organic. Payment: Cash, only. We serve organic meals from products produced on the farm on Saturday evenings and Sunday brunch. Berryfields Farm was established in 2000 to promote sustainable agriculture. We are dedicated to producing organic products of the highest quality. Our goal is to sustain ourselves and market the excess.

Blueberry Mountain Farm

- U-Pick Blueberries
Mile Lane Road, Sayre, PA 18840. Phone: 570-888-7066. Open: Weekdays 8 am to 8 pm; Saturday and Sunday from 8 am to 5 pm; Closed Mondays. (ADDED: July 28, 2008)
Bohlayer's Orchards - Apples, pears, and prepicked produce
RR 2 Box 2530, Troy, PA 16947. Phone: 570-297-2480. Open: Monday to Saturday 9 to 5, Sunday 1 to 5 during apple season only Open from mid-August to Thanksgiving; Pick-Your-Own apples and pears will only be available to those families purchasing a membership. Directions: Two miles west of Troy . From scenic Route 6, turn onto Farmers Valley Road at Rolosons Maple Syrup. Payment: Cash, Check. Located on a Pennsylvania Century Farm in Bradford County, our family owned and operated orchard has been welcoming visitors for December ades. We offer our guests both U-Pick and harvested apples and pears, as well as our own freshly pressed cider in season. Local honey and maple products are also available. Weekday school tours are welcome. Please call the orchard to make a reservation. Some of our apple varieties include Quinté, Red Melba, Macintosh, Jonamac, Cortland, Gala, Macoun, Empire, Jonagold, Red Delicious, Golden Delicious, Northern Spy, Red Spy, Ida Red, Melrose, and Mutsu. Call for Peach and Pear availability. Open: Monday to Saturday 9-5, Sunday 1-5 during apple season. Season: August through December; by appointment beginning January. Peaches are available harvested only. We participate in the Farmer's Market Nutrition Program. (UPDATED: May 20, 2015, JBS)
Gardiner's Farm - apples
5420 Fall Brook Rd. Troy, PA 16947. Phone: (570) 297-3929. Email: gard@sosbbs.com. Open: Monday through Saturday from 9 am to 5 pm; Sunday from 12 - 4. Season: Mid August - Thanksgiving.Scenic orchard in Bradford County featuring dwarf apple trees on stakes and trellis. Fantastic fall colors. U-pick and We pick. APPLE varieties include: Redfree, Gala, Red McIntosh, Red Cortlands, Red and Yellow Delicious, Jonathan, Jonagold, Empire, Honeycrisp, Northern Spy, Spy Gold, Rome, Stayman Winesap. We make own apple butter/jams. School tours-reservations. (UPDATED: August 20, 2015) (UPDATED: May 07, 2015, JBS)

Pumpkin Lane Farms

- corn (sweet), pumpkins, pumpkin patch-pick in the field, pumpkin patch- already gathered from the field
RR 1 Box 2502, Monroeton, PA 18832. Phone: (570)-265-7952. Email us at: jwecker@tsd.k12.pa.us. Directions: Our farm is on State Route 414 west approximately 3 miles from the 220/414 intersection in Monroeton. If heading west on 414, we are located just past the Monroe Frankin Elementary School on the left. Click here for a map to our farm. Crops are usually available in July, August, September, October. Open: The corn stand will be open generally from Noon until 6:00pm all summer. There will be an "honor bucket" if no one is available to work the stand. Pumkin hours are all day on weekends and after 4:00pm during the week throughout the month of October. Anyone wanting free pumkins after Halloween may stop and take as many as you would like. Sweet corn is available from the middle of July until September, as the weather conditions permit. Pumkin sales begin the first weekend in October and run through the end of the month. Payment: Cash, Check. We also have prepicked cucumbers, summer squash, winter squash, and hay and straw for sale, as well as decorative gourds and ornamental corn.
Clinton County
Lycoming County
The Green Barn Berry Farm - blackberries, blueberries, pumpkins, raspberries (Autumn, red), raspberries (Spring, black), strawberries, porta-potties, school tours
7299 Armstrong Road, Muncy, PA 17756. Phone: 570-546-5706. Email: thegreenbarnberryfarm@windstream.net. Open: Our opening date in the Spring for picking all of our berries is different each year; Our hours once we open are Monday through Friday 8 am until 8 pm and Saturdays 8 am until 4 pm We are closed on Sundays; Please note that due to weather conditions or over picking, we might close the fields for a day or two to ensure our customers prime picking; We recommend and appreciate you calling ahead; Thank you. Directions: Located on route 405, the Muncy-Montgomery highway, off of interstate 180. Take the Muncy exit, 13A, from interstate 180. Turn onto route 405 towards Muncy and continue approximately 2.5 miles until you reach a railroad underpass. Immediately to your right at the underpass turn onto Armstrong Road. (Signs will guide you) If traveling route 15 north, turn onto route 405 at the red light in Montgomery and proceed to the railroad underpass as well. Payment: Cash, Check.The ONLY p yo crops offered are Strawberries, blueberries, raspberries, blackberries, and pumpkins. (UPDATED: October 17, 2014) (ADDED: February 12, 2013)

Sidehill Orchard

- cherries, restrooms
1523 Stopper Road, Williamsport, PA 17702. Phone: 570-745-3168. Email: sidehillorchard@gmail.com. Open: Please call for dates/hours. Directions: Click here for a map and directions. Payment: Cash, Check. (ADDED: July 23, 2009) (UPDATED: January 06, 2012)
Tom Styer Farm Market - beans, peas, pumpkins, strawberries, tomatoes, farm market, farm animals, school tours
215 Shady Lane, Muncy, PA 17756. Phone: 570-546-5861. Email: Styerfarm@windstream.net. Directions: from Williamsport, exit 13A off Route 180, you can see the farm from the beltway. And for a map to our farm, click here. Crops are usually available in May, June, July, August, September, October. Open: Monday to Saturday 9 am to 5p November through May 8 am to 8 pm June, 8 am to 6 pm July through October. Payment: Cash, Check, Debit cards, Visa/MasterCard, Discover. Hayrides to the pumpkin patch, farm animals during pumpkin season. (UPDATED: May 07, 2015, JBS) (UPDATED: June 26, 2009) (ADDED: February 27, 2009)
Potter County
Sullivan County
Tioga County
---
---
Local Honey Sources:
Tioga County
Cardinal Inn B&B -

Uses natural growing practices

, Honey (retail), Wildflower honey, Crystallized honey, Raw honeys, Strained honey, Tours, Honey from hives on the farm, restrooms, birthday parties, weddings and wedding parties, school tours
242 Mill Creek Road, Mansfield, PA 16933. Phone: 570-549-2295. Alternate Phone: 800-545-6554. Email: stay@cardinalinnbnb.com. Open: All year as available at both the B&B and the Mansfield Growers Market. Click here for current open hours, days and dates. Directions: PA Route 549 to Bailey Creek Road. Bailey Creek Road to Mill Creek Road. Cardinal Inn is a large white house with red roof and red shutters on the right. Click here for a map and directions. Farm Maze is open Saturdays and Sundays in October; Our maze is not scary or haunted, and includes farm themed carnival games where everyone wins a prize, self guided play ar Saturday, and you pick pumpkin patch. We use natural practices, but are not yet certified Organic. Payment: Cash, Check. B&B open year round on 30 private acres in delightful, quiet rural setting. Reservations strongly recommended. All honey is organically produced and processed. Our honey is pure pollen-based honey: our bees are not fed sugar or corn syrup to enhance production. (ADDED: October 12, 2011)
Draper's Super Bee Apiaries- Wide variety of honey, restrooms, gift shop, school tours
Hudson Hill Road, Millerton, PA 16936. Phone: (800) 233-4273 . Email: sales@draperbee.com. Open: See their website for for hours and availability. Directions: See their website for directions. Payment: Cash, Check, Debit cards, Visa/MasterCard . This is a family operated working apiary that has provided honey to the White House. (ADDED: July 10, 2011, suggested by a visitor)
Comments from a visitor on July 10, 2011: "Great place to visit and talk about bee keeping and honey production. The variety of honeys in stock for sale is amazing! And, should you wish to get started in bee keeping, they can provide expert information and all the supplies (except the bees--they will tell you how and where to get them) that you will need."
---
Meats, Milk and Eggs:
Lycoming County
Williamsport Grower's Market - Chicken (free range), Turkey, Beef, Pork, Lamb, Lunches offered, snacks, refreshments and/or concessions, Milk, Unpasteurized Cow Milk, Eggs (free range), Eggs, Brown eggs, sausage, Farm market with fruits and vegetables, Within an easy drive to an Interstate road, children welcome, Honey from hives on the farm, Maple Syrup from trees on the farm, Fresh eggs, concessions / refreshment stand
249 Little League Boulevard Between Pine and Hepburn, Williamsport, PA 17701. Phone: 570-435-0988. Open: Every Saturday, rain or shine, 8 am to 1 pm, Mother's Day through Thanksgiving. Directions: 2 blocks north of I-180 and Market Street exit. Proceed north on Market Street to Little League Boulevard. Turn west. One block on southside of the street. Located between Pine and Hepburn. GPS address: 249 Little League Boulevard, Williamsport, Pennsylvania. Click here for a map and directions. Payment: Cash, SFMNP Vouchers. (ADDED: June 24, 2011)
Tioga County
J & K Emu Farm - Certified USDA organic, Specialty eggs (see below), Farm/ranch tours for visitors, School tours, children welcome, Honey from hives on the farm, Maple Syrup from trees on the farm, gift shop, school tours
434 Station Rd, Lawrenceville, PA 16929. Phone: 570-944-2045. Email: jkemufarm89@yahoo.com. Open: Mondays 10 am to 5 Tuesdays Closed Wednesday 10 am to 5 Thursday 10 am to 5 Friday 10 am to 5 Saturday 10 am to 5 Sundays Closed. Directions: Click here for a map and directions. Payment: Cash, Check, Debit cards, Visa/MasterCard. Click here for our Facebook page. J & K Emu Farm Store Emu Oils....Pain Relief,100% AEA certified Pure Emu oil and Skin Care Emu Oils Chicks, Teen, Adults For Sale Apple Orchard Apple Butter Honey Maple Syrup. (ADDED: September 16, 2013)
---
Farm Venues for Events, Activities, Parties and Meetings:
Tioga County
Cardinal Inn B&B -

Uses natural growing practices

, Wedding Ceremony, Birthday parties, Business meetings, Business outings, Corporate events, PR or Marketing events, Classes, lectures or Speakers, School and educational groups, Daycare and preschool groups, Other Private Parties, Tables and chairs are Provided, Linens and table silverware are provided, Bed & Breakfast onsite, Apple Orchard, Vegetables, or bush fruit, Corn maze, Pumpkin patch, Beautiful rural setting, Mountain views, Hiking trails, Fishing nearby, hunting nearby, boating nearby, golf nearby, fitness/health club nearby, CD Player, Computer, Copy Machine, Fax, Internet (Wireless), Overhead Projector, Phone available, DVD Player, VCR available, Free Onsite Lot parking lot, Within an easy drive to an Interstate road, Bride and groom dressing areas available, No children under 18 please, No pets please, Smoking allowed in designated areas, Vegetarian meals available, meeting room available, Honey from hives on the farm, restrooms, birthday parties, weddings and wedding parties, school tours
242 Mill Creek Road, Mansfield, PA 16933. Phone: 570-549-2295. Alternate Phone: 800-545-6554. Email: stay@cardinalinnbnb.com. Open: B&B Open all year; Reservations recommended. Click here for current open hours, days and dates. Directions: PA Route 549 to Bailey Creek Road. Bailey Creek Road to Mill Creek Road. Cardinal Inn is a large white house with red roof and red shutters on the right. Click here for a map and directions. Farm Maze is open Saturdays and Sundays in October; Our maze is not scary or haunted, and includes farm themed carnival games where everyone wins a prize, self guided play ar Saturday, and you pick pumpkin patch;. We use natural practices, but are not yet certified Organic. Payment: Cash, Check. B&B open year round on 30 private acres in delightful, quiet rural setting. Reservations strongly recommended. Lovely grounds suitable for small wedding ceremony. Large on-site meeting room perfect for corporate retreat or off sites. B&B rooms sleep up to 16. No alcohol and smoking limited to outdoor porch. (ADDED: October 12, 2011)
---
Horse Rides and More:
Potter County
Milestone Equine Farm - Horse trails (guided), Horses rented (guided trails), Horse leasing, Horse riding lessons, equipment & instruction, Western riding equipment & instruction, English riding equipment & instruction, Fresh farm breakfasts, Lunches offered, Farm dinners, snacks, refreshments and/or concessions, Tent camping, horses allowed, Hotel / Motel nearby, Fishing nearby, hunting nearby, boating nearby, skiing nearby, snowmobiling nearby, horse riding, golf nearby, swimming pool nearby, fitness/health club nearby, Within an easy drive to an Interstate road, School tours, children welcome, beginners riding lessons, specialty riding lessons, school tours
530 State Rte 49, Coudersport, PA 16915. Phone: 814 203 0966. Alternate Phone: 814 260 5636. Email: millcreekfarms@live.com. Open: weather permitting; no winter trail riding due to snow and frozen ground. Directions: 2 miles north of Coudersport on rte 49. Click here for a map and directions. Payment: Cash, only. Click here for our Facebook page. stallion service available . horses for sale. (ADDED: February 02, 2013)
---
Winery, Brewery and Distillery Tours and Tastings:
---
Farm Bed And Breakfasts
Tioga County
Cardinal Inn B&B - 7 total rooms, Price range from $70.00 to $200.00, Large beds, Wireless internet available (no fee), Fresh farm breakfasts, Beautiful rural setting, Mountain views, Hiking trails, Fishing nearby, hunting nearby, boating nearby, golf nearby, fitness/health club nearby, Free farm tours for overnight guests, Within an easy drive to an Interstate road, No children under 18 please, No pets please, Vegetarian meals available, meeting room available, Organic farming, Sustainable farming, Honeybee hives onsite, Honey from hives on the farm, restrooms, birthday parties, weddings and wedding parties, school tours
242 Mill Creek Road, Mansfield, PA 16933. Phone: 570-549-2295. Alternate Phone: 800-545-6554. Email: stay@cardinalinnbnb.com. Open: Click here for current open hours, days and dates. Directions: PA Route 549 to Bailey Creek Road. Bailey Creek Road to Mill Creek Road. Cardinal Inn is a large white house with red roof and red shutters on the right. Click here for a map and directions. Payment: Cash, Check. B&B open year round on 30 private acres in delightful, quiet rural setting. Reservations strongly recommended. Use bbonline to submit your reservation request. Hot continental breakfasts feature homemade "farm-to-table" seasonal specialties. Excellent trout stream access across the road from our B&B. Properly licensed hunting permitted on our 30 acres. Just minutes from Mansfield University. Photos: Click here for photos of the rooms and farmhouse. (ADDED: October 12, 2011)