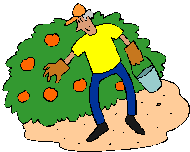 Looking for a local, pick-your-own farm in South-central Oklahoma? Scroll down this page and you will see the U-Pick farms in South-central Oklahoma, sorted by county. Those that offer organic or sustainably grown produce are identified by the words "organic" and/or "sustainable" in Green, next to their name. If they have a website, the name will be in blue and underlined; click on it and it will open their website.
And if you know of any I missed and want to add them or correct the information, please let me know!
What's in season in January 2018, and other timely information:
Notes for January 2018: Strawberries have a very brief season; and they start in early April in the South, May in most of the US, and early June in the North - don't miss them: See your state's crop availability calendar for more specific dates of upcoming crops. And see our guide to local fruit and vegetable festivals, such as strawberry festivals and blueberry festivals. Cold weather crops, like spinach, some lettuces, peas, kale, Brussels sprouts, broccoli, cauliflower, leeks and early onions being harvested in all but the coldest regions. Many farms and markets still have fresh winter squash, stored from last Autumn.
You may noticed the new appearance to the website! Simpler, cleaner and mobile-friendly! I'm rolling it out, page by page over the next 2 months. Everything is still here; you can access it from the drop down menus at the top of the page or the site search. If you have any questions or suggestions, feel free to write me!
South-central Oklahoma U-Pick Farms and Orchards, by county
Click on the resources drop-down above, if you need a county map
Carter County
Coal County
Garvin County
Peach Crest Farm - beets, peaches, summer squash, tomatoes, restrooms, picnic area
Route 1 Box 110 A, Stratford, OK 74872. Phone: 405-650-0804. Fax: 580-759-3635. Email: sbergen1@cox.net. Open: Call before you go - I haven't had an update from this farm in years and there is nothing current about them on the internet; (Does anyone have current information, are they still offering pick your own? If so, please write me!); last reported was Monday to Saturday 8am-5pm. Click here for picking updates. Crops are usually available in May through September. And for a map to our farm, Click here. Payment: Cash, Check, Visa/MasterCard, Discover, AmEx. Crop availability:Peaches: June 6th-August 15th, Cantaloupe: June 19th to August 22nd, Squash: June 8th to July 15th, Tomatoes: July 1st to September 15th, Beets: May 10th to June 10th.
Pesterfield's Sweet Corn - Sweet Corn
Route 3, Box 306, Pauls Valley, OK, 73075. Phone: 405-238-6829. Alternate Phone: 405-238-5611.
Grady County
Jefferson County
Kidd Farms

- blackberries, and prepicked produce
1/4 Mile South of Addington on Highway 81, Addington, OK 73520. Phone: 580-439-5933. Email: sakbkk@pldi.net. Directions: 1/4 mile south of Addington Oklahoma on Highway 81 - West Side And for a map to our farm, click here. Crops are usually available in June, July. Open: Picking Days Tuesday and Friday 8 am to 11:30 a.m. Payment: Cash, only.
Johnston County
Love County
Marshall County
Hunts Peach Orchard - Peaches,
Route 1 Box 170 B, Byars, OK, 74831. Phone: 580-759-3703.
Peach Crest Farm - Pick-Your-Own Peaches
Route 1 Box 110-A, Stratford, OK, 74872. Phone: 580-759-3635.
McClain County
Berry Creek Farm -

Certified Organic

, grapes, peaches, strawberries, Turkeys, Fresh eggs, restrooms, farm animals, weddings and wedding parties, school tours
1021 S. Tyler Avenue, Blanchard, OK 73010. Phone: 405-659-3879. Email: berrycreekfarm.ok@gmail.com. Open: call for availability. Directions: 3/4 mile South of Highway 62 in Blanchard on Tyler Avenue. Look for the Berry Creek Farm sign on the west side of the road. Click here for a map and directions. We are certified organic for some crops. Payment: Cash, Check, Debit cards, Visa/MasterCard, Discover, AmEx. Click here for our Facebook page. Please call for availability. (UPDATED: April 27, 2015, JBS) (UPDATED: December 11, 2012) (UPDATED: April 04, 2012) (ADDED: May 24, 2010)
Peach Crest Farm - Peaches
Route 1 Box 110-A, Stratford, OK, 74872. Phone: 580-759-3635.
T.C. Farms - vegetables
844 NW 32, Newcastle, OK, 73065. Phone: 405-387-3276.
Murray County
Sandy Creek Blackberry Farm - blackberries,
1 Mile North Of Murray County Expo Center On Kirby Graves Road, Sulphur, OK 73086. Phone: 580-504-1919. Alternate Phone: 580-504-5647. Email: vkeenan1229@hotmail.com. Open: Saturdays from 7am to 1pm, Sundays from 1:30pm to 5pm; Please see our facebook page for additional openings throughout the picking season. Click here for current open hours, days and dates. Directions: From Highway 7, turn north on Kirby Graves Road at the Murray County Expo Center. Farm is located 1 mile north of the Expo on the left at the intersection of Kirby Graves and Grider Roads. Click here for a map and directions. Blackberries: generally opens around June 1. Payment: Cash, Check. (ADDED: June 16, 2015)
Pontotoc County
Stephens County
Piedmontese Nursery & Vineyard

- grapes,
Osage Rd, Lawton, OK 73501. Phone: 580-583-5573. Email: mrandal77@yahoo.com. Open: By appointment only

; harvest dates vary by year, usually July 15th to August 15th.

. Directions: From highway 7/81 intersection North of Duncan, 10 miles west to 10 mile road, 210th Street coming from Lawton. Then 2 South and 1/8th East. We are two miles south of Highway 7 on 210th Street (Lawton), then 1/8th East on Osage (Second house on north side). Click here for a map and directions. Payment: Cash, only. Wine and table grapes, custom crushing and pressing available. (ADDED: July 12, 2014)
---
---
Local Honey Sources:
---
Meats, Milk and Eggs:
McClain County
Berry Creek Farm -

Certified Organic

, Chicken (free range), Turkey, Duck, Certified USDA organic, No hormones used, No antibiotics used, 100% grass and/or grain fed, Eggs (free range, vegetarian fed), Eggs (vegetarian fed), Eggs (free range), Eggs, Brown eggs, Restrooms, Wedding facilities, Within an easy drive to an Interstate road, Farm/ranch tours for visitors, School tours, children welcome, No pets please, Turkeys, Fresh eggs, restrooms, farm animals, weddings and wedding parties, school tours
1021 S. Tyler Avenue, Blanchard, OK 73010. Phone: 405-659-3879. Email: berrycreekfarm.ok@gmail.com. Open: call for availability. Directions: 3/4 mile South of Highway 62 in Blanchard on Tyler Avenue. Look for the Berry Creek Farm sign on the west side of the road. Click here for a map and directions. We are certified organic for some crops. Payment: Cash, Check, Debit cards, Visa/MasterCard, Discover, AmEx. Click here for our Facebook page. Please call for availability. Poultry and poultry products are not certified organic products. We also offer geese as available. (UPDATED: December 11, 2012) (ADDED: May 24, 2010)(UPDATED: April 04, 2012)
JS Farms -

Uses natural growing practices

, Chicken (free range), Beef, USDA Natural, No hormones used, No antibiotics used, 100% Grass fed (includes finishing), Eggs (free range, vegetarian fed), Restrooms, Within an easy drive to an Interstate road, Farm/ranch tours for visitors, School tours, children welcome, No pets please, handicap accessible, Fresh eggs, U-pick and already picked, gift shop, school tours
23324 180th Street, Purcell, OK 73080. Phone: 405-308-1959. Alternate Phone: 405-527-2885. Email: sjfarmsllc@gmail.com. Open: Meats will be available in late October; Saturdays only; 9am to 1pm. Directions: from Norman: I-35 South to exit 91(second Purcell exit). Turn right at the yield sign. Go approximately 1 mile to 180th Street. Turn right. Go approximately 3 miles to the farm. JS Farms is on the south side of 180th. Click here for a map and directions. We use natural practices, but are not yet certified Organic. Payment: Cash, Check, Debit cards, Visa/MasterCard. Click here for our Facebook page. Homesteading classes taught on site including: soapmaking, canning, upholstery, DIY home improvement skills, raising chickens, composting. (ADDED: May 02, 2013)
---
Farm Venues for Events, Activities, Parties and Meetings:
Pontotoc County
Cornerstone Ranch - birthday parties, church events, pony rides, horse boarding
11945 Egypt Rd, Ada, OK 74820. Phone: 405-250-3214. Email: dstone@crosspointe.tv. Open: The 2013 pumpkin patch opens to the general public Saturdays from 11 am to 5 PM and Sundays from 4 pm to 7 PM, from October 12th to 27th; We will also be open during Fall Break, October 16th-18th from 9:30 am to 2:30 PM. Directions: To get to the ranch, take highway 377 north from the Richardson Loop in Ada. As you begin to drive North on the new 4 lane highway, you will notice the CLEET facility (Council on Law Enforcement Education and Training) on your left. Exit left just past CLEET. Turn right on the county road known as Egypt Road. Follow this road for approx 1 miles. The pavement will turn into a dirt road at the Sandy Creek bridge. Stay to the right. The ranch entrance will be on your right. Cornerstone Kids' Ranch is open April 1st - Thanksgiving for birthday parties. Experience a birthday party like none other. There is lots of room to roam and have the time of your child's life. We can create a party that is just right for you and your budget. Birthday party options include: trip to the petting farm, moon bounce, magic show, pony or horse rides, barn swing, hayride, balloon animals for each child, the "Kids Ranch Express" barrel train, and a complete food, beverage, and snack service. (ADDED: October 08, 2013, suggested by a visitor)
---
Horse Rides and More:
Pontotoc County
Cornerstone Ranch - pony rides, horse boarding
11945 Egypt Rd, Ada, OK 74820. Phone: 405-250-3214. Email: dstone@crosspointe.tv. Open: The 2013 pumpkin patch opens to the general public Saturdays from 11 am to 5 PM and Sundays from 4 pm to 7 PM, from October 12th to 27th; We will also be open during Fall Break, October 16th-18th from 9:30 am to 2:30 PM. Directions: To get to the ranch, take highway 377 north from the Richardson Loop in Ada. As you begin to drive North on the new 4 lane highway, you will notice the CLEET facility (Council on Law Enforcement Education and Training) on your left. Exit left just past CLEET. Turn right on the county road known as Egypt Road. Follow this road for approx 1 miles. The pavement will turn into a dirt road at the Sandy Creek bridge. Stay to the right. The ranch entrance will be on your right. Cornerstone Kid's Ranch offers pasture boarding services for horse owners. All boarding plans at Cornerstone Kids' Ranch includes arena riding privileges, use of veterinarian stanchion, grooming stations, wash bay, and over 150 acres of trail riding. Lighted night time riding in the arena is also available. Contact the ranch for complete rates and information. (ADDED: October 08, 2013, suggested by a visitor)
---
Winery, Brewery and Distillery Tours and Tastings:
---