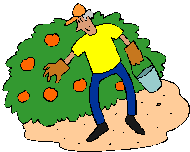 Looking for a local, pick-your-own farm in Southern Ohio? Scroll down this page and you will see the U-Pick farms in Southern Ohio, sorted by county. Those that offer organic or sustainably grown produce are identified by the words "organic" and/or "sustainable" in Green, next to their name. If they have a website, the name will be in blue and underlined; click on it and it will open their website.
And if you know of any I missed and want to add them or correct the information, please let me know!
What's in season in February 2018, and other timely information:
Notes for February 2018: Strawberries have a very brief season; and they start in early April in the South, May in most of the US, and early June in the North - don't miss them: See your state's crop availability calendar for more specific dates of upcoming crops. And see our guide to local fruit and vegetable festivals, such as strawberry festivals and blueberry festivals. Cold weather crops, like spinach, some lettuces, peas, kale, Brussels sprouts, broccoli, cauliflower, leeks and early onions being harvested in all but the coldest regions. Many farms and markets still have fresh winter squash, stored from last Autumn.
You may noticed the new appearance to the website! Simpler, cleaner and mobile-friendly! I'm rolling it out, page by page over the next 2 months. Everything is still here; you can access it from the drop down menus at the top of the page or the site search. If you have any questions or suggestions, feel free to write me!
Southern Ohio U-Pick Farms and Orchards, by county
Click on the resources drop-down above, if you need a county map
Athens County
The Gold Family Farm - beans, beets, corn (sweet), cucumbers, eggplant, peppers, pumpkins, summer squash, winter squash, tomatoes,
4799 Fisher Road, Athens, OH 45701. Phone: 740-249-4608. Alternate Phone: 740-517-5012. Email: goldfarm1937@gmail.com. Open: Please call ahead for availability. Directions: Directions: Located 5 minutes outside of Athens between Athens and Albany off US RT50/32. The road is identified as County Road 17 at the highway but is also known as Fisher Road. We are approximately 1.5 miles out and will be on the right. Click here for a map and directions. Most produce will become available late June-Mid July and be available until frost in the fall; Please Like our Facebook page to stay informed. Payment: Cash, Debit cards, Visa/MasterCard, Discover, AmEx. The Gold Family Farm also hosts the Gold Family Farm Flea Market the 3rd weekend in October. Please call for information. Click here for our Facebook page. (UPDATED: May 08, 2015, JBS) (UPDATED: May 24, 2014) (ADDED: October 15, 2012)
Lick Run Berry Patch - three varieties of thornless blackberries
State Route 278 South, Nelsonville, OH, 45764. Phone: 740-753-3911. Alternate phone: 740-753-4818.
Vest Berries and Produce - blackberries, raspberries (Autumn, red), restrooms
18170 Mush Run Road, Stewart, OH 45778. Phone: 740-541-1169. Email: vestberries@yahoo.com. Open: U pick strawberries have ended for the season and uptick thornless blackberries will begin around August 5; Any questions call or follow us on fFacebook at vest berries; every day 9 to 7;Closed Wednesdays. Directions: We are 2.7 miles off state route 690 on Mush Run road. Any problems with direction please call me. Click here for a map and directions. Blackberries are thornless; They are full of ripe berries at this time; Season for them will be about 3 weeks; Red Raspberries will have a slim season due to the weather; Season will last about a month. Payment: Cash, Check, WIC Vouchers, SFMNP Vouchers. Click here for our Facebook page. We have chemical free tomatoes all summer long, sweet corn, beens, greens, sweet onions, potatoes and peas at the farm and at the Athens Farmers market on Saturdays and Wednesdays. Sweet potatoes are available at the market from September thru March. (UPDATED: May 08, 2015, JBS) (UPDATED: July 06, 2013)(UPDATED: July 21, 2012).(ADDED: May 29, 2011, suggested by a visitor)
Comments from a visitor on May 29, 2011: "I liked the farm very much. Best straw mulching for strawberries I have ever seen."
Gallia County
Jackson County
Weber Farms - pumpkins, tomatoes, other vegetables, pumpkin patch- already gathered from the field, and prepicked produce
914 Weber Road, Jackson, OH 45640. Phone: 740-988-3302. Email us at: weberfarm1835@aol.com. Directions: 10 miles west of Jackson, turn left at county road 23, go 3/4 mile turn left on Weber Road third driveway on left. And for a map to our farm, click here. Crops are usually available in May, June, July, August, September, October, November. Open: seven days a week 9:00 am to 8:00 pm; maze open Friday and Saturday from 7:00 pm till 11:00 pm. Large groups welcome. Payment: Cash, Check. (UPDATED: October 04, 2014) (UPDATED: September 16, 2008)
Lawrence County
Meigs County
Pike County
Scioto County
Vinton County
---
---
Local Honey Sources:
Pike County
Way Farms - Honey (retail), Comb honey, Honey from hives on the farm
13 Denver Road, Waverly, OH 45690. Phone: 740-222-0179. Email: wayfarms@yahoo.com. Open: Monday to Friday, from noon to 5:00 pm; Saturday, from 10:00 am to 3:00 pm, May 1 to June 30; Monday to Friday, 10:00 am to 6:00 pm; Saturday, 9:00 am to 2:00 pm, July 1 to September 30. Directions: Click here for a map and directions. Payment: Cash, Check, Debit cards, Visa/MasterCard, WIC Vouchers, SFMNP Vouchers. Click here for our Facebook page. (ADDED: June 15, 2013)
---
Meats, Milk and Eggs:
---
Farm Venues for Events, Activities, Parties and Meetings:
---
Horse Rides and More:
---
Winery, Brewery and Distillery Tours and Tastings:
---