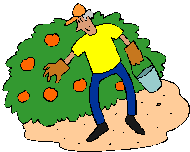 Looking for a local, pick-your-own farm in Southeastern Missouri? Scroll down this page and you will see the U-Pick farms in Southeastern Missouri, sorted by county. Those that offer organic or sustainably grown produce are identified by the words "organic" and/or "sustainable" in Green, next to their name. If they have a website, the name will be in blue and underlined; click on it and it will open their website.
And if you know of any I missed and want to add them or correct the information, please let me know!
What's in season in January 2018, and other timely information:
Notes for January 2018: Strawberries have a very brief season; and they start in early April in the South, May in most of the US, and early June in the North - don't miss them: See your state's crop availability calendar for more specific dates of upcoming crops. And see our guide to local fruit and vegetable festivals, such as strawberry festivals and blueberry festivals. Cold weather crops, like spinach, some lettuces, peas, kale, Brussels sprouts, broccoli, cauliflower, leeks and early onions being harvested in all but the coldest regions. Many farms and markets still have fresh winter squash, stored from last Autumn.
You may noticed the new appearance to the website! Simpler, cleaner and mobile-friendly! I'm rolling it out, page by page over the next 2 months. Everything is still here; you can access it from the drop down menus at the top of the page or the site search. If you have any questions or suggestions, feel free to write me!
Southeastern Missouri U-Pick Farms and Orchards, by county
Click on the resources drop-down above, if you need a county map
Bollinger County
Trace Creek Blues - blueberries,
Cr 828 Route 1 Box 1685, Glenallen, MO 63751. Phone: 573-238-2878. Email: lindalw@hughes.net. Directions: From Marble Hill, take Highway 34 west about 9 miles. Turn right on Highway DD. Go 4 miles. At the bottom of a long hill, turn left on CR 828. We are the first driveway on the right. From Fredericktown, take Highway 67 south. Turn left on Highway A at Cherokee Pass. Go 10 miles. Turn right on Highway M, and go 1/10th of a mile. Turn left on Highway DD, drive 8 miles, and turn right on CR 828. We are the first driveway on the right. Click here for a map and directions. Click here for current open hours, days and dates. Click here for picking updates. Crops are usually available in June. Open: Mid June, by appointment only. Blueberries ripen in mid-June. Payment: Cash, Check. Check out our hand-hewed log cabin, hand woven crafts, stained glass crafts, and one man bandsaw sawmill. (UPDATED: May 06, 2015, JBS) (UPDATED: June 24, 2008) (UPDATED: April 16, 2008)
Butler County
Cape Girardeau County
Illers Top of the Hill Berry Farm - Blueberries
Millersville, MO 63766. Phone: 573-243-8301. Phone: 573-204-0937. Directions: Exit 99 off I-55. Take US-61 west to Jackson. At intersection of US-61 and US-72 take US-72 west for 8 miles. Look for our sign on left.) U-pick blueberries or purchase them already picked for you. Call first. (UPDATED: May 06, 2013, JBS)
A visitor writes: "I have picked over 100 pounds of berries each of the last 3 years at Illers. I just received a notecard from them today about opening soon. They have pick our own or prepicked available. Just wanted to update you about them as I plan to return and pick 200 pounds this year! My husband has a fruit smoothie with blueberries every morning and we've run out months before it is time to pick again, so my fingers will definitely be stained blue this month:)"
Pioneer Apple Orchards - apples, peaches, pumpkins, wagon rides,
2308 West Jackson Blvd., Jackson, MO. Phone: (573) 243-8008. Email: sskbeggs@sbcglobal.net. Open: Call for hours and availability. Directions: Exit 105 off I-55. Take US-61 into Jackson for 4 miles. Right on West Jackson Boulevard/Hwy 34 for 1.7 miles to orchard on the west city limits. Pick your own apples, pumpkins and peaches. Also wagon rides, mazes and more. Peaches: Mid-July 8am-6pm. Apples/pumpkins: first weekend in Sept-Oct 8am-6pm. (ADDED: March 16, 2010 from http://extension.missouri.edu/)
Comments from a visitor on October 19, 2010: "Anyone coming to Pioneer Apple Orchard for the "pick your own" apples will be very disappointed, because what you pick them out of is a big box! There are no apple trees. It is a nice farmer's market type store and I go there frequently, but NOT to pick apples! "
Carter County
Dent County
Dunklin County
Iron County
Madison County
Mississippi County
Montgomery County
Wil farm - beans, beets, broad beans, cucumbers, eggplant, flowers, melons, peas, peppers, raspberries (red), summer squash, strawberries,
1002 Highway 19, Hermann, MO 65041. Phone: 573-486-2191. Email: wilfarmeventually@gmail.com. Open: Starting May 15th: Wednesday from 2 pm to 6 pm; Thursday, Friday, Saturday and Sunday 9 am to 6 pm; Strawberry You - pick earlier but do call. Click here for current open hours, days and dates. Directions: Highway 70 between Columbia and Saint Louis, exit 175, 10 miles South on Highway 19, on the left side of the Highway. From the town of Hermann, go 5 miles over the bridge North on Highway 19, farm is on the right hand side. Click here for a map and directions. Payment: Cash, Check. (ADDED: March 30, 2013)
New Madrid County
Oregon County
Cardoza Blueberry Farm

- ORGANIC, blueberries
Intersection of Hwy 160 & Route JJ, Alton, MO, 65600. Phone: (417) 764-3792. Open: Monday through Saturday, 7:30am-dusk; Sundays 2:30 pm to dusk. Directions: From West Plains, east 15 miles on Hwy 160, at Route JJ. Watch for signs. Organically grown.
Pemiscot County
Perry County
Reynolds County
Ripley County
Scott County
Beggs Berry World - u-pick strawberries, pre-picked strawberries,
190 County Rd. 332, Benton, MO 63736. Phone: (573) 545-3881. Alternate Phone: 573-576-8101. Email: cbeggs39@hotmail.com. Directions: Exit 80 off I-55. Take Hwy 77 east. Left onto County Road 332. Look for our sign. Fabulous homegrown produce. Open: April to mid-October, 7 days a week, from 8 am to 7 pm. . (ADDED: March 16, 2010, suggested by a visitor)
Comments from a visitor on March 16, 2010: "THE BEST STRAWBERRIES EVER"
Beggs Family Farm - (no longer does strawberries), but still has pumpkins, pumpkin patch-pick in the field, corn maze, straw or hay bale maze, child-sized haybale maze, gift shop, snacks and refreshment stand, restrooms, wagon rides, pony rides, petting zoo
2319 State Highway U, Sikeston, MO 63801. Phone: 573-471-3879. Fax: 573-472-0132. Email us at: sheila@beggsfamilyfarm.com. Directions: Easily access from Interstate 55 in Missouri. Take exit 69, turn west at the top of the ramp, at the 4-way stop turn right (north) onto Highway H, follow Highway H to Blodgett, once in Blodgett turn left (west) onto Highway U, just 1/2 mile on the right. And for a map to our farm, click here. Crops are usually available in May, October. Open: Weekends in October Saturday 10 am to 9 pm Sunday noon-6 pm; Pick your own pumpkins weekends in October Saturday 10 a.m. -9 pm Sunday noon - 6 pm School fieldtrips by reservation. Themed 12 acre corn maze, glow in the dark mini-golf, animal displays, play areas, Miner Max maze, gem stoning sluice, and much more. Flashlight nights in the maze. Payment: Cash, Check, Visa/MasterCard.
Shannon County
Stoddard County
Wayne County
---
---
Local Honey Sources:
---
Meats, Milk and Eggs:
Perry County
Three Spring Farms - Chicken (free range), Turkey, Beef, No hormones used, No antibiotics used, 100% Grass fed (includes finishing), Eggs (free range), Farm/ranch tours for visitors, children welcome, Turkeys (organic, not-hormone-fed), Fresh eggs
1097 Perry County Road 330, Perryville, MO 63775. Phone: 314-605-2416. Alternate Phone: 971-322-5480. Email: info@threespringfarms.com. Open: Tours can be arranged by calling ahead; You can place a beef order via phone or email, please contact us anytime. Directions: (Also, may pick up beef in Webster Groves, MO). Payment: Cash, Check, Visa/MasterCard, AmEx. Click here for our Facebook page. Our farm is a collaboration between three guys: Andrew Bachmann, Jacob Bachmann and Bryan Meyers. Andrew and Jacob are knowledgeable farmers who are the 4th generation on their family farm. Bryan is a newbie with more interest and enthusiasm than experience. Together we are raising grass-fed beef in Perryville, MO and working to improve and protect the farmland in the process. We also meet customers in Webster Groves, MO to pick up their orders and have package options as well as shares available for purchase. Please email us for a price list. We sell directly to grassfed beef fans and to reach out to select markets and restaurants who will appreciate our product and our approach. For individual buyers, we can walk you through the process with clarity to take away any uncertainty about buying beef in this manner. We will be happy to show you the farm before you make any buying decisions, or take you on a tour the day you pick up the beef. (ADDED: September 30, 2013)
---
Farm Venues for Events, Activities, Parties and Meetings:
---
Horse Rides and More:
---
Winery, Brewery and Distillery Tours and Tastings:
---
Farm Bed And Breakfasts
---
Maple Syrup Farms and Sugarworks:
---