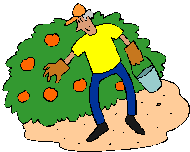 Looking for a local, pick-your-own farm in Northeastern Missouri? Scroll down this page and you will see the U-Pick farms in Northeastern Missouri, sorted by county. Those that offer organic or sustainably grown produce are identified by the words "organic" and/or "sustainable" in Green, next to their name. If they have a website, the name will be in blue and underlined; click on it and it will open their website.
And if you know of any I missed and want to add them or correct the information, please let me know!
What's in season in January 2018, and other timely information:
Notes for January 2018: Strawberries have a very brief season; and they start in early April in the South, May in most of the US, and early June in the North - don't miss them: See your state's crop availability calendar for more specific dates of upcoming crops. And see our guide to local fruit and vegetable festivals, such as strawberry festivals and blueberry festivals. Cold weather crops, like spinach, some lettuces, peas, kale, Brussels sprouts, broccoli, cauliflower, leeks and early onions being harvested in all but the coldest regions. Many farms and markets still have fresh winter squash, stored from last Autumn.
You may noticed the new appearance to the website! Simpler, cleaner and mobile-friendly! I'm rolling it out, page by page over the next 2 months. Everything is still here; you can access it from the drop down menus at the top of the page or the site search. If you have any questions or suggestions, feel free to write me!
Northeastern Missouri U-Pick Farms and Orchards, by county
Click on the resources drop-down above, if you need a county map
Adair County
Lost Branch Blueberry Farm -

Uses natural growing practices

, blueberries, herbs/spices, porta-potties, picnic area (bring your own food), school tours
21507 Lost Branch Way, Brashear, MO 63533. Phone: 660-342-2725. Alternate Phone: 660-342-1771. Email: pricefamilylbbf@gmail.com. Open: Times vary - see website or Facebook for daily updates during the season. Directions: Take highway 6 east (south of Kirksville). Go approximately 5 1/2 miles and turn north (left) on Lost Branch Way. Go about 6/10 of a mile and you will see our sign on the left. See website for more directions. Click here for a map and directions. Check our website or Facebook for updates as to when we will open this season; Generally, June 24 through the month of July. We use natural practices, but are not seeking organic certification. Payment: Cash, Check. Click here for our Facebook page. Park like atmosphere with a small waterfall & pond and a winding path through the herb garden with 30+ different plants. Asparagus for sale typically in May. We also have Blueberry Jam & Muffins for sale during blueberry season. We have nice, manicured, grass rows and easy access. We also provide bags and buckets in which to put the bags.(UPDATED: March 31, 2016) (UPDATED: May 07, 2015, JBS) (UPDATED: May 18, 2011) (ADDED: April 04, 2008)
Audrain County
Binder's Hilltop Apple and Berry Farm - apples, peaches, Honey from hives on the farm, gift shop, snacks and refreshment stand, restrooms, picnic area, farm animals, school tours, events at your location (call for info)
24688 Audrain Road 820, Mexico, MO 65265. Phone: 573 721 1415. Email: applesandalpacas@ktis.net. Open: Mid July through the end of October or until the final crop is completely picked. Directions: Click here for a map and directions. Blackberries: July Peaches: Mid July Apples: Last week in July through the end of October. Payment: Cash, Check, Visa/MasterCard. Special Event: Each year on the last weekend in September we host a National Alpaca Farm Day on our premises. So bring your camera and your kids, visit the alpacas, pet a baby cria, halter lead an alpaca, pick apples, see a spinning and/or weaving demonstration, live musical entertainment and a Blue Grass Jam, visit our country store and see our observation beehive, Walk around our farm and visit the African geese, guineas and ducks. (UPDATED: May 07, 2015, JBS) (UPDATED: September 08, 2010)
Chariton County
Clark County
Knox County
Lewis County
Blue Heron Orchard - ORGANIC, apples, Cider mill (fresh apple cider made on the premises), prepicked produce, school tours
32974 220th Street, Canton, MO 63435. Phone: 573-655-4291. Email: blueheronorchard@centurytel.net. Directions: From Quincy, Illinois: Highway 24 West to US 61 North. Exit Highway C at La Grange, Missouri, turn right (east). Come into La Grange turn left at junction B, and go 2.3 miles (North). Turn Left at Road 220. (Look for Red Apple signs on right.) Go .7 miles, Blue Heron Orchard on Left. . Click here for a map and directions. Click here for picking updates. Crops are usually available in August, September, October. Open: Sundays 12:00 pm until 4:00 pm Saturdays 9:00 am until 4:00 pm Wednesday, Thursday and Fridays 10:00 am until 5:00 pm By appointment also. The main harvest begins in late August with Gala Apples and continues through mid to late October with Wine Saps. We are certified organic for all crops! Payment: Cash, Check. Heirloom Tomatoes, Peppers, Squash: summer/winter, Basil. Spring has arrived! Early cool crops are producing. We have 18 different varieties of Tomatoes started. Most other crops will be ready in end of June. Remember: Call ahead! (UPDATED: May 07, 2015, JBS) (UPDATED: May 01, 2009) (ADDED: July 24, 2008)
Comments from a visitor on August 03, 2012: "Loved it, very friendly people. "
Linn County
Macon County
West Orchards - apples, peaches, plums, Honey from hives on the farm, Cider mill (fresh apple cider made on the premises), U-pick and already picked, snacks and refreshment stand, restrooms, picnic area
25875 Jewell Avenue, Macon, MO 63552. Phone: 660-651-7582. Alternate Phone: 660-385-3750. Email: danwest@centurytel.net. Open: See our Website for current hours. Click here for current open hours, days and dates. Picking updates: Click here for picking updates. Directions: From Macon Missouri go 5 miles north on highway 63 , turn left (west) on AX (Axtell) , go 3/4 mile , turn south on Jewell , 3/4 mile to Orchard. Click here for a map and directions. Apples: August 1st to October 15th. Payment: Cash, Check. We have 17 varieties of apples including , Pristene (our 1st summer apple and super eating as well as applesauce apple) , Mutsu Crispin , Arkansas Black , Jonagold, Honeycrisp , Rome Beauty , Stamared (Winesap variety) Jonafree (very close to the old fashion Jonathon) , Senshu , Redfree , Gala , Liberty and more. Our objective is to provide wholesome low spray fruit that taste great! Come on out to the orchard. For a small fee, We do tours for local groups from Senior Citizens , Pre-School to Kindergarten through High School. We are a U-Pick orchard and love to have families and individuals come out to pick their own fresh fruit! Orchard Opens around the 1st of August with our 1st apples variety being the sprightly tasting and beautiful apple, The "Pristine". We also will have at that time plums and some peaches if the season is good. (UPDATED: May 07, 2015, JBS) (UPDATED: June 23, 2010)
Marion County
Monroe County
Pike County
Putnam County
Ralls County
Randolph County
Scotland County
Shelby County
Sullivan County
---
---
Local Honey Sources:
---
Meats, Milk and Eggs:
---
Farm Venues for Events, Activities, Parties and Meetings:
---
Horse Rides and More:
---
Winery, Brewery and Distillery Tours and Tastings:
---
Farm Bed And Breakfasts
---
Maple Syrup Farms and Sugarworks:
---
Wholesale Foods
Macon County
Farmstand

- Local delivery, Regional delivery (see below for details), some produce is certified organically grown, all produce is sustainably grown, all produce is grown using IPM (integrated pest management), Preserves, jams, jellies, Wide variety of seasonal fruits and vegetables,
10764 Mercury Avenue, La Plata, MO 63549. Phone: 573-424-7767. Email: jetboy44@aol.com. Open: Call us for wholesale pricing and delivery. Directions: Payment: Cash, Check. Farmstand, a group of local growers located within a 20 mile radius of Kirksville, MO, is dedicated to selling all locally grown seasonal produce without the use of any harmful chemicals. In addition, we donate approximately 1000 pounds of produce a week to local food banks. We guarantee all our produce is fresh picked within twenty four hours of sales. (UPDATED: August 06, 2014)
---