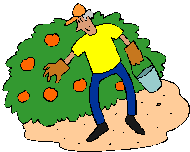 Looking for a local, pick-your-own farm in Northwestern Minnesota? Scroll down this page and you will see the U-Pick farms in Northwestern Minnesota, sorted by county. Those that offer organic or sustainably grown produce are identified by the words "organic" and/or "sustainable" in Green, next to their name. If they have a website, the name will be in blue and underlined; click on it and it will open their website.
And if you know of any I missed and want to add them or correct the information, please let me know!
What's in season in February 2018, and other timely information:
Notes for February 2018: Strawberries have a very brief season; and they start in early April in the South, May in most of the US, and early June in the North - don't miss them: See your state's crop availability calendar for more specific dates of upcoming crops. And see our guide to local fruit and vegetable festivals, such as strawberry festivals and blueberry festivals. Cold weather crops, like spinach, some lettuces, peas, kale, Brussels sprouts, broccoli, cauliflower, leeks and early onions being harvested in all but the coldest regions. Many farms and markets still have fresh winter squash, stored from last Autumn.
You may noticed the new appearance to the website! Simpler, cleaner and mobile-friendly! I'm rolling it out, page by page over the next 2 months. Everything is still here; you can access it from the drop down menus at the top of the page or the site search. If you have any questions or suggestions, feel free to write me!
Northwestern Minnesota U-Pick Farms and Orchards, by county
Click on the resources drop-down above, if you need a county map
Blue Earth County
Valley Veggies -

No pesticides are used

, flowers, herbs/spices, porta-potties, school tours
52727 State Highway 68, Lake Crystal, MN 56055. Phone: 507-947-3343. Alternate Phone: 952-693-8140. Email: amanda@valleyveggiesmn.com. Open: Monday to Saturday, from 10am to 6pm; Sundays, from Noon to 5pm. Click here for current open hours, days and dates. Directions: From Mankato: Approximately 5 1/2 miles west on MN State Highway 68 from the junction of US Highway 169. We are on the left, or south side of the road. If you come upon Judson, you have gone too far. From New Ulm: Approximately 20 miles east on State Highway 68 from the intersection of MN State Highway 15. We are on the right, or south side of the road. We are about a mile past Judson, heading east. Landmarks: We have an antique tractor in the ditch with our sign on it. Click here for a map and directions. We do not use pesticides on the crops. Payment: Cash, Check. Click here for our Facebook page. Plant sales in May and June. Vegetables for sale late June through November. Sorry folks for the confusion, but we do NOT sell strawberries or blueberries. However, we do grow and sell a nice variety of vegetables, herbs and flowers. Most years, we do have apples in the Fall. (UPDATED: July 04, 2014) (UPDATED: September 20, 2012) (UPDATED: June 15, 2011) (ADDED: July 07, 2010)
Brown County
Chippewa County
Cottonwood County
Faribault County
Jackson County
Red Apple Orchard

- apples,
2015 US Highway 71 N., Jackson, MN 56143. Phone: 866-800-8000. Alternate Phone: 507-840-0118. Open: Please call for current dates and hours open. Directions: Intersection of Interstate 90 and United States Highway 71 in Jackson, Minnesota. Orchard located behind the Econolodge Hotel. Click here for a map and directions. Payment: Cash, Check. Apple varieties are Connell Red, Haralson, Fireside, Sweet Sixteen. (ADDED: August 10, 2012)
Kandiyohi County
Brouwer Berries -

Minimizes chemical and pesticide use

, strawberries, U-pick and already picked, porta-potties, farm animals
12951 105th Street Sw, Raymond, MN 56282. Phone: (320)967-4718. Email: brberries@gmail.com. Open: Monday to Saturday, from 8 am until we are sold out, during the fruiting season. Directions: Click here for a map and directions. We minimize use of pesticides and other chemicals. Payment: Cash, Check, Debit cards, Visa/MasterCard, Discover. Click here for our Facebook page. The season is short, but very, very sweet! Don't miss it!Our Local Strawberry Season Only Lasts Three Weeks! We think we will open around June 22. Enter your e-mail address on our web-page, or Like us on Facebook to be alerted to the start of the strawberry season!. (UPDATED: June 11, 2015, JBS) (UPDATED: May 04, 2014) (ADDED: August 08, 2013, suggested by a visitor)
A visitor writes on August 08, 2013: "We loved it as does everyone who lives in the area and takes their kids. Not sure about organic, but I would imagine so. Their daughters like to host birthday parties for young kids and will even supply the cake, etc and lead the games. They also have a bunch of small farm animals that the girls will take your kids around to see. Their is a lovely pond and perennial garden for taking pictures of your kids. They highly encourage bringing your kids to U-pick and get familiar with farm life."
Laq qui Parle County
Lincoln County
Lyon County
Martin County
Center Creek Orchard - apples, pumpkins, U-pick and already picked, snacks and refreshment stand, restrooms, picnic area, Bouncy castle or moon bounce, petting zoo, birthday parties, school tours
663 254th Avenue, Fairmont, MN 56031. Phone: 507-773-4547. Email: centercreek@frontiernet.net. Open: Weekends September and October, Saturday and Sunday, noon to 6 pm. Directions: FROM FAIRMONT: South on Highway 15 4 miles, East on County Road 18 4 miles FROM I-90: Exit 107 East Chain/Granada, South on County Road 53 5 miles, West on County Road 18 1/2 mile. Click here for a map and directions. FALL FESTIVAL: weekends in September and October; Activities include pumpkin patch, storytelling, corn pile, scarecrow building, castle bouncer, giant maze, apple sling, barrel ride, hayride, petting farm, super slide and haunted forest; For sale in APPLE BARN: over a dozen varieties of Minnesota grown apples, jams, jellies, pie, apple crisp and apple cider; Pick-Your-Own apples October 19th to 31st. Payment: Cash, Visa/MasterCard. Click here for our Facebook page. Proud members of Minnesota Apples Growers and Minnesota Grown Associations. (UPDATED: June 11, 2015, JBS) (UPDATED: July 05, 2010)
Murray County
Nobles County
Pipestone County
Giesbrecht Gardens

- raspberries (Spring, red), U-pick and already picked
2070 130th Ave, Holland, MN 56139. Phone: 507-658-3395. Email: giesbrechtgardens@yahoo.com. Open: Monday to Saturday, from 8 am to 8 pm; in season July and August. Directions: on 130th Ave, 1/4 mile south of Pipestone County Road 10. Click here for a map and directions. Payment: Cash, only. We furnish the picking containers. We may upgrade soon to accept Visa/MasterCard. (ADDED: January 25, 2015)
Redwood County
Renville County
Bird Island Berries

-

Uses natural growing practices

, asparagus, raspberries (red), raspberries (Spring, red), raspberries (Autumn, red), raspberries (yellow), raspberries (Autumn, yellow), U-pick and already picked
83105 425th St, Bird Island, MN 55310. Phone: 7013671870. Email: evens76@aol.com. Open: Monday to Sunday 10 am to 7 pm. Directions: We are between Hector, MN and Bird Island, MN on Hiway 212; going East on Hiway 212 take a left on 425th St, going West on Hiway 212 take a right on 425th St. Click here for a map and directions. Asparagus May 1 to October 31 Raspberries July 1 to October 31. We use natural practices, but are not yet certified Organic. Payment: Cash, Check. We have asparagus and raspberries, pick your own or we will pick for you, bring your own containers or will provide containers. (UPDATED: June 24, 2015) (UPDATED: February 24, 2014) (UPDATED: June 17, 2013) (ADDED: May 08, 2013)
Rock County
Hansen's Berry Farm - strawberries, U-pick and already picked, porta-potties, hayrides
898 60th Avenue, Beaver Creek, MN 56116. Phone: 507-673-0063. Alternate Phone: 507-220-3522. Email: hansenfarm@centurylink.net. Open: from late June; We are open every day, including holidays 7am to Noon through the season; The season should last 2 to 3 weeks; Please feel free to call ahead for availability and daily picking conditions. Directions: I-90, Minnesota exit 5 at Beaver Creek. North 1/2 mile, farm is on the right. Click here for a map and directions. Payment: Cash, Check. Click here for our Facebook page. Please feel free to bring your own containers or we have our Hansen's Berry Farm picking buckets available for sale in the check in shed. You will enjoy a tractor driven hay ride out to the picking field. Our friendly staff will help with questions and directions in the field. (UPDATED: June 11, 2015, JBS) (UPDATED: June 23, 2013) (ADDED: February 07, 2011)
Swift County
Watonwan County
Yellow Medicine County
---
---
Local Honey Sources:
---
Meats, Milk and Eggs:
---
Farm Venues for Events, Activities, Parties and Meetings:
---
Horse Rides and More:
Watonwan County
Perch Creek Farm - Horse-drawn sleigh rides (weather permitting),
82195 430th St, Truman, MN 56088. Phone: 507-776-6801. Email: perchcreekfarm@hotmail.com. Open: See our website for current hours. Directions: 2 miles north of Truman on highway 15, 1/4 mile east on 490th street You will see the lights!. Payment: Cash, Check. Christmas lighted trail-warming room with hot chocolate and popcorn. We have bon-fire with marshmellows to roast. All for $5.00 per person We start at 5:30 each evening,starting December 21st thru the 31st. Visit the web site to get an idea of what it is like!For other dates or large groups please call Snow or no snow we GO!!. (ADDED: November 24, 2012)
---
Winery, Brewery and Distillery Tours and Tastings:
---
Farm Bed And Breakfasts
---
Maple Syrup Farms and Sugarworks:
---