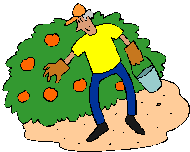 Looking for a local, pick-your-own farm in Northern Maine? Scroll down this page and you will see the U-Pick farms in Northern Maine, sorted by county. Those that offer organic or sustainably grown produce are identified by the words "organic" and/or "sustainable" in Green, next to their name. If they have a website, the name will be in blue and underlined; click on it and it will open their website.
And if you know of any I missed and want to add them or correct the information, please let me know!
What's in season in January 2018, and other timely information:
Notes for January 2018: Strawberries have a very brief season; and they start in early April in the South, May in most of the US, and early June in the North - don't miss them: See your state's crop availability calendar for more specific dates of upcoming crops. And see our guide to local fruit and vegetable festivals, such as strawberry festivals and blueberry festivals. Cold weather crops, like spinach, some lettuces, peas, kale, Brussels sprouts, broccoli, cauliflower, leeks and early onions being harvested in all but the coldest regions. Many farms and markets still have fresh winter squash, stored from last Autumn.
You may noticed the new appearance to the website! Simpler, cleaner and mobile-friendly! I'm rolling it out, page by page over the next 2 months. Everything is still here; you can access it from the drop down menus at the top of the page or the site search. If you have any questions or suggestions, feel free to write me!
Northern Maine U-Pick Farms and Orchards, by county
Click on the resources drop-down above, if you need a county map
Aroostook County
Circle B Farms -

Minimizes chemical and pesticide use

, apples, blueberries, other vegetables, porta-potties, picnic area, school tours
287 East Presque Isle Road, Caribou, ME 04736. Phone: 207-498-8238. Fax: 204-496-0033. Email: circlebfarms04@hotmail.com. Open: See our web site for other crops and scheduals. Click here for current open hours, days and dates. Directions: We are on rute 205, 1.5 miles from rute 161 in Caribou. Look for the big Circle B Farms sigh in the river side of the road, see web site for map. Click here for a map and directions. Blueberries Late July to mid septemder, Apples Late August to late October, Christmas Holly November 15 to December 15. We minimize use of pesticides and other chemicals. Payment: Cash, Check, Debit cards, Visa/MasterCard. Check our web site for on going events. We sell Blueberry bushes spring and fall,plus we have a class on how to grow Blueberries, Apples, & gardening class as well. (UPDATED: February 09, 2012)
Chasse Vegetables - Peas, snap beans and other vegetables
Chasse Road, Saint Agatha, Maine. Phone: 207-592-9080. Directions: Go 2 miles past Lake View Restaurant and make a right turn onto Chasse Road, go 1.5 miles, in Saint Agatha. Open: Monday through Saturday (am hours) While in season.
Goughan Farms - strawberries
872 Fort Fairfield Road, Caribou, ME 04736. Phone: 207-498-6565. They also have a corn maze in the Fall. (UPDATED: October 07, 2010)
Hebert Farm - highbush blueberries, raspberries, strawberries, peas and beans.
Route 161, Guerette, Maine. Phone: 207-834-5065.
Hillside Farm - blueberries
259 US Highway 1, Monticello, ME. Phone: 207-538-9035. Email: patalados@pioneerwireless.net. Directions: North Road, 1/4 mile north of Hare Road, East Side of Rte 1. Small quantities available. Easy picking from bush.
J.A. & R. Farms - Pick your own apples, and fresh vegetables.
Rte 161, St. Francis, ME. Phone: 207-398-3396. Directions: 18 miles from Fort Kent International Bridge. Open: Spring through Fall Monday through Saturday from 6:30 am to 5 pm.
Kody's Crop - custom growers
396 Main Street, Bridgewater, ME. Phone: 207-429-9551. Email: gary50@ainop.com. Open: summer and fall, call for hours. If we don't have it, we will custom grow it for you. We also have three varieties of potatoes: Red, Superiors and Shepodys.
Mac's Best Produce - red raspberries, highbush blueberries, apples
799 Benedicta Road, Benedicta, Maine. Phone: 207-365-4486. Fax 207-365-4453. Email themcavoys@ainop.com. Email: themcavoys@pivot.net. Open: Late June through October, Monday to Saturday from 9 am to 5 pm. Mac's Best grows three varieties of red raspberries, 2 highbush blueberries, 8 apples and an assortment of vegetables to ensure a wide selection all season long. Restrooms Available.
McElwain's Strawberry Farm - pre-picked and pick your own strawberries
Rte 161, Caribou, ME. Phone: 207-498 8276. Email: fmcelwai@maine.rr.com. Open Summer through Fall, call for hours and availability. Directions: Three miles from downtown Caribou on Rte 161. (UPDATED: June 27, 2011)
Sunnyside Farm / Ferme Ensoleillee - apples, blueberries
406 New Limerick Road, Linneus, ME 04730. Phone: 207-532-7058. Email: fermeensoleillee.sunnysidefarm@gmail.com. Open: Summer, Fall (Apples) 7 days 8am - 5pm. Directions: Right outside Houlton in the countryside of Linneus. Call for precise directions.Cultivated highbush; varieties include: Northland, Patriot, Chippewa, Northblue, and Polaris. Handicapped Accessible, Restrooms, Can Accommodate Bus Tours. (UPDATED: March 3, 2013, from their website)
McNally's Farm - raspberries, blueberries
Intersection of Happy Corner Road and Frenchville Road, Patten, Maine . Phone: 207-528-2110. Fax 207-528-6165. Email mcnallyfarm@ainop.com Open: 7 days a week; Please call ahead of time. We also have potatoes. We take orders for the potatoes and people pick them up. The berries start in July and run through August. The potatoes run through October.
Rankin Rapids Farm - beans, beets, blueberries, cherries, corn (sweet), cucumbers, melons, pears, peas, pumpkins, raspberries (red), raspberries (Spring, red), raspberries (Autumn, red), raspberries (Spring, yellow), raspberries (Autumn, yellow), raspberries (black), summer squash, winter squash, Turkeys (organic, not-hormone-fed), restrooms, picnic area, school tours, group reservations
50 And 28 Rankin Rapids Road, Saint Francis , ME 04774. Phone: 207-398-2885. Alternate Phone: 207-231-1217. Fax: 207-398-2885. Email: RRfarmandcamp@gmail.com. Open: Monday, Wednesday, Friday, Saturday from 8am to 3pm Sunday from 12 noon to 4 pm from May 30,2014 to October 31, 20014 then closed for the winter. Directions: We are 18 mile from Fort KENT, Maine. On route 161 north. . Payment: Cash, Check. (ADDED: August 05, 2014)
T & D Farms - Pick your own strawberries, peas and beans.
732 Forest Avenue, Fort Fairfield, Maine. Phone: 207-473-7786. Open: 6 am to dark as long as season permits .
Treeland Farms - peas, beans, squash and pumpkin
335 Calais Road, located 4 miles south of Houlton on U.S Route 1. Farm is on right side of the road in Hodgdon, Maine. Phone: 207-532-2018. Email bubbatreeland@aol.com You pick several varieties of peas, beans, squash and pumpkins available in July - October. July 10 - 30. 8:00 a.m. until dark. Bus parking.
Whole Earth Farm - vegetables
Route 10, Presque Isle, Maine. Phone: 207-769-2107. Email slashbrown@aol.com. Open: call for hours and availability. Route 10, three miles East of Presque Isle in Presque Isle, Maine. Pick your own vegetables at a good price.
---
---
Local Honey Sources:
---
Meats, Milk and Eggs:
---
Farm Venues for Events, Activities, Parties and Meetings:
---
Horse Rides and More:
---
Winery, Brewery and Distillery Tours and Tastings:
---
Farm Bed And Breakfasts
---
Maple Syrup Farms and Sugarworks:
---
Wholesale Foods
Aroostook County
Circle B Farms - Local sales at our farm, some produce is grown using IPM (integrated pest management), apples, blueberries, restrooms, picnic area
287 E Presque Isle Rd, Caribou, ME 04736. Phone: 207-498-8238. Fax: 207-493-0066. Email: circlebfarms04@hotmail.com. Open: Blueberry plants and Apple trees available in spring and fall. Directions: East Presque Isle or Route 205 in Caribou, Maine look for the Circle B Farms sigh. Click here for a map and directions. Check the schedule page on our web site. Payment: Cash, Check, Debit cards, Visa/MasterCard. Fresh cut Christmas Holly in November. We sell Blueberry plants & Apple trees. (UPDATED: January 17, 2011)
---