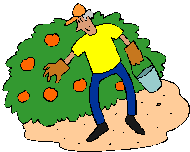 Looking for a local, pick-your-own farm in Georgia? Scroll down this page and select your region of the state for a list of U-Pick farms in Georgia, sorted by county. Farms offering organic or sustainably grown produce are identified by the words "organic" and/or "sustainable" in Green, next to their name. If they have a website, the name will be in blue and underlined; click on it and it will open their website.
And if you know of one I missed and want to add it or correct the information, please let me know!
What's in season in January 2018, and other timely information:
Notes for January 2018: Strawberries have a very brief season; and they start in early April in the South, May in most of the US, and early June in the North - don't miss them: See your state's crop availability calendar for more specific dates of upcoming crops. And see our guide to local fruit and vegetable festivals, such as strawberry festivals and blueberry festivals. Cold weather crops, like spinach, some lettuces, peas, kale, Brussels sprouts, broccoli, cauliflower, leeks and early onions being harvested in all but the coldest regions. Many farms and markets still have fresh winter squash, stored from last Autumn.
You may noticed the new appearance to the website! Simpler, cleaner and mobile-friendly! I'm rolling it out, page by page over the next 2 months. Everything is still here; you can access it from the drop down menus at the top of the page or the site search. If you have any questions or suggestions, feel free to write me!
Georgia U-Pick Farms and Orchards
Click one of these areas (or click on the map further down this page)
Other information:
Click on the area for which you want to see a list of pick your own farms.

---
Looking for Apple Orchards, Apple Farm Markets and Roadside stands in Georgia, such as in Ellijay? Here's the page with reviews, info and photos of each!
If you are thinking of going to the Georgia Farmer's Market at Forest Park, GA, and want useful information (vendor names, phone numbers, produce sold, photos, etc.) for the stalls at the farmer's market at Forest Park, then check out this page.
For all other farmer's markets in Georgia, see this page!
We also have a page with links to our own simple instructions on canning, freezing and drying many fruits and vegetables, such as how to make jam, apple butter, applesauce, spaghetti sauce, salsa, pickles, ketchup or freezing corn.
Gwinnett County
These two are NOT pick-your-own farms, they are homeowners with a couple of acres, so they have huge gardens and sell their home-grown tomatoes. I've had some of their tomatoes, and they are excellent! Both are very close to Gwinnett Place Mall (Costco, Sam's Club, etc.) Here's where to find them. Be sure to tell them where you heard about them!

4215 Old Norcross Road, NW, Duluth, GA, 30096 (at the intersection with West Liddell in Duluth / Norcross). His phone is 770-449-4839. Here's a Mapquest map to their stand. He has been charging $1.50 per pound for Better Boy tomatoes.
4895 Old Norcross Road NW, Duluth, GA, 30096. Not far from the stand above, she is charging $1.25 per pound and is open almost every day except Sunday mornings. Here's a Mapquest map to her stand

Email me from Feedback if you'd like to recommend a home vegetable stand in your area! As long as it is truly a home stand, not a big commercial market stand, I'll add it! I'd just like to give the mom and pop (and children) who are selling their extra home grown veggies a boost!