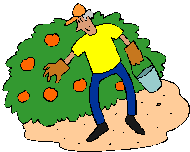 Looking for a local, pick-your-own farm in Western Central California? Scroll down this page and you will see the U-Pick farms in Western Central California, sorted by county. Those that offer organic or sustainably grown produce are identified by the words "organic" and/or "sustainable" in Green, next to their name. If they have a website, the name will be in blue and underlined; click on it and it will open their website.
And if you know of any I missed and want to add them or correct the information, please let me know!
What's in season in January 2018, and other timely information:
Notes for January 2018: Strawberries have a very brief season; and they start in early April in the South, May in most of the US, and early June in the North - don't miss them: See your state's crop availability calendar for more specific dates of upcoming crops. And see our guide to local fruit and vegetable festivals, such as strawberry festivals and blueberry festivals. Cold weather crops, like spinach, some lettuces, peas, kale, Brussels sprouts, broccoli, cauliflower, leeks and early onions being harvested in all but the coldest regions. Many farms and markets still have fresh winter squash, stored from last Autumn.
You may noticed the new appearance to the website! Simpler, cleaner and mobile-friendly! I'm rolling it out, page by page over the next 2 months. Everything is still here; you can access it from the drop down menus at the top of the page or the site search. If you have any questions or suggestions, feel free to write me!
Western Central California U-Pick Farms and Orchards, by county
Click on the resources drop-down above, if you need a county map
Nevada County
Lazy Valley Ranch - u-pick blueberries
Penn Valley, CA. Phone: 530-432-2234. Open: Sunday-Friday 10am-5pm to buy blueberries; U-pick from 8:30 am to 4:00 pm; Appointments are necessary for u-pick by calling. Directions: Watch for the open sign hung at the end of Lazy Valley Road in Penn Valley or the classified ad that runs in The Union in early June. Owner Jeannie Gleason. (UPDATED: April 28, 2015, JBS) (UPDATED: May 24, 2014, from their website)
Linda Grace's Place Farm -

Uses natural growing practices

, apples, blackberries, cucumbers, figs, herbs/spices, lavender, nectarines, pears, peaches, peppers, plums, pomegranates, raspberries (red), summer squash, winter squash, tomatoes, other vegetables, walnuts, Honey from hives on the farm, Fresh eggs, U-pick and already picked, farm animals, weddings and wedding parties
17458 Friendly Valley Place, Grass Valley, CA 95949. Phone: 530-272-5156. Email: linda.menge@hotmail.com. Open: Call for appointment, hours and days vary according to crops, generally weekends. Directions: Off McCourtney Road, Grass Valley, Ca. Click here for a map and directions. Payment: Cash, only. We use only our own Artesian well water for irrigation, absolutely NO treated water used here! :) Some canned goods may be available for sale, hopefully fresh pies in the future!. We use natural practices, but are not seeking organic certification. See Linda Grace's Place on Facebook for updated information! (UPDATED: July 14, 2015) (UPDATED: May 24, 2014, from their website) (UPDATED: July 20, 2012) (ADDED: August 06, 2009)
Riverhill Farm - vegetables
13500 Cement Hill Road, Nevada City, California 95959. Phone: (530) 263-1886. Email: alan@riverhillfarm.com. Open: During the 2015 season our farmstand is open each Wednesday afternoon from 2 pm to 6 pm from June through the week before Thanksgiving week in November. Directions: click here for a map and directions. To be notified of the opening date, subscribe to our email list. You can buy our produce at the farm and take advantage of u-pick opportunities each week, such as our lovely raspberries and blackberries. Please subscribe to our email list to be notified of weekly produce availability, bulk purchases for canning, and other events. (ADDED: April 29, 2015, JBS)
Sun Smile Farms - blueberries, red raspberries, black raspberries, and blackberries.
10110 West Drive, Grass Valley, CA 95945. Phone: 530 273-6507. Email: info@sunsmilefarms.com. Open: The Farmstand will be closed this season, however, the U-Pick will continue; Please sign up for our mailing list and we will notify you regarding dates and times. Directions: From Sacramento east on I-80 approximately 30 miles, Take the CA-49 exit towards Grass Valley/Placerville. Take the exit towards CA-174/COLFAX/CENTRAL Grass Valley, Turn left onto South Auburn Street, Turn left onto W Main Street. W Main Street becomes ROUGH AND READY Highway., go 1.8 miles to West Drive and turn left. Follow the road to the end and you're there.In addition to U-pick, they offer Community Supported Agriculture (CSA) with weekly boxes. (UPDATED: April 28, 2015, JBS) (UPDATED: May 24, 2014, from their website) (ADDED: May 08, 2009, suggested by a visitor)
Comments from a visitor on May 08, 2009: "Great, with a wide variety of fruits and berries."
Placer County
Sierra County
---
---
Local Honey Sources:
Placer County
Rickey Ranch Vineyards and Pumpkin Farm -

Uses natural growing practices

, Raw honeys, Tours, Honey from hives on the farm, Fresh eggs, gift shop, snacks and refreshment stand, restrooms, picnic area, face painting, Bouncy castle or moon bounce, pony rides, petting zoo, farm animals, birthday parties, weddings and wedding parties, school tours
6950 Cavitt Stallman Road, Granite Bay, CA 95746. Phone: (916) 797-2089. Email: rickeyranch@surewest.net. Open: Call for availability and details!. Click here for current open hours, days and dates. Picking updates: Click here for updates. Directions: Click here for a map and directions. Craft Fair and Fall Festival is scheduled for October 16th and 17th; We also have a Scarecrow Contest, please visit our website for details and your chance to win $100!. We use natural practices, but are not seeking organic certification. Payment: Cash, Check. (UPDATED: March 01, 2010)
Sierra County
AnimasCreek Honey and Herb Farm Market - Honey (retail), Wildflower honey, Raw honeys, Other honey products, Honey from hives on the farm, Fresh eggs, gift shop, restrooms, picnic area
Main Street, Hillsboro, NM 88042. Phone: 575-743-0224. Email: Animascreekhoneyandherbfarm@gmail.com. Open: Saturday's from 10 am to 2 pm March thru December. Directions: I-25 exit 63 towards Hillsboro/ Silver City approx 15 miles We are located on the Main Street next door to the Hillsboro Historical Society. Click here for a map and directions. Payment: Cash, only. (ADDED: April 03, 2015)
---
Meats, Milk and Eggs:
Placer County
AnneBelle Farms - 100% grass and/or grain fed, snacks, refreshments and/or concessions, Eggs (free range), Brown eggs, Specialty eggs (see below), Farm market with fruits and vegetables, Within an easy drive to an Interstate road, Fresh eggs, gift shop, picnic area, picnic area (bring your own food)
6540 Grass Valley Hwy, Auburn, CA 95602. Phone: (530) 269-1910. Email: info@Annebellefarms.com. Open: Annebelle Farms fresh eggs available Monday to Friday, from 8 am to 7 pm; Saturday and Sunday, from 7 am to 5 pm, January 1 to December 31. Click here for current open hours, days and dates. Directions: Located off historic Highway 49 6540 Grass Valley highway Auburn, Ca 95602. Click here for a map and directions. Payment: Cash, only. Located in Northern California Foothills, Annebelle Farms is family owned and operated. Here at Annebelle farms we raise quality, all natural fresh product. Annebelle Farms guarantee that you and your family will consistently have the freshest and highest quality of farm to fork products available. (ADDED: August 03, 2014)
Rickey Ranch Vineyards and Pumpkin Farm -

Uses natural growing practices

, Honey from hives on the farm, Fresh eggs, gift shop, snacks and refreshment stand, restrooms, picnic area, face painting, Bouncy castle or moon bounce, pony rides, petting zoo, farm animals, birthday parties, weddings and wedding parties, school tours
6950 Cavitt Stallman Road, Granite Bay, CA 95746. Phone: (916) 797-2089. Email: rickeyranch@surewest.net. Click here for current open hours, days and dates. Picking updates: Click here for updates. Directions: Click here for a map and directions. Craft Fair and Fall Festival is scheduled for October 16th and 17th; We also have a Scarecrow Contest, please visit our website for details and your chance to win $100!. We use natural practices, but are not seeking organic certification. Payment: Cash, Check. (UPDATED: March 01, 2010)
---
Horse Rides and More:
---
Farm Bed And Breakfasts
Placer County
Horton Iris Garden and Pumpkin Patch - 2 total rooms, Price range from $100 to $125, Large beds, Large rooms, Fresh farm breakfasts, Beautiful rural setting, Fishing onsite, washer and dryer available, boating nearby, skiing nearby, snowmobiling nearby, golf nearby, fitness/health club nearby, Free farm tours for overnight guests, Within an easy drive to an Interstate road, No pets please, Help feed the animals, goats, chickens,
7440 King Road, Loomis, CA 95650. Phone: 916-652-4351. Alternate Phone: 916-239-9432. Email: doughortonart@yahoo.com. Click here for current open hours, days and dates. Directions: from Sacramento, California on I-80 towards Reno. After passing the cities of Rocklin and Loomis, take the Penryn Road exit and turn right at the off ramp. Drive about 1/4 mile to next stop sign. Turn left on King Road, and driveway is next one on your right. You will see signs at King Road and Penryn Road and also at driveway. Click here for a map and directions. Payment: Cash, Check. The two bedrooms are upstairs with bathroom between them. One room has queen size bed, and the other bedroom was two twin beds. Both have window air-conditioning. The home is 90 years old, but updated. (ADDED: April 01, 2010)
---
Farm Venues for Events, Activities, Parties and Meetings:
Placer County
Horton Iris Garden and Pumpkin Patch - You may bring your own food, Some Tables and chairs are provided, Bed & Breakfast onsite, Pumpkin patch, goats, chickens, Beautiful rural setting, Fishing onsite, golf nearby, fitness/health club nearby, Free Onsite Lot parking lot, Within an easy drive to an Interstate road, children welcome, Pets welcome,
7440 King Road, Loomis, CA 95650. Phone: 916-652-4351. Alternate Phone: 916-239-9432. Email: doughortonart@yahoo.com. Click here for current open hours, days and dates. Directions: from Sacramento, California on I-80 towards Reno. After passing the cities of Rocklin and Loomis, take the Penryn Road exit and turn right at the off ramp. Drive about 1/4 mile to next stop sign. Turn left on King Road, and driveway is next one on your right. You will see signs at King Road and Penryn Road and also at driveway. Click here for a map and directions. Saturdays and Sundays in October from 9 am to 5 pm;. Payment: Cash, Check. (ADDED: April 01, 2010)
---
Resources For Farmers