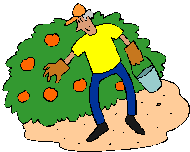 Looking for a local, pick-your-own farm in Orange County, California? Scroll down this page and you will see the U-Pick farms in Orange County, California, sorted by county. Those that offer organic or sustainably grown produce are identified by the words "organic" and/or "sustainable" in Green, next to their name. If they have a website, the name will be in blue and underlined; click on it and it will open their website.
And if you know of any I missed and want to add them or correct the information, please let me know!
What's in season in January 2018, and other timely information:
Notes for January 2018: Strawberries have a very brief season; and they start in early April in the South, May in most of the US, and early June in the North - don't miss them: See your state's crop availability calendar for more specific dates of upcoming crops. And see our guide to local fruit and vegetable festivals, such as strawberry festivals and blueberry festivals. Cold weather crops, like spinach, some lettuces, peas, kale, Brussels sprouts, broccoli, cauliflower, leeks and early onions being harvested in all but the coldest regions. Many farms and markets still have fresh winter squash, stored from last Autumn.
You may noticed the new appearance to the website! Simpler, cleaner and mobile-friendly! I'm rolling it out, page by page over the next 2 months. Everything is still here; you can access it from the drop down menus at the top of the page or the site search. If you have any questions or suggestions, feel free to write me!
Orange County, California U-Pick Farms and Orchards, by county
Click on the resources drop-down above, if you need a county map
Irvine Ranch Outdoor Education Center -

Uses natural growing practices

, lemons, oranges, other citrus, tangerines, Other fruit or veg, U-pick and already picked, farm market, restrooms, picnic area (bring your own food), ziplines, group reservations
2 Irvine Park Rd, Orange, CA 92869. Phone: 714-923-3191. Email: suzannes@iroec.org. Open: 2nd and 4th Sundays of the month from 1 pm to 4 pm. Directions: Go down Jamboree road and enter Irvine regional park. Follow the direction to enter Outdoor Education Center. Click here for a map and directions. We use natural practices, but are not yet certified Organic. Payment: Cash, only. We also have mandarins and kales for you to pick. (ADDED: January 28, 2016)
South Coast Farms - ORGANIC, strawberries - usually just 1 day a year
32701 Alipaz Street, San Juan Capistrano, CA 92675. Phone: 949-661-9381. Open: See their website for for hours and availability. Primarily, this is a farmstand and CSA. Call to ask them about the 1-day PYO; you have to call; they don't do email or don't appear to post it on their website. Directions: See their website for directions. Payment: Cash, only. (UPDATED: April 26, 2015, JBS) (UPDATED: May 25, 2014, from their website) (ADDED: July 02, 2010, suggested by a visitor)
Comments from a visitor on July 16, 2011: "The ONLY pyo crops offered are: Strawberries, and only at the end of the season, for one day. This year (2011), it was Sunday, July 11th. They also have a pumpkin patch, fresh apple cider and crafts for Hallowe'en. "
Comments from a visitor on July 02, 2010: "Apparently they grow everything organic. They also have a CSA program. I have only been there once, but I am going back to pick strawberries this weekend! $1.25 a pound for organic strawberries! That's a great deal in this neck o'the woods!"
Tanaka Farms - strawberries, vegetables, pumpkins,
5380 3/4 University Drive, Irvine, California 92612. Phone: 949-653-2100. Fax: 949-653-9050. Email: TanakaFarms@tanakafarms.com. Open: There are strawberry U-pick tours in the Spring and vegetable u-pick tours in the summer; U- Pick Tour times will be posted on our website when available. Directions: 2 miles north of I-5 and I-405 interchange, take I-405 to University Dr - South to Strawberry Farms Rd on corner. Click here for a map to our farm. and another map is here. Strawberry tours: This is a guided tour around the farm that takes approximately one hour on a tractor- pulled wagon. You will see how fruits & vegetables grow and sample many of those that are in season. The last stop on this tour is in the strawberry patch will you be able to pick and eat strawberries! Each person will take home a one (1) pound basket of strawberries! How Does It Work? Weekday school tours and group tours are available by reservation only. No reservations are needed for our weekend tours unless the group is large. Please arrive 25 minutes before to check in and receive instructions. Make Strawberry Tour reservations by calling (949) 653-2100 ext. 204 with the name, phone number, date, the time you wish to attend, the number of adults, children, and children ages 2 years old and under who will be attending. A confirmation will be sent to you by email.Harvest items TBD. (Will not include strawberries.) Vegetable U-pick harvest tours: What Is a Harvest Tour? This is a FREE, guided wagon ride around the farm, where you will be able to pick your own fresh fruits and vegetables in the fields! This tour takes 45 min to 1 1/4 hours. Remember to wear closed-toed shoes as you will be walking through the fields! How Does It Work? This tour is seasonal and generally runs during the off-season. No reservations are necessary; simply arrive 15-20 min previous to the start of the tour so you don't miss the tractor. Vegetable picking is seasonal and based on availability, but U-Pick produce may include: carrots, tomatoes, beets, baby bok choy, lettuce, kale, butternut squash and more. It's a surprise every day! Pay for what you've picked at the end of your tour. Group rates are available call for details. We also have CSA fundraiser available. (UPDATED: April 26, 2015, JBS) (UPDATED: May 25, 2014, from their website) (UPDATED: July 06, 2008)
Comments from a visitor on April 15, 2011: "Further clarification on the "U-Pic" part of the farm. For $15, you get to ride on the tractor, get a tour of the many fruits and vegetables on the farm, and a ONE POUND basket for you to fill up with strawberries."
Comments from a visitor on March 27, 2011: "Tanaka Farms has a CSA program through Farm2Table Connect. There is no membership fee, you only pay for the box of fruits/vegetables. The large box is $30 and the small is $20. They will also donate a portion from each box to participating schools. Visit this website for more info. "
Comments from a visitor on August 8, 2008: "I took my husband & son to Tanaka Farms for their "Pick-your-own- strawberries" we went on a guided wagon tour that included several stops to taste fresh picked produce from their farm, we then had 15 minutes to pick and eat as many strawberries as we could. Our 1 1/2 year old son LOVED it. Sure they were the most expensive basket of strawberries ($13 per basket) my husband or I had ever purchased, but those pictures were priceless !! They also offer a Watermelon tour which we intend to go do as well."
---
---
Local Honey Sources:
Orange County
Backyard Bees - Honey (retail), Honey (wholesale), Buckwheat honey, Eucalyptus honey, Orange blossom honey, Wildflower honey, Comb honey, Raw honeys, Ultrafiltered honey, Other honey products, Tours, Honey from hives on the farm, birthday parties
2216 N Flower St, Santa Ana, CA 92706. Phone: 8004766105. Email: rescue@backyardbees.net. Open: Contact for availability. Directions: Payment: Cash, Check, Debit cards, Visa/MasterCard. Click here for our Facebook page. Honey is a combination of california natives and ornamentals available in Orange County. Our honey comes from hives that are kept naturally and are never fed or treated. Backyard Bees honey is untreated and unfiltered, left in its natural state. (ADDED: February 24, 2015)
---
Meats, Milk and Eggs:
---
Horse Rides and More:
---
Farm Bed And Breakfasts
---
Farm Venues for Events, Activities, Parties and Meetings:
Orange County
Backyard Bees - Banquets / Dinners, Birthday parties, Business meetings, Classes, lectures or Speakers, School and educational groups, Other Private Parties, Lighting, Some Tables and chairs are provided, children welcome, Honey from hives on the farm, birthday parties
2216 N Flower St, Santa Ana, CA 92706. Phone: 8004766105. Email: rescue@backyardbees.net. Open: Contact for availability. Directions: Payment: Cash, Check, Debit cards, Visa/MasterCard. Click here for our Facebook page. Backyard garden available for educational groups, tours, meetings, birthday parties and more. Guests will be able to tour gardens and honey house operations. (ADDED: February 24, 2015)
---
Wholesale Foods
---
Resources For Farmers