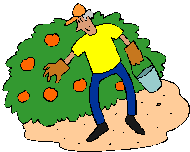 Looking for a local, pick-your-own farm in Northwestern California? Scroll down this page and you will see the U-Pick farms in Northwestern California, sorted by county. Those that offer organic or sustainably grown produce are identified by the words "organic" and/or "sustainable" in Green, next to their name. If they have a website, the name will be in blue and underlined; click on it and it will open their website.
And if you know of any I missed and want to add them or correct the information, please let me know!
What's in season in January 2018, and other timely information:
Notes for January 2018: Strawberries have a very brief season; and they start in early April in the South, May in most of the US, and early June in the North - don't miss them: See your state's crop availability calendar for more specific dates of upcoming crops. And see our guide to local fruit and vegetable festivals, such as strawberry festivals and blueberry festivals. Cold weather crops, like spinach, some lettuces, peas, kale, Brussels sprouts, broccoli, cauliflower, leeks and early onions being harvested in all but the coldest regions. Many farms and markets still have fresh winter squash, stored from last Autumn.
You may noticed the new appearance to the website! Simpler, cleaner and mobile-friendly! I'm rolling it out, page by page over the next 2 months. Everything is still here; you can access it from the drop down menus at the top of the page or the site search. If you have any questions or suggestions, feel free to write me!
Northwestern California U-Pick Farms and Orchards, by county
Click on the resources drop-down above, if you need a county map
Del Norte County
Shasta County
Hawes Farms - corn (sweet), flowers, pumpkins, gift shop, snacks and refreshment stand, restrooms, picnic area, face painting, farm animals, birthday parties, school tours
21923 Dersch Road, Anderson, CA 96007. Phone: 530-365-2332. Fax: 530-365-6313. Email: lhawes@hawesfarms.com. Directions: Take I - 5 to Anderson, take the Deschutes Road exit. Head northeast on Deschutes road 4.5 miles farm is on right at the intersection of Dersch and Deschutes road in Anderson. And for a map to our farm, click here. Crops are usually available in October. Open: September 29 - October 31st Saturday and Sundays 10am to 11pm, Monday to Thursday, 9am to 7pm, Friday 9 am to 11pm Payment: Cash, Check, Visa/MasterCard, Discover, AmEx.

Serendipity U-Pick Ranch

- cherries, blueberries, boysenberries, plums, peaches, figs, apples, nectarines, flowers, restrooms, farm animals
6315 Parkridge Drive, Anderson, CA 96007. Phone: 530-949-5985. Open: Call for hours and availability. Directions: Call for directions. Payment: Cash, only. Pesticide Free. (UPDATED: June 13, 2014) (UPDATED: June 19, 2013, by a visitor) (ADDED: July 20, 2012, suggested by a visitor)
Comments from a visitor on June 19, 2013: "We visited Serendipity Ranch in early June to pick cherries. The owners were helpful and friendly. They allowed us to have a picnic in the shade of the orchard. We will be back to pick plums, peaches, and apples later in the season. Don't miss this ranch! Great family fun! "
Comments from a visitor on August 12, 2012: "We visited Serendipity Farm today and bought a bunch of peaches and plums to make jam. The owner is so nice, she made us feel very comfortable. We really enjoyed visiting the farm and will definitely go back! "
Comments from a visitor on July 20, 2012: "My mother told me about the ranch then I went out with my children then I told my neighbor who in turn told her friends by the time cherry season was over we had a croud of 15 or more people meeting out there weekly. They were so busy but the lady in charge whose name is also Tammy was able to walk and talk with us and even entertained the children by letting them pick cherries from what she called the childrens tree which in fact was a tree up by her stand that had limbs covered in cherries about a foot off the ground. So I highly recommend her business. I believe they start with Cherries in June then go to Blueberries, Boysenberries, Several different varieties of Plums,White Peaches, Figs, Apples,garden produce, Nectarines, cut flowers and ,more peaches throughout the summer"
Tuscan Heights Lavender Gardens - flowers, grapes, herbs/spices, lavender,
12757 Fern Road East PO Box 206, Whitmore, CA 96096. Phone: 530-472-3066. Email: lavenderinfo@tuscanheights.net. Directions: From Redding, CA: From I-5 North, take highway 44 towards Lassen Park. Stay on highway 44, driving past Palo Cedro, CA. Take a Left at Old highway 44 Dr. to Millville, CA. At the stop sign, take a Right on Whitmore Road and drive for about 16 miles. Drive through Whitmore, passing the local grocery store and elementary school. Take left at Fern Road EAST. Follow Fern Road EAST 2.2 miles. T.H.L.G. is on the right: 12757 Fern Road EAST~ Whitmore, CA. Road conditions are paved and graveled. Click here for current open hours, days and dates. Click here for picking updates. And for a map to our farm, click here. Crops are usually available in April, May, June, July, October, December. Open: 2008 Business Hours June 7th: 3rd Annual Open Garden and Lavender Festival June 8 ~ July 27, 2008 Saturdays: 10 am to 5pm and Sundays: 11am to 5pm Closed on: July 18, 19, and 20 Final Open Week for Season: July 26 and 27 to July 28 to August 2nd; October, 2008 Plant Sale: TBA (please check our website) Garden Tours: by Appointment, ONLY Weekday's date's available in May, June and early July. Lavender: July - Aug. Payment: Cash, Check. We also have a lovely gift shop offering a lovely array of beautiful dried organic lavender wreaths and bundles, artesian organic lavender bath and body SPA products, amazing culinary lavender teas, spices, scone mixes, and USDA Certified Organic Lavender Truffles! Over 100 different organic lavender gift items to choose from. (ADDED: July 21, 2008)
Siskiyou County
Harris U-Pick Berry Patch and Pumpkin Farm - strawberries, pumpkins
7715 Eastside Rd, Fort Jones, CA 96032. Phone: 530-468-2328. Alternate phone: 530-468-4777. Open: Daily, from 6:00 am to 8:00 pm. Located in a beautiful country setting that is family friendly. So, pack your lunch, bring the kids and have a great day in the country! (ADDED: May 02, 2015, JBS)
Little Folks Produce - apples, beans, beets, carrots, corn (sweet), cucumbers, flowers, onions, pears, pumpkins, summer squash, winter squash, tomatoes, other vegetables, Turkeys (organic, not-hormone-fed), Honey from hives on the farm, gift shop, snacks and refreshment stand, restrooms, picnic area, face painting, pony rides, petting zoo, farm animals, birthday parties, school tours, events at your location (call for info)
15109 Old Hwy 99, Grenada, CA 96038. Phone: 530-436-9974. Fax: 530-436-9974. Email: leeyaatkins@sbcglobal.net. Directions: Grenada in northern California from Redding, going north on I-5 to Grenada/Gazelle exit No#766, then go west to Old Hwy 99 then south on Old Hwy 99 about 7 miles look for the Farm signs on the Hwy, The farm will be on the west side of the Hwy. This is also the same route when traveling south bound from Oregon. Open: June 14 through October 31 from 10am through 6pm, seven days a week. Produce Stand and Country Store, Picnic and Play Ground area. Petting Zoo and Pony Rides week ends only, Sundays Horse Drawn carriage Rides by appointments only. June 14 to September 14: Pumpkin Patch, Petting Zoo, Pony Rides, Horse Drawn wagons, games and prizes, Country story, Gift Shop, Back Goods, Jams & Jellies and much more. Our fall crop and pumpkins patch starts September 20th.
Trinity County
---
---
Meats, Milk and Eggs:
Shasta County
Wycked Fell Farm - Chicken (free range), Turkey, Pork, Lamb, No hormones used, No antibiotics used, 100% grass and/or grain fed, Eggs (free range, vegetarian fed), Brown eggs, Specialty eggs (see below), Within an easy drive to an Interstate road, children welcome, No pets please, Turkeys, Fresh eggs
299 East, Round Mountain, CA 96008. Phone: 530-949-7816. Email: farmerbill@wyckedfellfarm.com. Open: Call 538 am to 949 am to 7816 or see our website at to find out whether we have animals for sale. Directions: Payment: Cash, only. Lambs are available from spring through fall. Lambs are raised on mother's milk, natural untreated pasture, and the occasional flake of alfalfa. We do not feed grain, or use hormones or routine antibiotics. If you would like a lamb, we will coordinate with a local butcher for you and all you need to do is pay for the lamb up front, then pay the butcher for his services and pick up the wrapped meat. Lambs are butcher weight in September through November. We generally have goat kids available in late spring and early summer. These are dairy goats, not meat breeds. If you are interested in getting your own milk, a dairy kid is just what you need! We occasionally raise a few hogs. They are free range and fed a commercial feed in addition to enjoying rooting in the pasture. We raise Easter eggers, olive eggers and Marans. We often have chickens, chicks, eating eggs, and hatching eggs. Eggs are not available in the winter months. We may also have LIVE turkeys. We do not process any meat on the farm. All animals we sell are sold live. Hogs and lambs can be processed by a local butcher but you would need to make your own arrangements for any poultry. If we have animals for sale, they will be listed on the appropriate page at our website on Craigslist. (ADDED: November 11, 2011) (UPDATED: November 22, 2011)
Siskiyou County
Scott River Ranch - Beef, Lamb, Certified USDA organic, No hormones used, No antibiotics used, 100% Grass fed (includes finishing), Wedding facilities, Farm/ranch tours for visitors, School tours, children welcome, farm market, farm animals, weddings and wedding parties, school tours
1138 East Callahan Road, Etna, CA 96027. Phone: 530 467-4006. Alternate Phone: 877 542-1802. Fax: 530 467-4006. Email: customerservice@scottriverranch.com. Open: Free local deliveries and ranch pick - up by appointment. Directions: Click here for a map and directions. Payment: Cash, Check, Debit cards, Visa/MasterCard, Discover. Click here for our Facebook page. Certified: Animal Welfare Approved(AWA), American Grassfed Association & Salmon Safe. (ADDED: January 02, 2014)