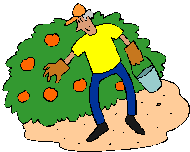 Looking for a local, pick-your-own farm in Los Angeles area of California? Scroll down this page and you will see the U-Pick farms in Los Angeles area of California, sorted by county. Those that offer organic or sustainably grown produce are identified by the words "organic" and/or "sustainable" in Green, next to their name. If they have a website, the name will be in blue and underlined; click on it and it will open their website.
And if you know of any I missed and want to add them or correct the information, please let me know!
What's in season in January 2018, and other timely information:
Notes for January 2018: Strawberries have a very brief season; and they start in early April in the South, May in most of the US, and early June in the North - don't miss them: See your state's crop availability calendar for more specific dates of upcoming crops. And see our guide to local fruit and vegetable festivals, such as strawberry festivals and blueberry festivals. Cold weather crops, like spinach, some lettuces, peas, kale, Brussels sprouts, broccoli, cauliflower, leeks and early onions being harvested in all but the coldest regions. Many farms and markets still have fresh winter squash, stored from last Autumn.
You may noticed the new appearance to the website! Simpler, cleaner and mobile-friendly! I'm rolling it out, page by page over the next 2 months. Everything is still here; you can access it from the drop down menus at the top of the page or the site search. If you have any questions or suggestions, feel free to write me!
Los Angeles area of California U-Pick Farms and Orchards, by county
Click on the resources drop-down above, if you need a county map
Leona Valley has many more cherry orchards listed on this map.- The area even has its own website. Cherry Information Hotline (24 Hours): (661) 266-7116. U-Pic Orchards are generally open June through July. Sweet cherries should be available for picking during the first week of June. Orchards will begin opening May 28th to June 4th. Cherry Parade is usually early to mid June (check their website)
Do you know of any other pick-your or so of Los Angeles? If you do, tell me about them using the Feedback form! Thanks!!!!!
Current Weather - Click on a map for forecast, or enter a zip code for a different location.
San Fran area (Brentwood)
Julian - Ramona near San Diego
Fresno
Bakersfield
---
Remember: ALWAYS call (or follow the link to the farm's own website, if the name is a blue link) to confirm the information before you go!
They may close, run out or change events, times, etc. without notifying me!
---
---
Horse Rides and More:
Los Angeles County
Dude's Ranch - Horse trails (guided), Horse ranches, Dude ranches / Guest ranches, horse leasing, lessons, Western riding equipment & instruction, Lunches offered, snacks, refreshments and/or concessions, Beautiful rural setting, beginners riding lessons, restrooms
, Acton, CA 93510. Phone: 661-269-2473. Alternate Phone: (661) 208-1868. Email: info@dudesranch.com. Open: Call or see our website for hours. Directions: Click here for a map and directions. Payment: Cash, Check, Debit cards, Visa/MasterCard. (ADDED: March 21, 2010)
---
Meats, Milk and Eggs:
Los Angels County
Al-Salam Farms - poultry
3980 Whittier Blvd., Los Angeles, CA. Phone: 323-267-1857. Government authorized Halal. It is zabihah halal. You can pick your own chicken and have it hand slaughtered. (Note: Eewww! Some things I don't wanna see.. But, I guess it's better than store bought. )
Circle K Ranch - Chicken (free range), Duck, Exotic meats, No hormones used, No antibiotics used, 100% grass and/or grain fed, Eggs (free range, vegetarian fed), Brown eggs, Specialty eggs (see below), sausage, Bacon (pork), Farm market with fruits and vegetables, children welcome, No pets please, Fresh eggs, farm animals
16184 Sweetaire Avenue, Lake Los Angeles, CA 93535. Phone: 310-729-1944. Email:Anne.keenberg@gmail.com. Open: Wednesday to Sunday, from 10am to sunset, April 1 to October 31. Directions: You'll see our ranch as you enter our neighborhood. The farm stand is around front of the house. Visitors are very welcome to stop by the fence and meet the animals!. Payment: Cash, Check, Visa/MasterCard. Click here for our Facebook page. (ADDED: March 23, 2016)
CJ's Organic Farm - Eggs (organic, free range, vegetarian fed), Brown eggs, Fresh eggs
10050 East Avenue, Little Rock, CA 93543. Phone: 818-800-6644. Alternate Phone: 818-800-6646. Email: cjsorganicfarm@gmail.com. Open: At the four point swap meet every Sunday from 7 am to 2 pm; Available on Saturdays by appointments at the swap meet; Monday through Friday from 7am to 5 pm at the farm by appointment only; We are really busy at the farm, we do enjoy having visitors but we must insist that you call a head of time and let us know you are coming; Thank you. Directions: On the corner of 101st street. Call if you need directions. Click here for a map and directions. Payment: Cash, Visa/MasterCard. Click here for our Facebook page. We offer free organic-heirloom gardening classes. We deliver weekly food baskets of fresh harvested fruit and vegetables from the farm. We accept PayPal payments. We sale starts from seeds collected from our heirloom plants. (ADDED: June 14, 2013)
---
Farm Bed And Breakfasts
---
Farm Venues for Events, Activities, Parties and Meetings:
Los Angeles County
The Cherry House - Wedding Ceremony, Wedding Reception, Birthday parties, Business outings, Filming or photo shoots, School and educational groups, Daycare and preschool groups, Other Private Parties, Catering available, You may bring your own food, Tables and chairs are Provided, Bring Your Own Tables and chairs, Linens and table silverware are provided, Bring your own linens and table silverware, BYO alcohol, B&B nearby, Hotel nearby, Motel nearby, Cherry Orchard, Pumpkin patch, sheep, goats, other animals, Beautiful rural setting, Mountain views, Fishing nearby, horse riding, golf nearby, Free Onsite Lot parking lot, Valet parking can be arranged, children welcome, No pets please, Smoking allowed in designated areas, Vegetarian meals available, handicap accessible, Honey from hives on the farm, gift shop, concessions / refreshment stand, porta-potties, picnic area, pony rides, petting zoo, farm animals, birthday parties, weddings and wedding parties, school tours
10600 Leona Ave, Leona Valley, CA 93551. Phone: 661-622-4480. Fax: 661-270-9615. Email: info@upickcherryhouse.com. Open: Year Round. Click here for current open hours, days and dates. Directions: Located off highway 14, near Palmdale, CA. Click here for a map and directions. Payment: Cash, Visa/MasterCard. Petting Zoo, Tractor Rides, On site concessions, Large Picnic Area. (UPDATED: April 18, 2011)
---
Local Honey Sources:
Los Angeles County
The Cherry House - Honey (retail), Honey (wholesale), Wildflower honey, Honey from hives on the farm, gift shop, concessions / refreshment stand, porta-potties, picnic area, pony rides, petting zoo, farm animals, birthday parties, weddings and wedding parties, school tours
10600 Leona Ave, Leona Valley, CA 93551. Phone: 661-622-4480. Fax: 661-270-9615. Email: info@upickcherryhouse.com. Open: Honey is available year round; You can purchase honey at our stand during normal hours; During off season (July - May) Honey can be ordered by email or phone;. Click here for current open hours, days and dates. Directions: Located off highway 14, near Palmdale, CA. Click here for a map and directions. Payment: Cash, Visa/MasterCard. (UPDATED: April 18, 2011)
---
Winery, Brewery and Distillery Tours and Tastings:
Los Angeles County
Cal Wine Cellars Inc. - Winery, Tastings/sampling (fee unknown),
1523 E. 1st Street Ste. A, Long Beach, CA 90802. Phone: 562-283-3198. Email: sales@calwinecellars.com. Click here for current open hours, days and dates. Directions: 1523 E. 1st Street Ste. A, Long Beach, CA, 90802, USA. Click here for a map and directions. Payment: Visa/MasterCard, Discover, AmEx. . At 'Cal Wine Cellars,' we offer you daily, the latest and best wine deals across California! We connect wine enthusiasts with outstanding wineries, wine adventures, wine bars, restaurants, craft breweries and wine tasting passes in the region. Our lucrative deals allow you to make the most of your money, while attending wine tasting events or taking wine tours, across California! To find out more about us please visit Cal Wine Cellars Inc. and Cal Wine Cellars Inc About Us.. Cal Wine Cellars finds you the latest wine tasting deals and experiences to local wineries, wine bars, restaurants and wine events in California. (ADDED: February 10, 2014)
Reyes Winery - Winery, Red wine, White wine, Rose, Fortified wine, Tours of the actual production facility, Reservations required for tours, Fee for tours, Group tours, Tasting/sampling for a fee, Wedding facilities, Beautiful rural setting, Mountain views, Hiking trails, Within an easy drive to an Interstate road, No children under 18 please, gift shop, restrooms, weddings and wedding parties, events at your location (call for info)
10262 Sierra highway, Agua Dulce, CA 91390. Phone: 661-268-1865. Email: info@reyeswinery.com. Open: Click here for current open hours, days and dates. Directions: Click here for a map and directions. Payment: Cash, Visa/MasterCard, Discover, AmEx. . Please look at our events page for upcoming events or to book a reservation for our tour of the vineyard, barrel room and art gallery...http://reyeswinery.com/events. Because of a passion for wine and winemaking, Robert Reyes envisioned having a small vineyard to produce small amounts of ultra premium wines for family and friends. However, in 2002 when he purchased the beautiful piece of land where the vineyard is located today, the vision changed from a personal hobby to a winery. The 16-acre vineyard was personally planted by Robert Reyes and the Reyes family in April of 2004, and consists of five popular grape varieties: Cabernet Sauvignon, Merlot, Syrah, Chardonnay, and Muscat. The first crop was harvested in 2005, and produced a very small amount. While the winery went through the rigorous permit process in Los Angeles County, the vineyard matured, and the quality of the fruit progressively improved significantly with each subsequent vintage. This led to better, more robust and elegant wines. The winery has produced some blends and created four award-winning dessert wines, a White Port (White Delight), 2 red Ports (Agua Dulce Delight) and Sweet Serenity ( a Muscat port) as well as a great Rose. The winery is located in Northern Los Angeles County, California, in the small town of Agua Dulce, only 45 minutes from Downtown Los Angeles, and is situated within the newly established Sierra Pelona Valley Appellation. Reyes Winery has already won 49 medals on its wines during the last three years since the wines have been available commercially. (ADDED: October 30, 2014)
---
Resources For Farmers
Los Angeles County
The Cherry House - Local sales at our farm, sale, farm equipment, Fruit/nut trees, Honey from hives on the farm, gift shop, concessions / refreshment stand, porta-potties, picnic area, pony rides, petting zoo, farm animals, birthday parties, weddings and wedding parties, school tours
10600 Leona Ave, Leona Valley, CA 93551. Phone: 661-622-4480. Fax: 661-270-9615. Email: info@upickcherryhouse.com. Open: Annually, June 1st - June 15th. Click here for current open hours, days and dates. Directions: Located off highway 14, near Palmdale, CA. Click here for a map and directions. Payment: Cash, Visa/MasterCard. (UPDATED: April 18, 2011)
---
Wholesale Foods
Los Angels County
CJ's Organic Farm - Local sales at our farm, Local delivery, some produce is sustainably grown, all produce is sustainably grown, Wide variety of seasonal fruits and vegetables, apples, asparagus, apricots, beans, beets, blackberries, blueberries, broccoli, carrots, cherries, corn (sweet), cucumbers, eggplant, figs, flowers, grapes, herbs/spices, lavender, lemons, melons, nectarines, onions, other berries, pears, peas, peaches, peppers, persimmons, plums, pumpkins, raspberries (red), raspberries (Spring, red), raspberries (Autumn, red), raspberries (yellow), raspberries (Spring, yellow), raspberries (Autumn, yellow), raspberries (black), raspberries (Spring, black), raspberries (Autumn, black), rhubarb, summer squash, winter squash, strawberries, tomatoes, other vegetables, walnuts, Fresh eggs
10050 East Avenue, Little Rock, CA 93543. Phone: 818-800-6644. Alternate Phone: 818-800-6646. Email: cjsorganicfarm@gmail.com. Open: At the four point swap meet every Sunday from 7 am to 2 pm; Available on Saturdays by appointments at the swap meet; Monday through Friday from 7am to 5 pm at the farm by appointment only; We are really busy at the farm, we do enjoy having visitors but we must insist that you call a head of time and let us know you are coming; Thank you. Directions: On the corner of 101st street. Call if you need directions. Click here for a map and directions. Payment: Cash, Visa/MasterCard. Click here for our Facebook page. We offer free organic-heirloom gardening classes. We deliver weekly food baskets of fresh harvested fruit and vegetables from the farm. We accept PayPal payments. Most of the items grown are heirloom varieties. We grow everything organically. We have over 200 different kinds of herbs. (ADDED: June 14, 2013)