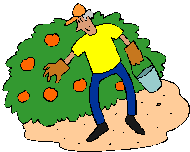 Looking for a local, pick-your-own farm in Alaska? Scroll down this page and you will see the U-Pick farms in Alaska, sorted by county. Those that offer organic or sustainably grown produce are identified by the words "organic" and/or "sustainable" in Green, next to their name. If they have a website, the name will be in blue and underlined; click on it and it will open their website.
And if you know of any I missed and want to add them or correct the information, please let me know!
What's in season in January 2018, and other timely information:
Notes for January 2018: Strawberries have a very brief season; and they start in early April in the South, May in most of the US, and early June in the North - don't miss them: See your state's crop availability calendar for more specific dates of upcoming crops. And see our guide to local fruit and vegetable festivals, such as strawberry festivals and blueberry festivals. Cold weather crops, like spinach, some lettuces, peas, kale, Brussels sprouts, broccoli, cauliflower, leeks and early onions being harvested in all but the coldest regions. Many farms and markets still have fresh winter squash, stored from last Autumn.
You may noticed the new appearance to the website! Simpler, cleaner and mobile-friendly! I'm rolling it out, page by page over the next 2 months. Everything is still here; you can access it from the drop down menus at the top of the page or the site search. If you have any questions or suggestions, feel free to write me!
Alaska U-Pick Farms and Orchards, by county
Click on the resources drop-down above, if you need a county map
Aleutians East Borough
Anchorage Borough
Bethel Census Area
Bristol Bay Borough
Denali Borough
Dillingham Census Area
Fairbanks North Star Borough
Ann's Greenhouses - vegetables, berries
780 Sheep Creek Road, Fairbanks, Alaska 99709-6128. Phone: 907-479-6921. fax: 907-479-4200. Email: anndolney@yahoo.com. Open: 9 am to 6 pm on Monday to Saturday and Sunday from noon till 6 pm. Great harvests available for purchase during August and September! We have many (you-pick) vegetables and berries available then! We have tomatoes, variety of squash, radishes, cucumbers, lettuce, potatoes, cabbages, turnips, kale, kohlrabi, carrots, peas, beans, peppers, eggplant, strawberries, raspberries, and monster pumpkins (to 298.5 lb.) to name a few items!

Clair's Cultivations - apples, crabapples, plums
1364 Esro Road, Fairbanks, AK 99712. Phone: (907) 488-6446. Email: lammers@alaska.net. Directions: 4.5 miles Chena Hot springs road, Just outside of Fairbanks. Click here for a map. Pick your own.
Comments from a visitor on August 28, 2008: "Love it. " (ADDED: August 28, 2008, suggested by a visitor)

Nugget Farms - apples
100-118 N Cushman St, Fairbanks, AK. Phone: (907) 455-4721.

Pearl Creek Farm

- raspberries (red), porta-potties
849 Wolverine Ln, Fairbanks, AK 99709. Phone: 907-474-8136. Open: Monday to Friday from 12 pm to 6. Directions: Actually on Herreid. Click here for a map and directions. For a map to our farm, click here. Payment: Cash, Check. (ADDED: September 02, 2014)
Haines Borough
Juneau City and Borough
Northwoods Orchard and Farm Market - pumpkins, strawberries, Cider mill (fresh apple cider made on the premises), gift shop, porta-potties, restrooms, picnic area (bring your own food), farm animals, school tours, events at your location (call for info)
W7428 State Road 82, Mauston, WI 53948. Phone: 608-847-7028. Email: northwoodsorchardmauston@gmail.com. Open: Strawberries in June 7am to 5:30pm. Directions: From Wisconsin Dells, take I90/94 west to Mauston exit, Highway 82 west 2 miles outside of town. Click here for a map and directions. Payment: Cash, Check, Debit cards, Visa/MasterCard, Discover, AmEx, WIC Vouchers, SFMNP Vouchers. (ADDED: October 01, 2015)
Kenai Peninsula Borough
Ketchikan Gateway Borough
Kodiak Island Borough
Lake and Peninsula Borough
Matanuska-Susitna Borough
Birch Creek Ranch

- Black Currants, Red Currants, Strawberries, Raspberries, Service Berries
Mastadon, Talkeetna, AK 99676. Phone: 907-733-1090. Open: . Daily, Around 9 am until dark, 7 Days/week Mid July -Late August. Directions; north of Anchorage, Alaska. Organically growing vegetables and herbs; One outhouse available
Comments from a visitor on August 15, 2009: "I love this place. I have had the chance to work in the greenhouses during the late winter and early spring, and I love picking berries here in late summer. I am originally from Atlanta, Georgia, and grew up picking blackberries every summer; I missed that; thank goodness for this place and my new black berry: currants. Just picked 30 pounds with a friend last week, we had a blast." (ADDED: August 15, 2009, suggested by a visitor)

Garcia's Alaska Farm

- Raspberries.,
3655 S. Old Glenn Hwy PMBB-B, Palmer, AK 99645. Phone: (907) 746-6160. Email: garciasalaskafarm@mtaonline.net. Open: 8 am to 8 pm. July 15-September 2. 7 Days A Week.. Directions: Call for directions. Payment: Cash, only.. Chemical Free, Crops Raised Organically, Alaskan Improve Boyne Raspberries, Fruit Is Very Big, Extra Hearty Plants, More Information Call Me. (ADDED: March 22, 2014, suggested by a visitor)
A visitor writes on March 22, 2014: "Improving Raspberries For 30 Years."
Pyrah's Pioneer Peak Farm

- vegetables


4350 S. Bodenburg Loop, Palmer, AK. Phone: (907) 745-4511. Alternate phone: (907)745-3557. Email: info@pppfarm.net. Directions: Click here for a map. Open: see this page for their hours. Open: Click here for their picking updates and pricing page. They have a Fall Harvest Festival in September, dates are posted on their website. (UPDATED: August 13, 2008)
A visitor writes on July 27, 2014: "I stopped going to Pyrah's several years ago when I encountered a sign saying we could not go anywhere near a specific area because it had just been sprayed with pesticides. I recently emailed them to see if they had stopped using the pesticides, but they never responded. I was finally able to get someone to answer the phone after several calls. The girl I spoke to said "no we are not organic and yes we do use pesticides". I just don't believe the chemicals and pesticides somehow miraculously disappear from fruits and vegetables when they hit your table. This is a big concern to my family and we always do our best to buy organic only."
Comments from a visitor on November 17, 2009: "I've been going there since I was a teen. My children have grown up knowing of the delights of picking veggies at Pyrah's. The growing season is short up here and I'm not much of a gardener but love the results of course. We highly recommend the experience. You can make a day of it. Combine it with a trip to the State Fair or visit the Reindeer Farm up the road too too. Have fun I know we do."
A visitor writes: I wanted to let you know about the wonderful people I spoke to at Pyrah's. I didn't even know we had farms like this up here. Pyrah's is a PYO, open Mon 9-5, Tues-Saturday from 9-9, closed Sundays. They offer field trips for kids, just call ahead to schedule... only $3 per child!
Municipality of Anchorage
Nome Census Area
North Slope Borough
Northwest Arctic Borough
Prince of Wales-Outer Ketchikan Census Area
Sitka City and Borough
Skagway-Hoonah-Angoon Census Area
Southeast Fairbanks Census Area
Valdez-Cordova Census Area
Wade Hampton Census Area
Wrangell-Petersburg Census Area
Yakutat City and Borough
Yukon-Koyukuk Census Area
---
---
Local Honey Sources:
Juneau City and Borough
Alaska Wildflower Honey - Local honey company
Chugiak Heights Honey - Local honey company
Northwoods Orchard and Farm Market - Honey (retail), Comb honey, Raw honeys, Cider mill (fresh apple cider made on the premises), gift shop, porta-potties, restrooms, picnic area (bring your own food), farm animals, school tours, events at your location (call for info)
W7428 State Road 82, Mauston, WI 53948. Phone: 608-847-7028. Email: northwoodsorchardmauston@gmail.com. Open: Monday to Saturday 8:30am to 5:30pm Open some Sundays 12:30pm to 4:30pm September 20 to October 25. Directions: From Wisconsin Dells, take I90/94 west to Mauston exit, Highway 82 west 2 miles outside of town. Click here for a map and directions. Payment: Cash, Check, Debit cards, Visa/MasterCard, Discover, AmEx, WIC Vouchers, SFMNP Vouchers. (ADDED: October 01, 2015)
---
Meats, Milk and Eggs:
---
Farm Venues for Events, Activities, Parties and Meetings:
---
Horse Rides and More:
---
Winery, Brewery and Distillery Tours and Tastings:
---
Farm Bed And Breakfasts
Kenai Peninsula Borough County
Berry Patch Bed and Breakfast - 3 total rooms, Price range from $115 to $135, Large rooms, Small fridge in rooms, Fresh farm breakfasts, Fresh eggs, Mountain views, Hiking trails, Fishing nearby, hunting nearby, boating nearby, skiing nearby, snowmobiling nearby, horse riding, fitness/health club nearby, Free farm tours for overnight guests, Within an easy drive to an Interstate road, children welcome, No pets please, No smoking allowed, PYO fruit, Help feed the animals, Organic farming, Honeybee hives onsite, chickens,
14247 Victor Drive, Seward, AK 99664. Phone: 907-491-0164. Email: hosts@berrypatchbnb.net. Directions: Click here for a map and directions. Payment: Cash, Check, Debit cards, Visa/MasterCard, Discover, AmEx. (ADDED: March 25, 2010)
---
Maple Syrup Farms and Sugarworks:
Juneau City and Borough
Northwoods Orchard and Farm Market - Fancy maple syrup, maple candies, Cider mill (fresh apple cider made on the premises), gift shop, porta-potties, restrooms, picnic area (bring your own food), farm animals, school tours, events at your location (call for info)
W7428 State Road 82, Mauston, WI 53948. Phone: 608-847-7028. Email: northwoodsorchardmauston@gmail.com. Open: Monday to Saturday 8:30am to 5:30pm Open some Sundays 12:30pm to 4:30pm September 20 to October 25. Directions: From Wisconsin Dells, take I90/94 west to Mauston exit, Highway 82 west 2 miles outside of town. Click here for a map and directions. Payment: Cash, Check, Debit cards, Visa/MasterCard, Discover, AmEx, WIC Vouchers, SFMNP Vouchers. (ADDED: October 01, 2015)
---
Other activities:
Seward Alaska Fishing - Offering world-class fishing and is one of the best Alaska has to offer. The world record sport caught Pacific Halibut was caught in Seward on June 11, 1996. weighting an astounding 459 pounds
---